7 Street Style Ways to Wear a Denim Jacket ...
By Vanessa
There are so many awesome street style ways to wear a denim jacket. You can practically throw it over anything and have it complete the whole look! My denim jacket is my go-to piece in the summer time. It's light and breezy and still earns you some major style points. Check out some of my favorite ways to wear a denim jacket and then let me know how YOU love to wear them.
---
1

With Leather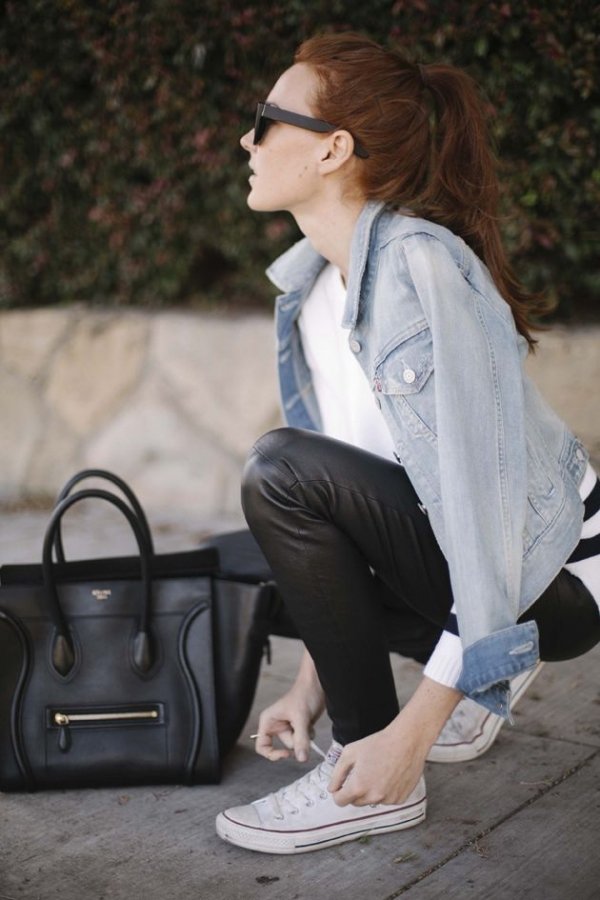 I love pairing leather and denim together. It's just one of those combinations that'll always look classic and timeless. To recreate this look, you can wear some leather leggings/pants (check out H&M) and pair it with a basic white tee. For shoes, Converse is the way to go. The denim jacket over it just ties the whole look together! If it's too hot for pants, try leather shorts or a skirt. This is just one of the many ways to wear a denim jacket.
---
2

Layered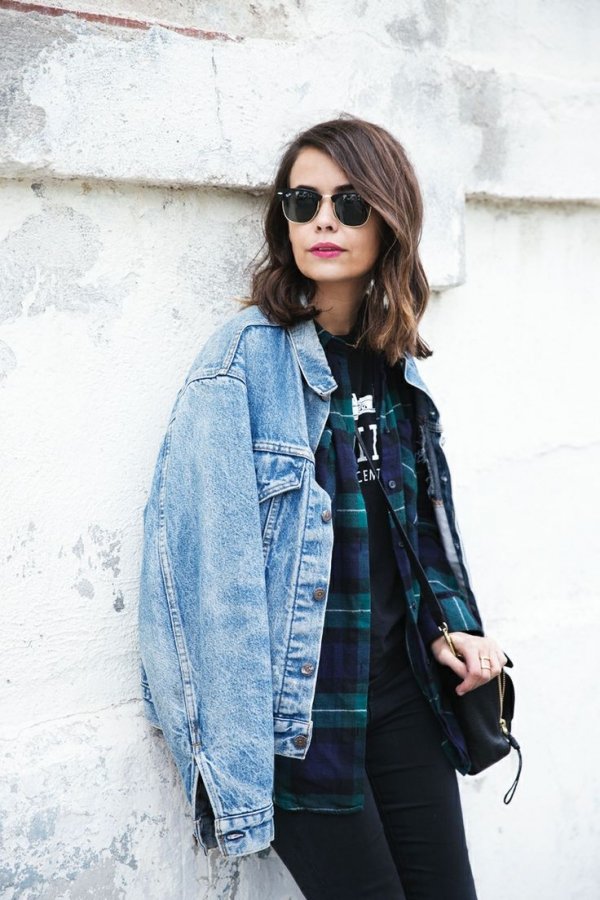 It might be a little too hot to achieve this look now, but it's totally worth recreating in the fall! The layered look is a look that's never going away. You can layer a flannel over a tee, and the denim jacket over the flannel. It'll look casual, yet stylish. How would you layer your jacket?
---
3

Over a Dress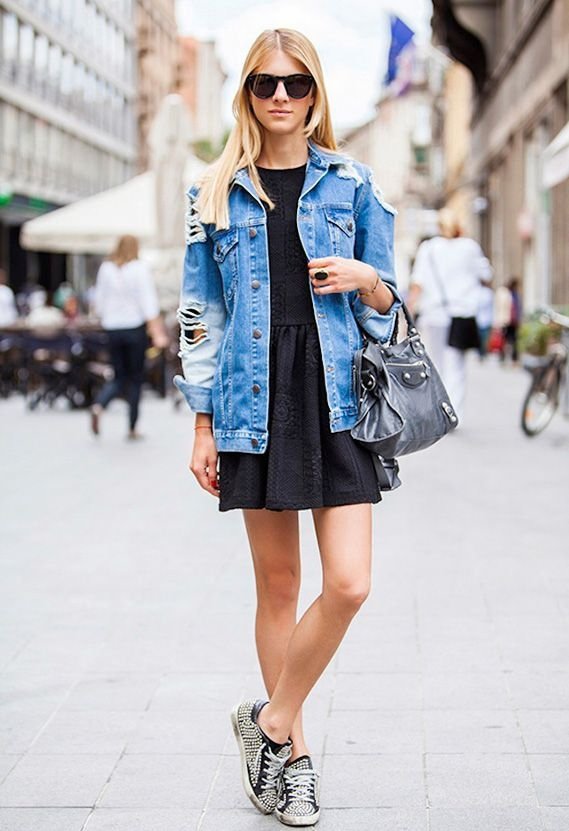 I love the idea of pairing a denim jacket over a dress. If you don't want your outfit to feel too formal/girly, the jacket will tone down the look and make it feel more casual. I'd even pair it with some classic Converse! You can keep the look sleek and simple by throwing the jacket over an all-black ensemble. Or, you can add some color with a bold dress!
---
4

Acid Wash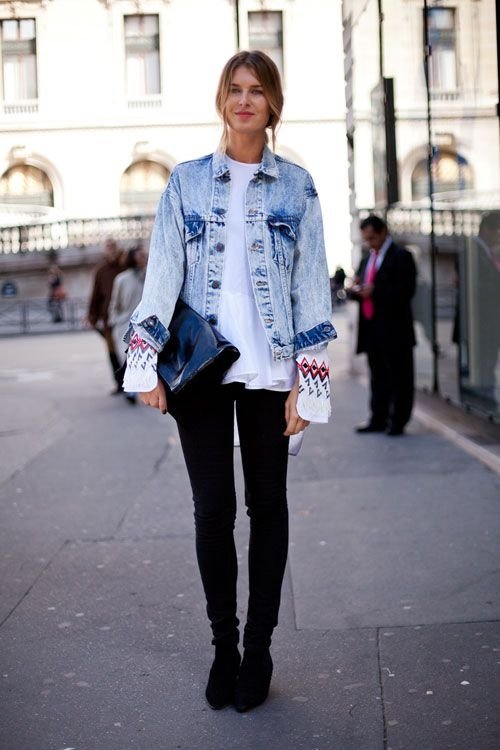 Personally, I love acid wash denim jackets! I think acid wash is really cool and adds some pizzazz to your outfit. You can find some affordable ones at Wet Seal.
---
5

Studs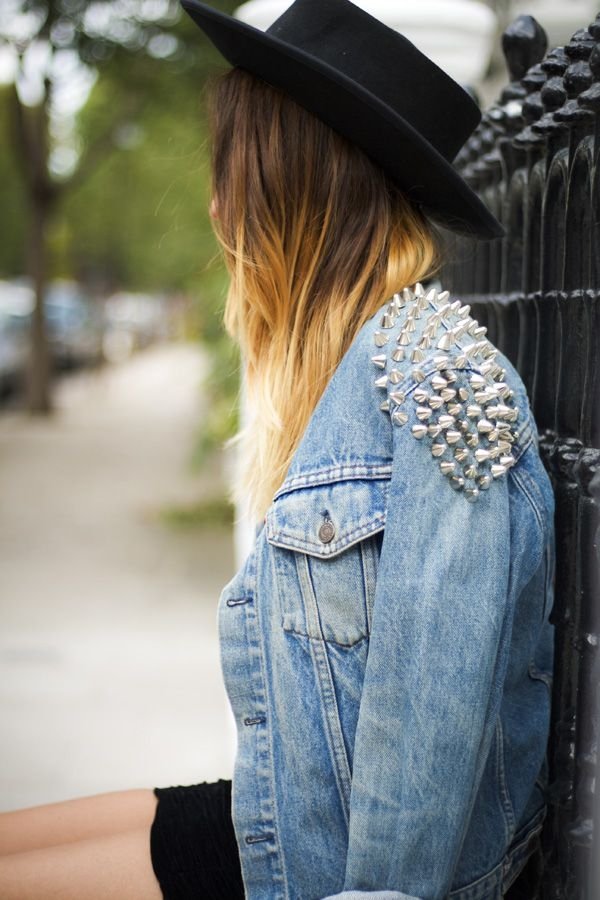 Want to go for a rocker/edgy look? Studded denim jackets are for you. You can even turn this into a DIY (do it yourself) project this summer. Buy some studs/spikes and whatever else you'd want to decorate your jacket with and go crazy with it! I love the idea of having spikes on your shoulders but I also think that a design on the back would look awesome! You can order everything that you'd need right from studsandspikes.com.
---
6

Oversized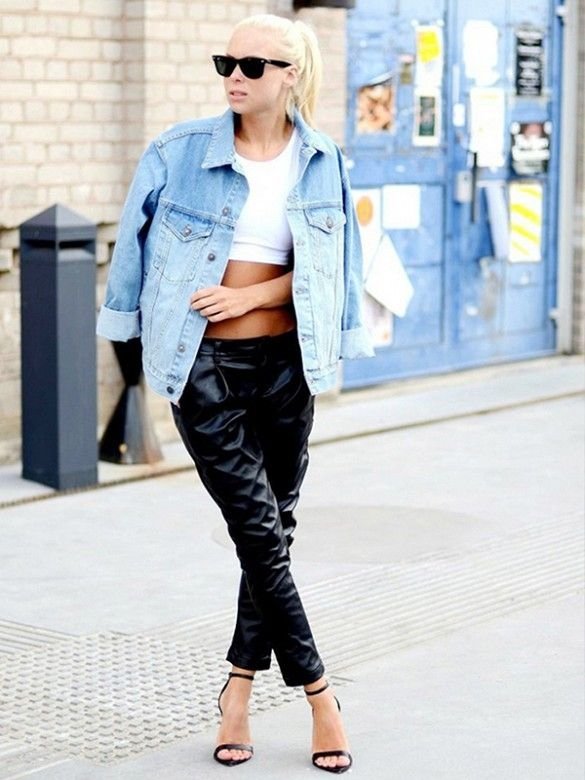 I love oversized jackets because they always keep you feeling comfy! However, if you want to keep the jacket oversized, keep the rest of the outfit form-fitting. That way, you don't disappear under all the clothes.. LOL! You can throw an oversized denim jacket over a crop top + pants combo, or some high-waisted shorts. Since denim matches pretty much anything, feel free to use colorful items!
7

Pins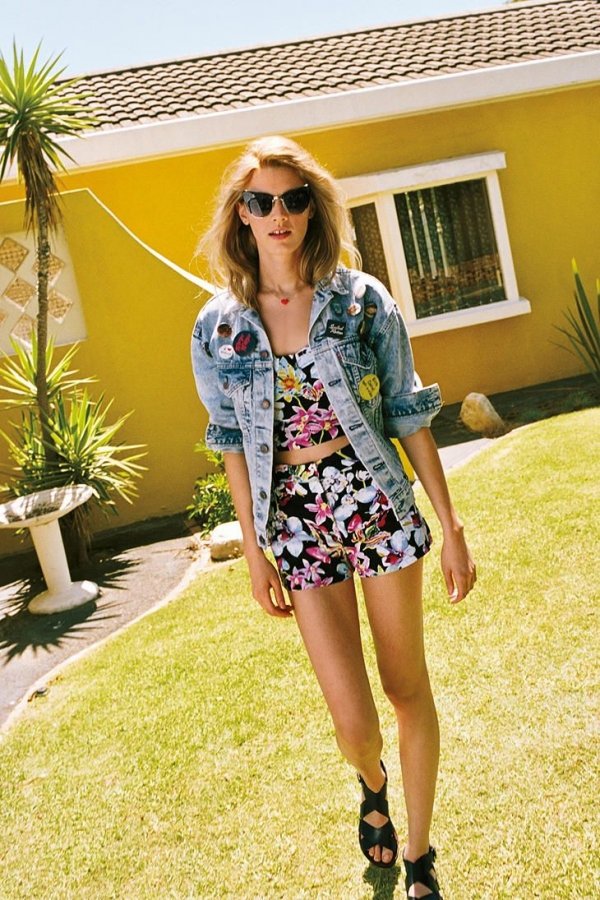 I love personalizing everything with fun pins! You can buy a pinned jacket from Urban Outfitters or create your own. I've already started adding a few pins to my denim jacket. So far, I have some cool Fall Out Boy pins that I got from a recent concert! You can add quirky quotes or funny pictures to make your jacket really expressive. What kind of pins would you add?
Well, there you have it. These are just seven out of many awesome street style ways to wear a denim jacket! It looks great with just about anything. Of the list, which look was your favorite? How do YOU like to style your denim jacket?
---
Comments
Popular
Related
Recent