There are so many outfits with tights that are totally worth recreating! I think tights add a certain charm and are a great addition to any look. The cool thing about them is how expressive they can be - you can choose anything from plain black ones to bold and vibrant colors. Check out some of the cool outfits with tights that you can recreate and then let me know which ones your favorites were!
1

Under Romper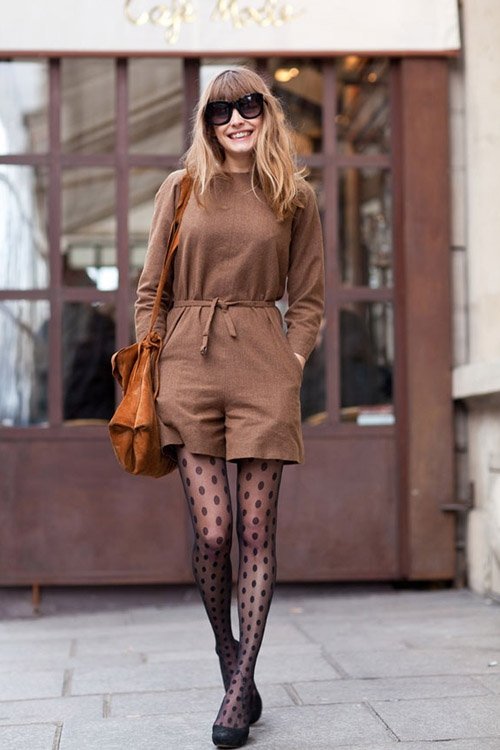 Rompers are always my go-to summer outfit. I think they're stylish and really comfy! A fun way to dress it up is by wearing patterned stockings underneath it. You can find some adorable and affordable options on hm.com. Rompers can be kind of short so wearing stockings underneath will help you look and feel covered up! This is just one the cool outfits with tights that you can recreate.
2

Statement Color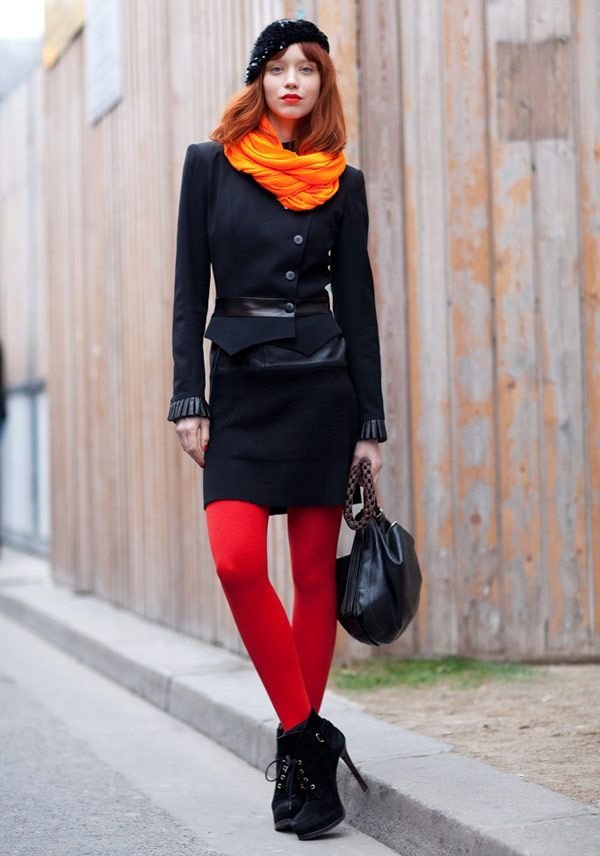 Channel your inner Blair Waldorf with some statement tights! She always rocked the cutest red tights (you can find similar ones on store.americanapparel.net) and it always made her outfits stand out. If you're not afraid of making a fashion statement, then this look is definitely for you. Which bold color would you like to wear?
3

Under Denim Shorts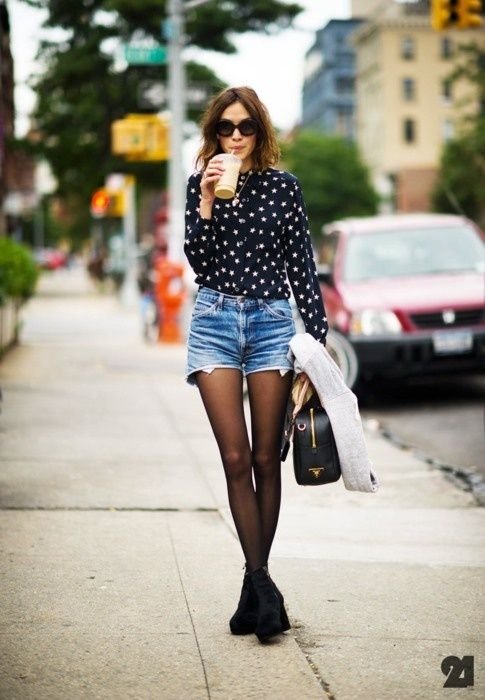 A really casual way to wear tights is with denim shorts. It keeps you from looking and feeling too exposed! Since the tights and denim shorts are so simple, have fun with the top. Pick a fun patterned top to add some pizazz to your look! My go-to spot for regular tights is definitely shop.nordstrom.com.
4

Suspender Tights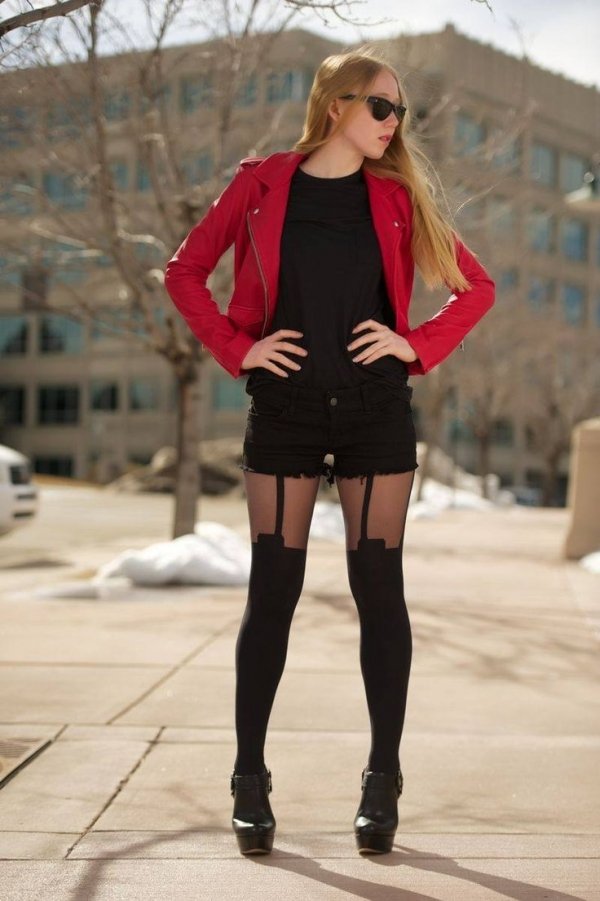 I think suspender tights are the perfect balance between edgy and girly. You can find some cool options on urbanoutfitters.com! It's great to pair under shorts or even mini skirts. I love the idea of rocking an all black ensemble with them - totally rocker chic. Add a pop of color with a jacket or with accessories!
5

Distressed Stockings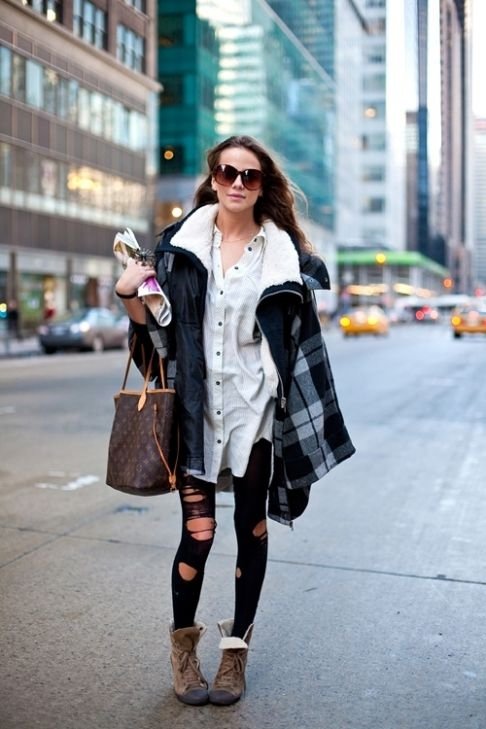 I'm pretty much obsessed with this look. You can buy distressed stockings pre-ripped on etsy.com OR you can make this an awesome DIY project and rip them on your own. I think doing it on your own is a lot more fun and you have full artistic control! You can throw on an oversized button-up shirt and some combat boots. It's the perfect outfit for late summer/early fall!
6

Mix & Match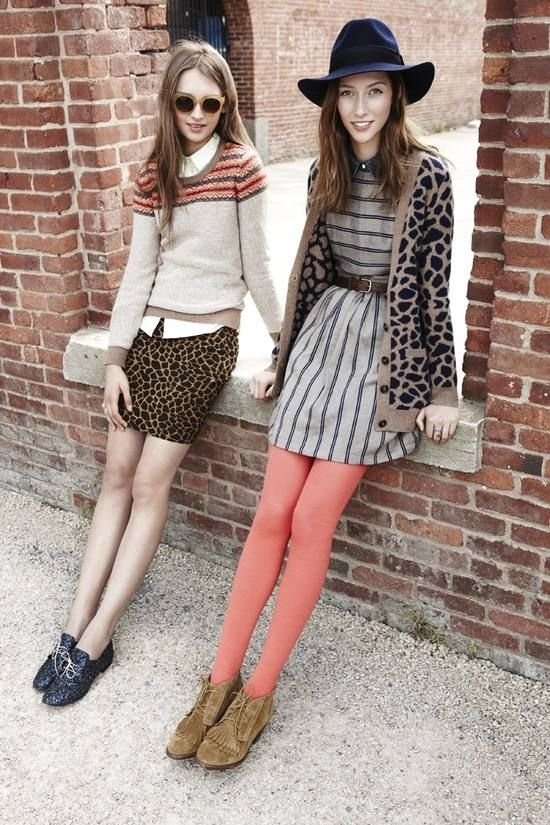 Being a fashionista means never being afraid to mix and match different prints and patterns. Trust me, you can make any look work if you've got the confidence to go with it. Fact. If you're mixing different prints, add a pop of color with your tights! Try store.americanapparel.net for your colorful tights needs. By combining tons of different items, the tights aren't necessarily the "statement piece" of your outfit, but they're still contributing to your look!
7

Fishnet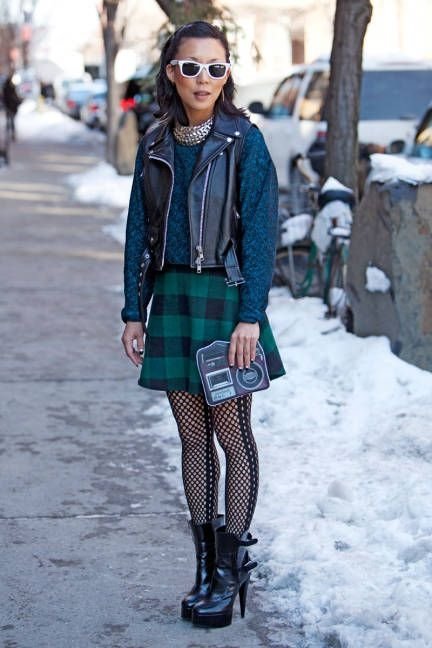 Fishnet tights are back! You can wear them for a rocker chic/grunge look. Pair them with some combat boots, and have fun with the patterns! Don't forget to throw on some leather to get a total bad-ass vibe. You can find some simple fishnet tights on macys.com.
Well, there you have it. These are just seven out of many awesome street style outfits that you can recreate using tights! Who knew tights could be so stylish? Of the list, which look is your favorite? Let me know which one you'll be recreating and where you'll be rocking it!