There are so many awesome street style outfits to wear with Converse. These shoes are a must-have item in every girl's closet! Seriously, if you don't own a pair, go stock up on them! They're incredibly convenient and look good with just about anything. Check out some of the outfits to wear with Converse and then let me know which looks your favorites are!
1

All Black Ensemble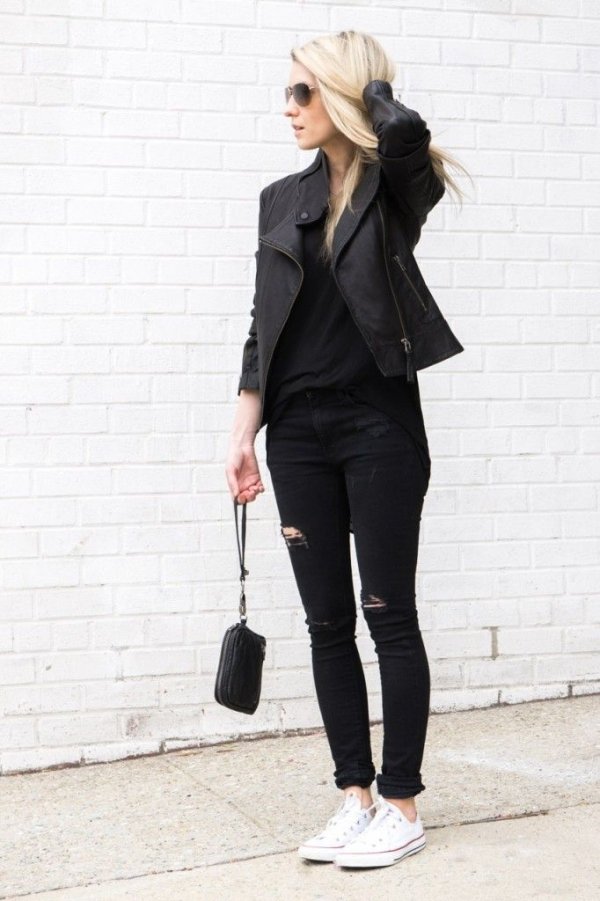 All black outfits are always a great idea. They're slimming, sleek, and even sort of bad ass! An all black ensemble is the perfect edgy look for your first day back at school or even just to run some errands around the city. You can wear black Converses or add some contrast to your look by wearing white ones! This is just one of the many outfits to wear with Converse.
2

Casual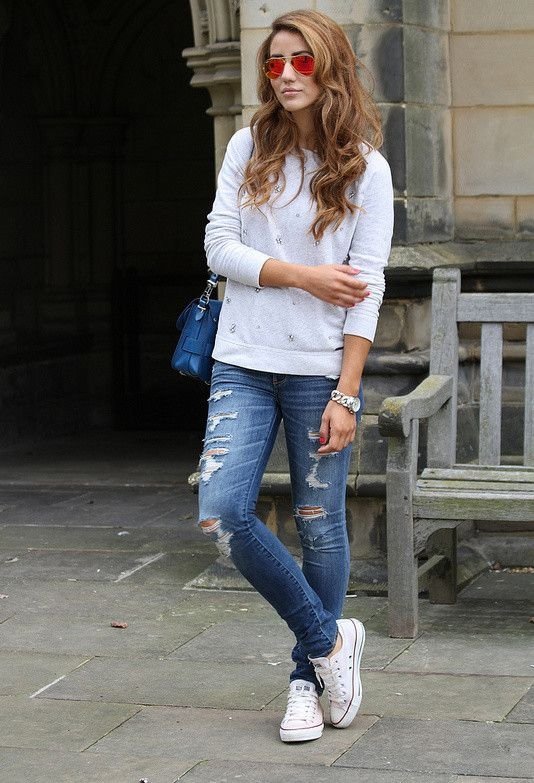 For all the days that you feeling like wearing some ripped skinny jeans and your favorite tee, Converses are there to complete your look. They're the perfect addition to any casual outfit. They keep you looking (and feeling) comfortable, while still managing to look stylish. They're a must-have for your casual looks, especially with the school season rolling around!
3

With Leather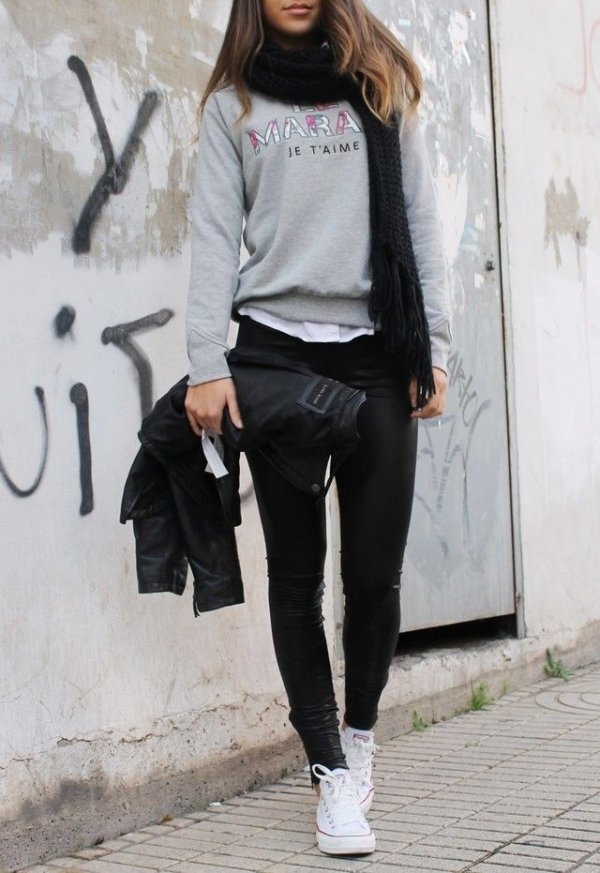 The leather trend is bigger than ever and now's your chance to rock it! You can find some leather pants at H&M. Since you're wearing black pants, have fun with choosing the color of your top! You can go with a graphic tee, patterned tank top, or even an oversized sweater. By adding some Converse, you'll make the outfit look a bit more casual and street-ready.
4

Maxi Skirt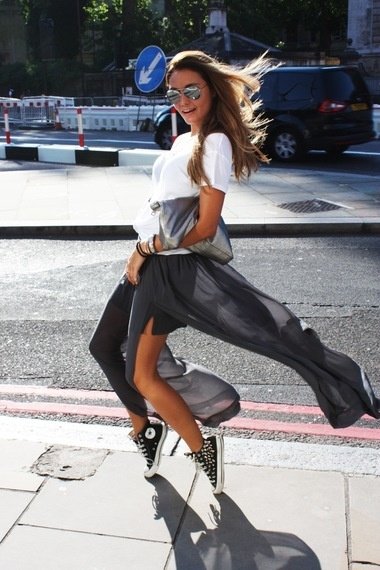 Who knew maxi skirts could be so edgy? Pair your skirt with a graphic tee (maybe your favorite band's logo?) and then throw on your classic Converses. You can even make your shoes a future DIY (do it yourself) project and add some studs on them. Or, you can do it the old-fashioned way and use a sharpie to draw on them! It'll definitely add some edge to your outfit.
5

Pop of Color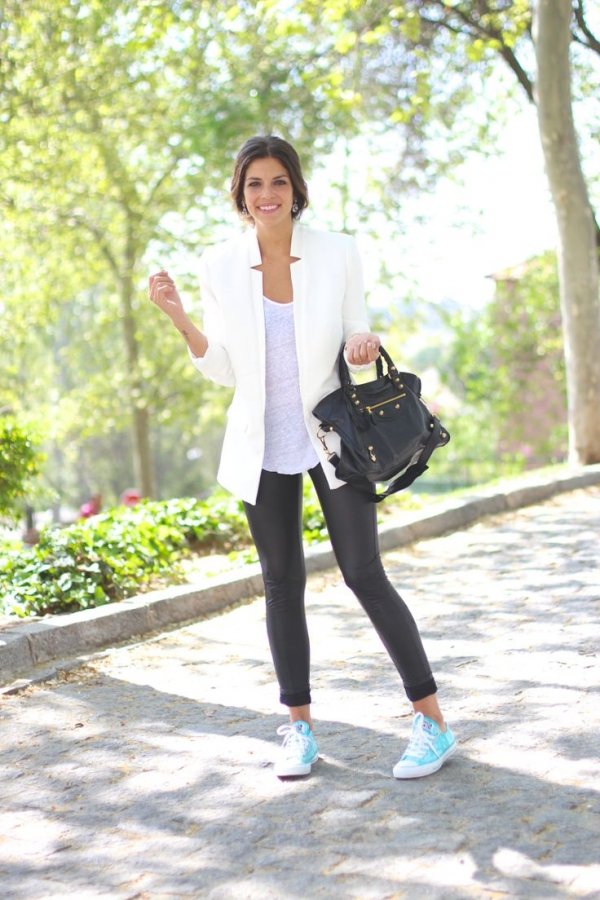 If you wear a lot of neutral colors like black and white, you definitely need a pair of eye-grabbing Converse! You can find awesome colors like teal and magenta at DSW. When you wear them, your "boring" outfit will be boring no more! It's a fun and easy way to add a pop of color to your look.
6

Printed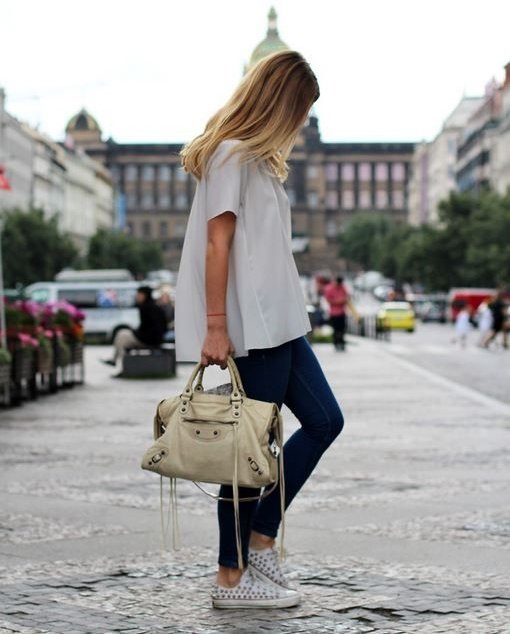 Who said shoes can't be the focal point of your outfit? If you're wearing a casual outfit like a loose tee and skinny jeans, make a statement with your Converse. Pick out some patterned ones that'll really make your outfit pop! You can find some cool ones (including animal print) at Nordstrom.
7

Dress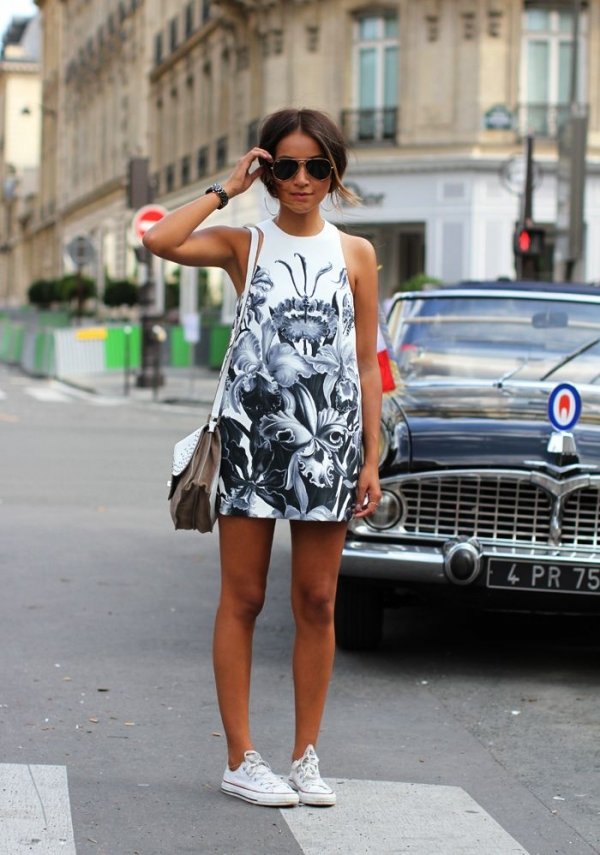 I love the idea of pairing a pretty dress with some Converse. I think it's the perfect balance between girly and edgy! The Converse can easily tone down the outfit and give your look some more street-cred. Depending on the color of your dress, you can have your shoes coordinate. Of course, classic black and white Converse will always look good with anything and everything!
Well, there you have it. These are just seven out of many awesome outfits that you can wear with Converse. Let's be real, they should be in EVERY girl's closet! Of the list, which look was your favorite? Which outfit will you be recreating and where will you be wearing it?