7 Street Style Ways to Rock White Pants This Spring ...
By Vanessa
There are so many cool and easy ways to rock white pants. As you know, white looks fantastic with any color/print, so there's never a problem! Check out some cool outfit ideas on different ways to rock white pants. Let me know which looks you'll be recreating!
---
1

With Camo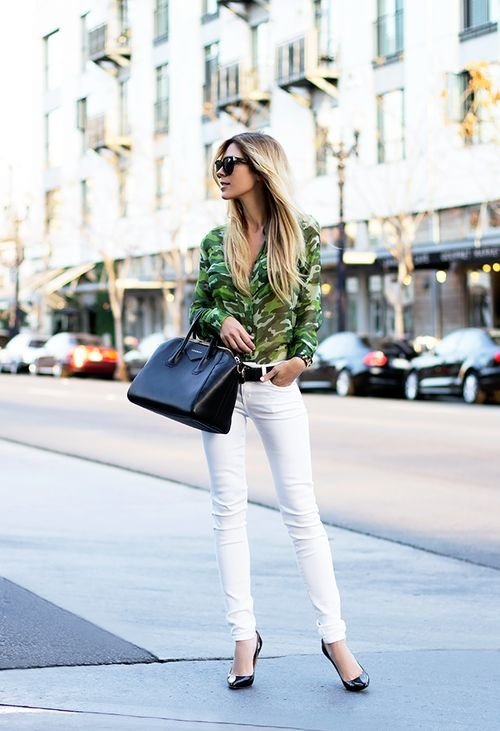 I think camo print and white contrast so beautifully. I love the idea of pairing the two together because it adds major style points to your outfit. I've always heard that "camo matches everything" and "white matches everything", so why not wear both? This is just one of the cool ways to rock white pants this spring.
---
2

Crop Top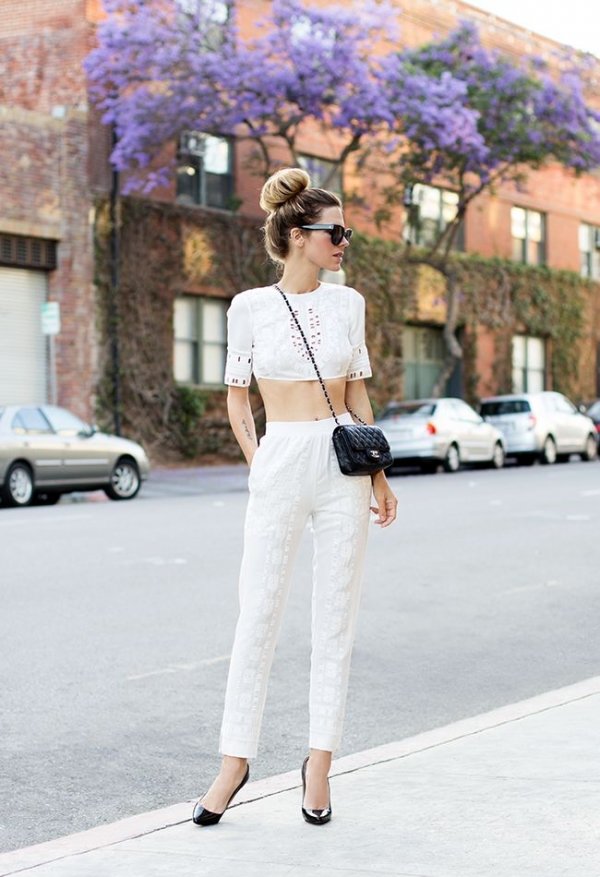 I love matching sets. You can rock some high-waisted white pants and then pair it with a white crop top. By adding black accessories like shades, flats, and a cross body bag, you instantly make the outfit look sleek and sophisticated. Of course, if you want to add some contrast and "edge" to your white pants, how about a graphic tee crop top?
3

Work Attire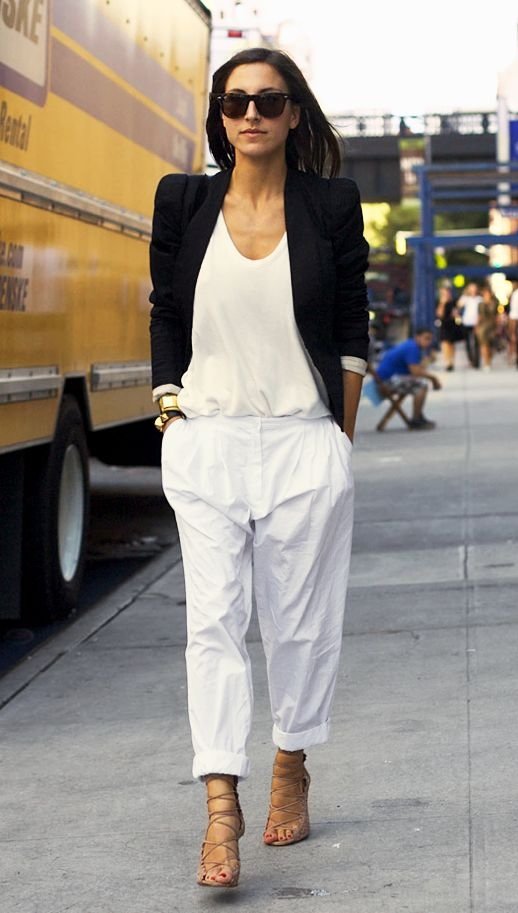 Blazers have the ability to make any outfit work-ready. If you want a more airy look, try this out for the office! You can never go wrong with white trouser pants. I like the idea of pairing it with a white top and then throwing a blazer over it. If you want to go for a sleek look, try a black blazer. If you want to add some pizazz, go ahead and try a printed one!
---
4

Bold Color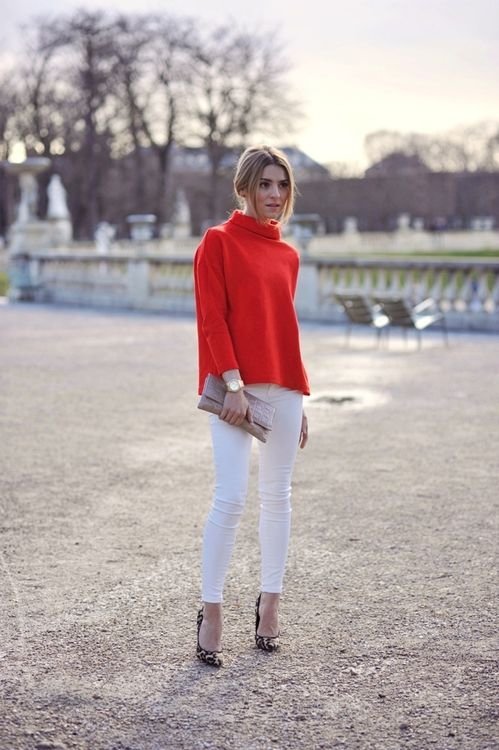 A very simple yet statement-making way to wear white pants, is to pair it with a bold color. I love pairing white with red or navy blue. I think those colors contrast so nicely with the white! You can also swap your "bold" colors for "neons". It's perfect for the spring - colorful and totally fashionable.
---
5

Flared Pants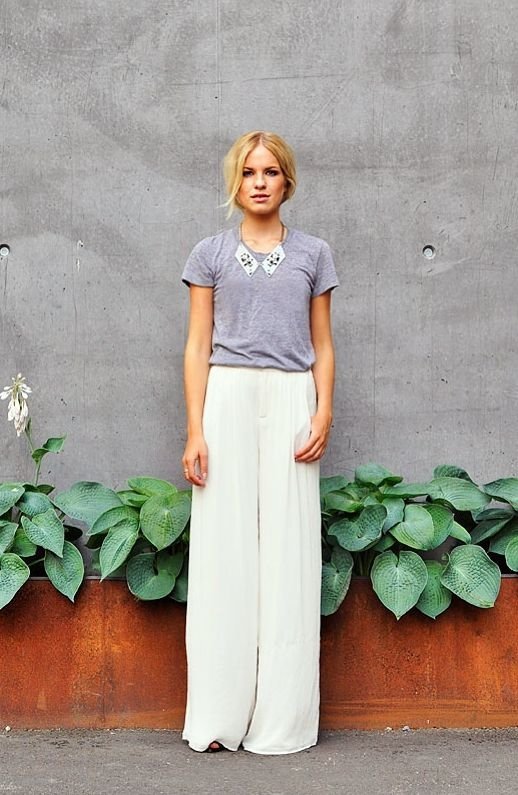 I don't think I can pull the whole "flared pants" look off, but I'm obsessed with it. It's very street-chic, don't you think? Since the pants already have a flared leg, pair it with fitted top. One of the benefits of wearing white pants is that you can rock it with any colored/printed top so don't be afraid to experiment! Accessories are always a good idea, too.
---
6

Tuxedo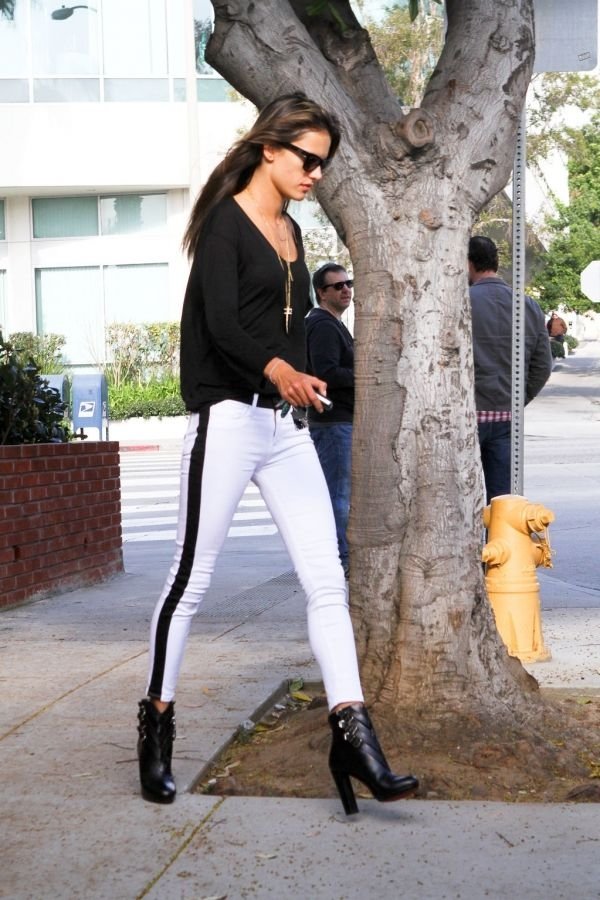 A fun way to rock the white pants trend is with tuxedo pants. They give you an extra pizazz by adding a black stripe on the side of your pants. You can find tuxedo pants in many different colors but my favorite, of course, are the white ones with the black stripe. You can pair your pants with a black blouse and some boots. If you opt for some combat boots, it'll give your outfit an instant edge.
---
7

All White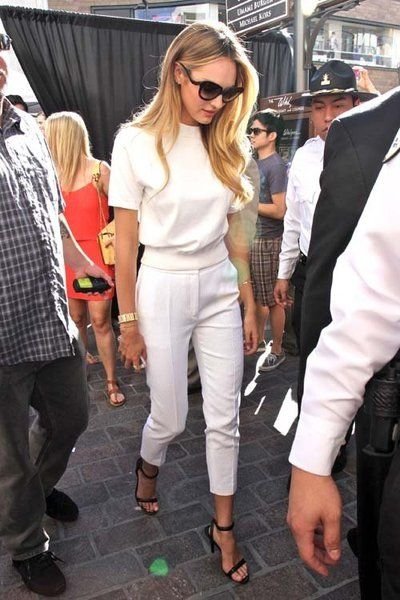 As much as I love an all-black ensemble, an all-white ensemble is just as good. It keeps your outfit looking fun and light, and you can accessories with different colors. Personally, I love accessorizing white outfits with neon jewelry. Also, is it just me, or does an all-white outfit just ooze a feel of sophistication?
Well, there you have it! These are just seven out of many cool ways to rock white pants. How do you like to style your white pants? Lets's share outfit ideas/tips in the comments section!
---
Comments
Popular
Related
Recent