There are so many amazing street style ways to rock the kimono style cardigan. It's such a huge trend lately and I'm a big fan of it. I think it adds an instant youthful vibe to any outfit while still earning you some major style points. A kimono style cardigan is a must-have item for your closet this spring/summer, ladies! How do you like to rock them?
1

All-black Ensemble
Just because it's getting hot outside doesn't mean you need to stash away all your all-black ensembles. They're still really stylish and will ALWAYS be a good idea! If you're planning on rocking an all-black ensemble, wear a fun printed kimono style cardigan to add a pop of color. That way, you'll be embracing the whole spring/summer style, while still looking fab in black. Win/win, right?
2

Over Crop Top + Shorts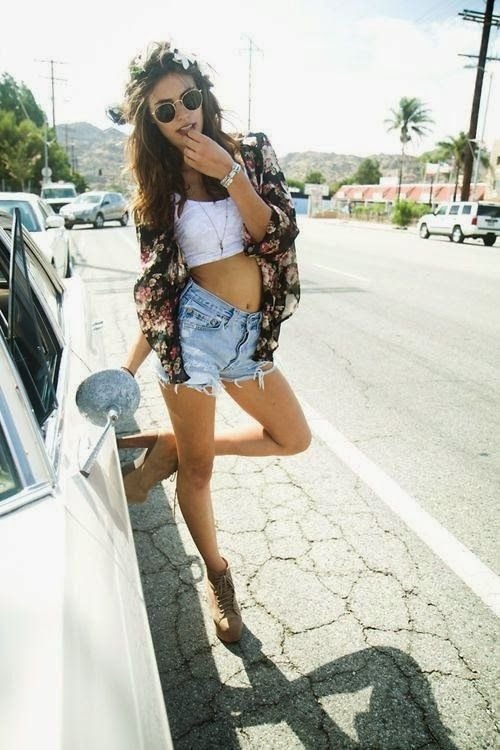 Rocking a crop top and shorts is usually everybody's go-to in the spring/summer. If you think that leaves you feeling 'too exposed,' cover up with a kimono cardigan. It'll only add to the beauty of your outfit and you won't be left feeling uncomfortable. You can find some awesome (and totally affordable) kimono cardigans on forever21.com. What do you think of this look?
3

Skinny Jeans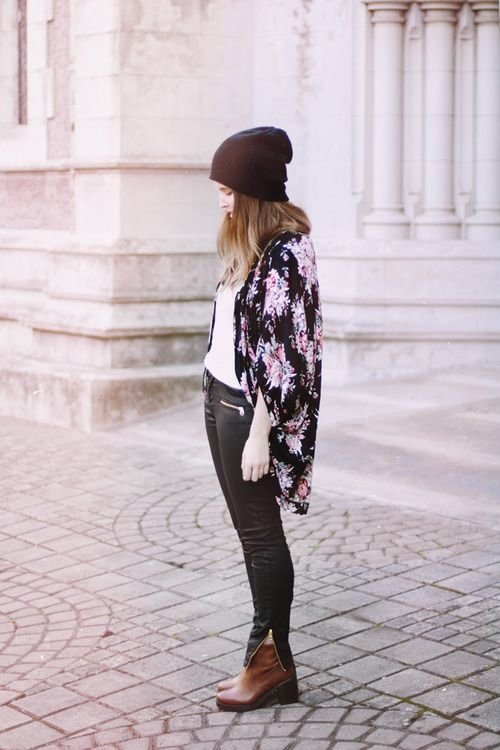 A cool way to dress up your usual 'skinny jeans + t-shirt' outfit is to throw on a cardigan! Whether you're rocking skinnies, leggings, leather pants, etc., you can never go wrong with pairing it with a cute cardigan. I love looking at the different styles you can find online because they just so happen to look great with anything and everything!
4

Knit Kimono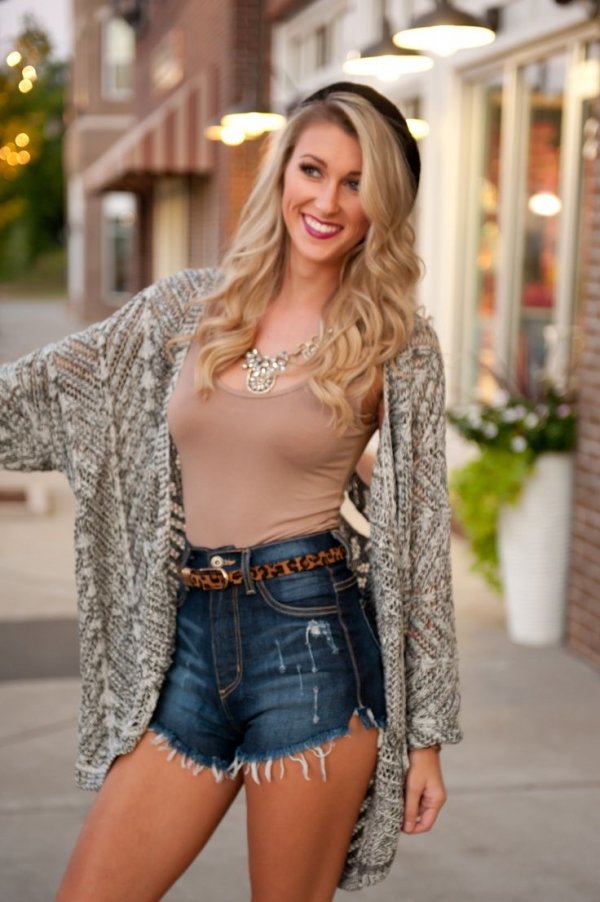 If it's still a bit chilly out, a knitted cardigan is the way to go. It'll keep you comfortable while still letting your outfit look and feel breezy. You can find some awesome ones on asos.com.
5

Long and Lacy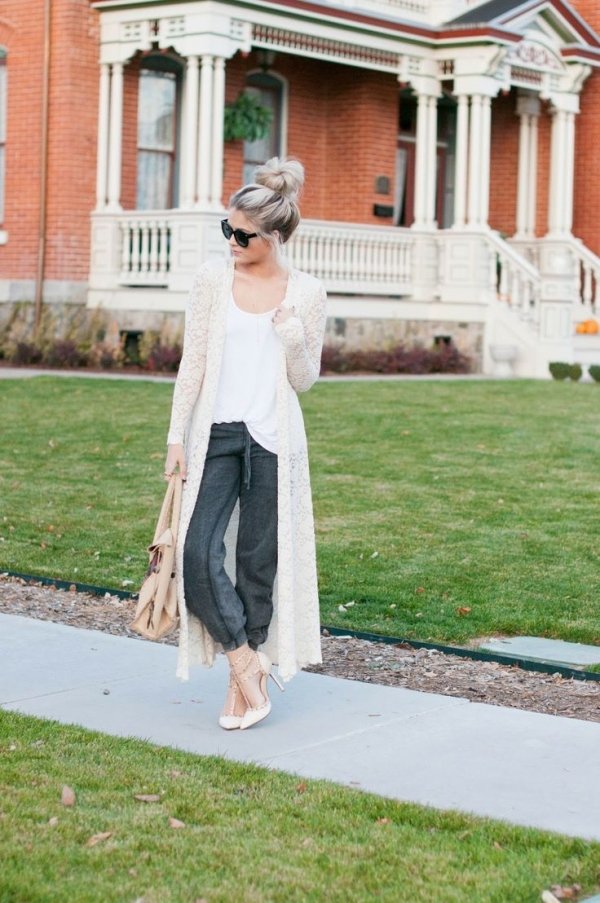 The lengths of kimono cardigans vary but I happen to LOVE the floor-length ones. I think they're super stylish and totally comfy. If you're wearing your favorite jeans and tee, throw on a long and lacy kimono cardigan to complete the look. I always think that lace adds an instant sophistication to an outfit! You can find some on loveculture.com.
6

Floral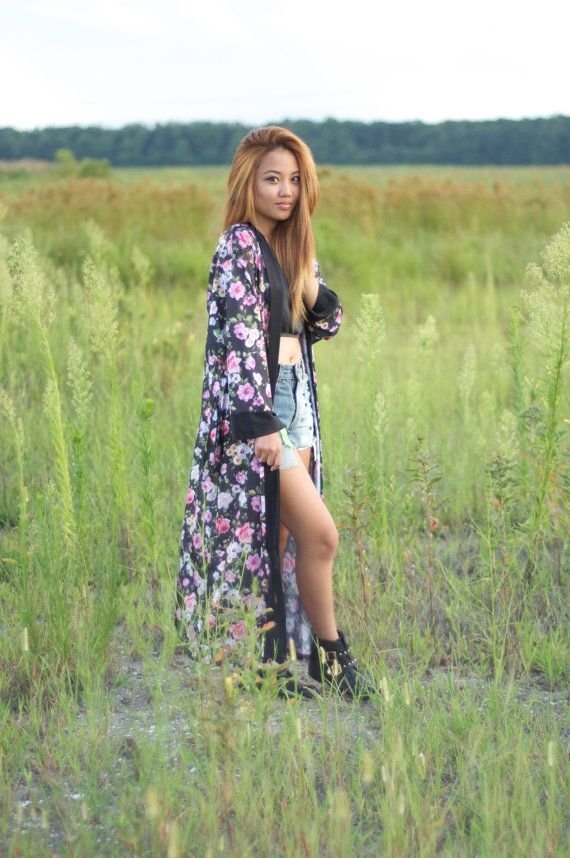 You can never go wrong with floral, right? It's the perfect pattern for the spring/summer. If you feel like dressing up your 'simple' or 'basic' outfit (like shorts + tank top), throw a floral-patterned kimono cardigan over it. It'll add some color to your outfit and give your outfit a really cute and youthful vibe! You can find some on forever21.com.
7

Fringes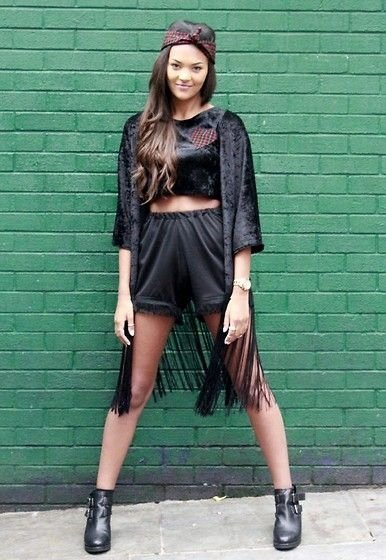 Fringes are making their way back and I'm loving the trend. It's such a fun and festive touch to any outfit! You can find some adorable and affordable ones on nastygal.com. Depending on your outfit, you can opt for a solid-color kimono cardigan, or try out a fun floral pattern. The fringes will definitely give you some major style points.
Well, there you have it. These are just seven out of many awesome street style ways to rock the kimono style cardigan. I'm a huge fan of this trend, it's a must-have item in your closet! How do you like to style them? Of the list, which look is your favorite?