7 Street Style Outfit Ideas with Ripped Jeans That You'll Have Fun Recreating ...
By Vanessa
There are so many awesome outfit ideas with ripped jeans that are worth recreating this summer. They're one of my go-to items just because they look great with anything! You can dress them up or dress them down, all depending on where you're going. I also think that ripped jeans add an instant 'effortlessly cool' vibe to any outfit. Check out some of the cool outfit ideas with ripped jeans that you can recreate!
---
1

Casual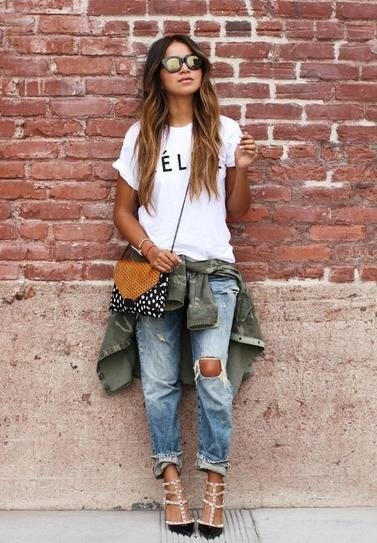 Try wearing your ripped jeans with casual staples like a graphic tee and a utility jacket! Then, to dress things up a bit, add on a pair of swanky heels. You'd be surprised that all this will create an awesome look! This is just one of the cool outfit ideas with ripped jeans to recreate.
2

Adding a Blazer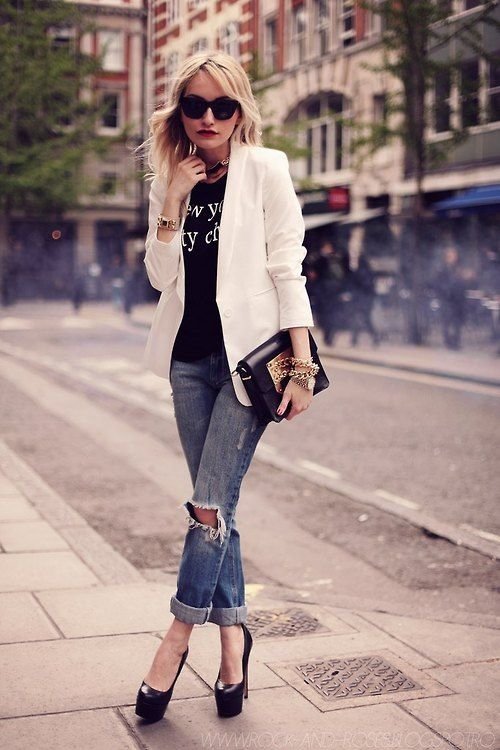 It's amazing just how much of a difference a blazer can make. You can turn any outfit into a business casual look just by adding a blazer over it. I think the ripped jeans are a fun and stylish way to express your personal style, and then the blazer ties it all together. Personally, I love printed blazers! I think floral ones are great for the summer.
---
3

Oversized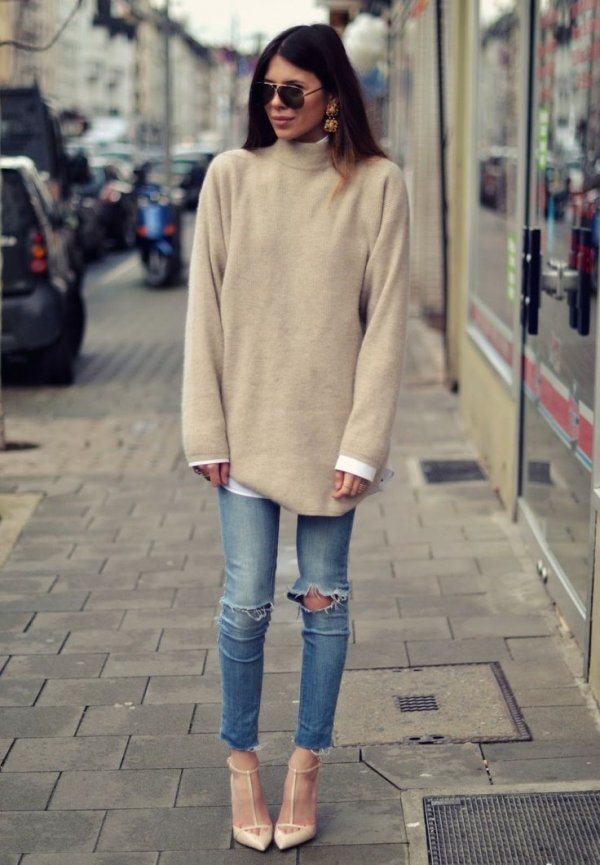 When it's hot out, swap the oversized sweater for a loose-fitting top. Pair it with some ripped skinny jeans and you're ready to go! If you want to add some 'edge' to your outfit, pair your jeans with some combat boots. Of course, if you're hitting the city, some pumps would look great too!
---
4

All-white Ensemble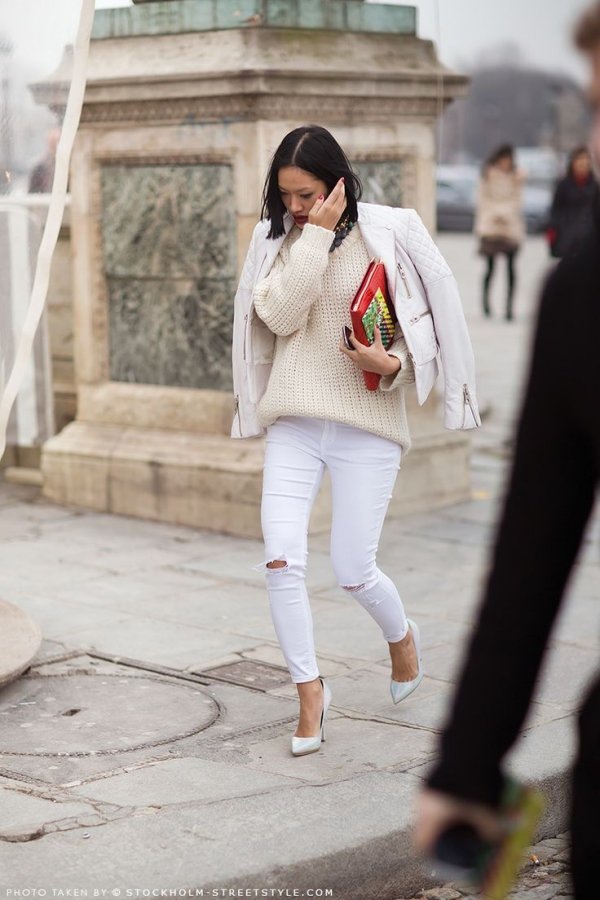 To keep things light and breezy this summer, try wearing an all-white outfit. It gives you this instantly polished and sophisticated vibe! You can find some awesome ripped white skinny jeans on ambitionstores.com. Would you keep the outfit all-white or would add some color with accessories?
---
5

Chic Top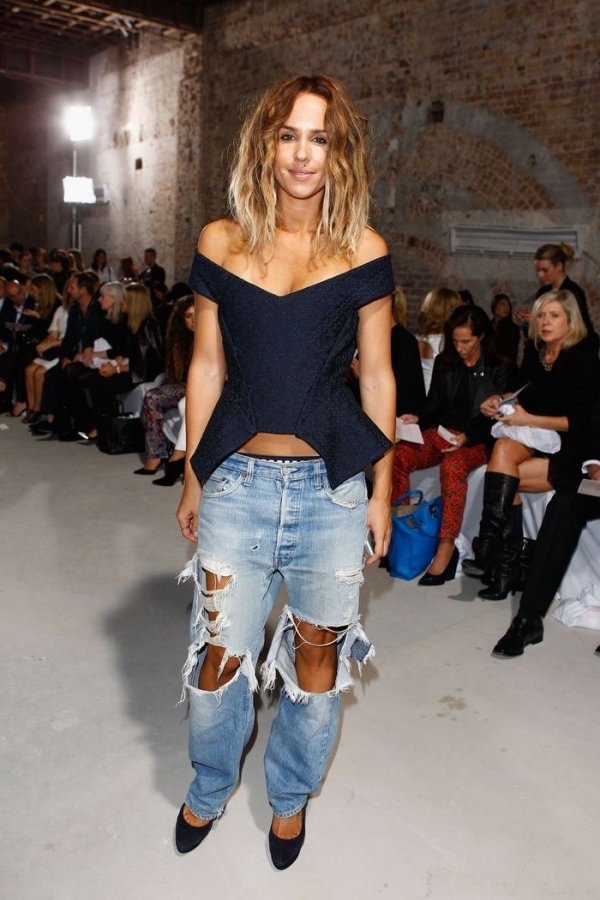 Believe it or not, a chic form-fitting top can make the baggiest of jeans look like it belongs. Don't believe me? Try out this look yourself! For a baggy look, try some boyfriend jeans. You can make the holes in the jeans even bigger yourself! Then, pair it with one of your most fashionable tops. You'll look runway-ready in no time.
---
6

High-waisted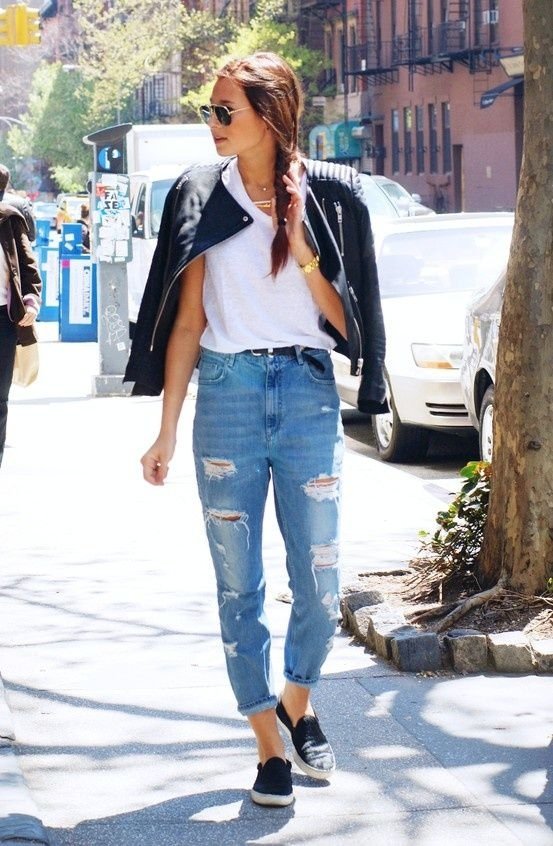 I'm a fan of all things high-waisted. I just think it's such a cute look! Since the pants are already a bit of a statement piece, keep it casual with a simple white tee. For shoes, I'd go with flats or Vans! It's the perfect look to walk around and/or run errands in.
---
7

Denim on Denim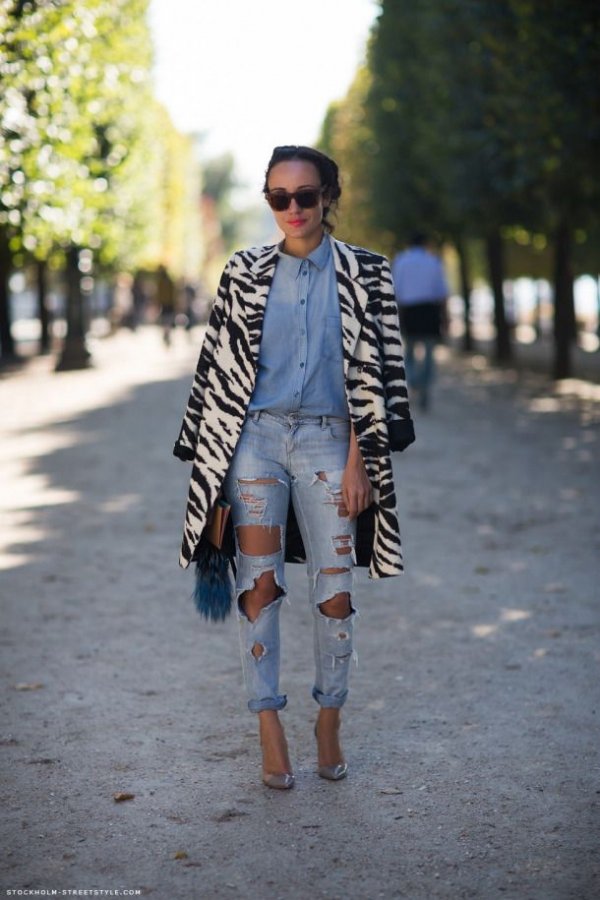 Who knew denim on denim could look so good? To recreate this look, pair your ripped boyfriend jeans with a chambray button up shirt. Even though the jeans are ripped, the button up will help give the entire outfit a polished look. If you want to add some color, try adding some bright accessories! You can never go wrong with neon colors in the summertime.
Well, there you have it. These are just seven out of many awesome outfit ideas that you can recreate with ripped jeans. Granted, anything looks cool with ripped jeans! It's a must-have staple for every girl's closet. Of the list, which look was your favorite? Make sure to share your own outfit tips/ideas in the comments section!
---
Comments
Popular
Related
Recent