There are so many fabulous looks from Miranda Kerr that are worth recreating. This supermodel knows how to look stylish even when she's not strutting the runway. I absolutely love her fashion sense - it's practical yet she manages to earn major style points. Check out some of my favorite looks from Miranda Kerr. Let me know which look you'll be trying out next!
Table of contents:
1

Power Woman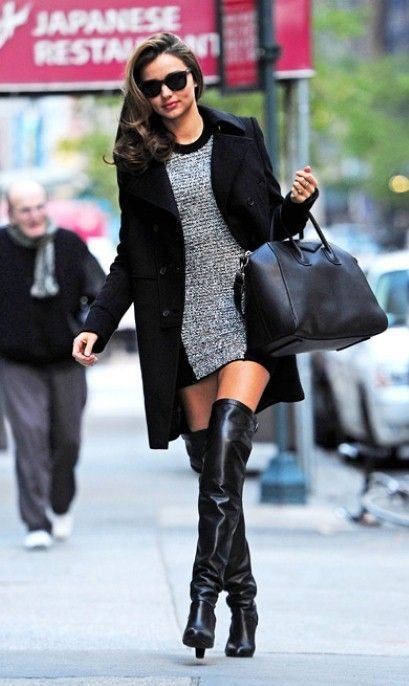 When doesn't Miranda Kerr look like a million bucks? Even when she's just running errands in the city, she looks like a power woman. I'm loving everything about this black+grey look! To recreate it, pair your mini dress with some incredible leather knee-high boots. Throw a black trench coat over it and make sure you remember your oversized purse! With this outfit, you'll look like you're ready to take over the world. This is just one of the gorgeous street style looks from Miranda Kerr.
2

Menswear Inspired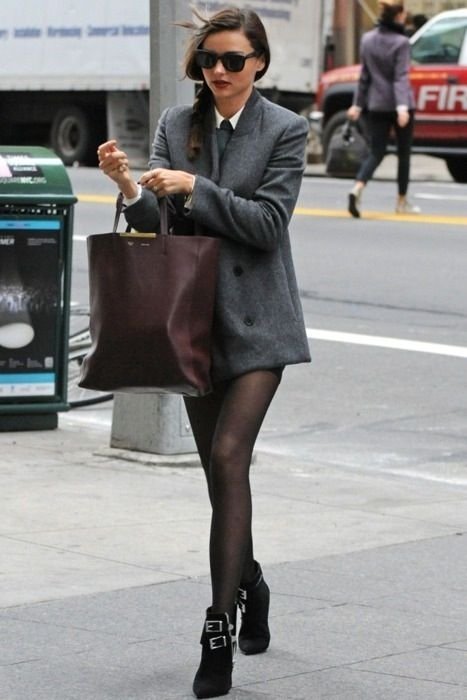 I love when women put a "menswear" twist to their outfit. The white collared shirt and tie underneath are very business-ready. The structured blazer makes the outfit look very tailored. To recreate this look, rock a white button up shirt and pair it with a tie on top! Wear a mini skirt on top of your black stockings and then throw on your "menswear-inspired blazer."
3

Fun Prints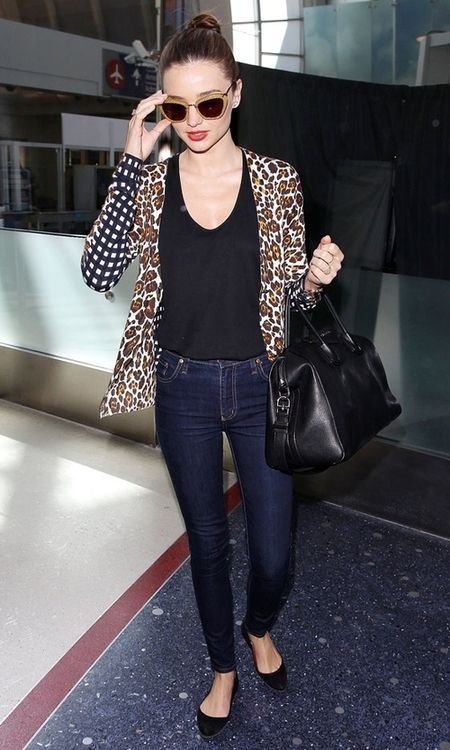 When she's not glammed up, Miranda keeps things casual. I love everything about this look! It's simple yet makes a statement at the same time. To recreate this look, go for some dark skinnies and pair them with your favorite black flats. Keep your tee and purse black too. That way, you can wear a fun printed cardigan without making the outfit look too "overwhelming." For the ultimate causal look, wear your hair up in a bun!
4

All Black Ensemble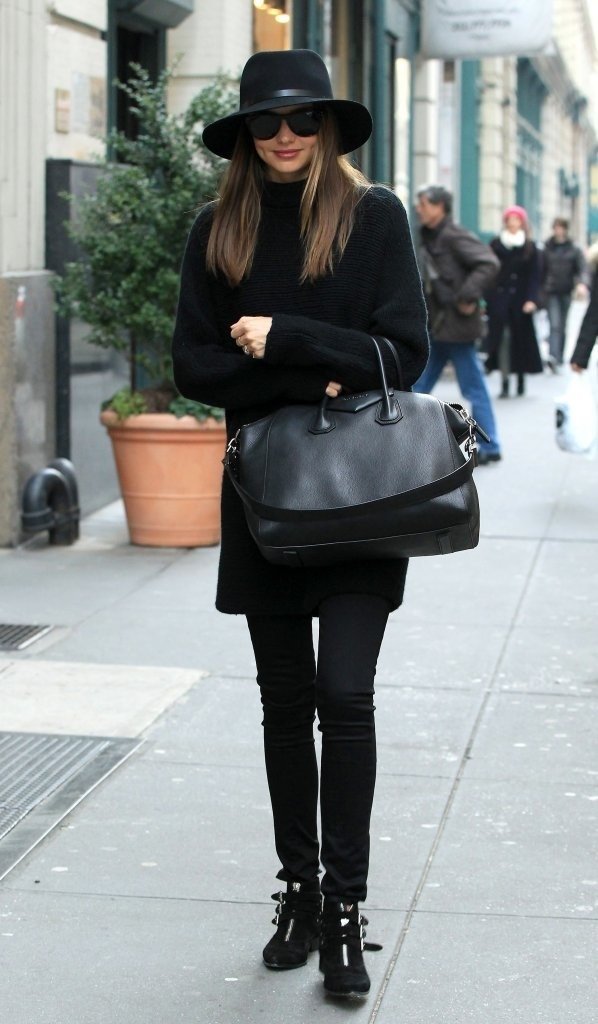 You can never go wrong with an all black ensemble. It always looks sleek and sophisticated. Miranda rocks all-black all the time! I love the oversized sweater over the dark skinnies. The hat and shades complete the look, along with that purse!
5

Denim on Denim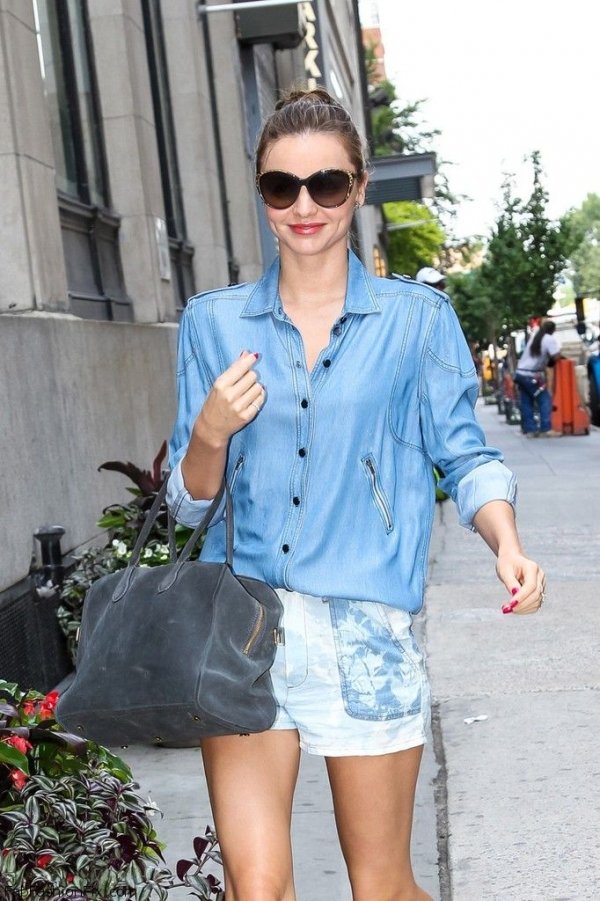 Who knew denim on denim could look so good? Miranda pulls it off flawlessly! If you think you can't pull off the whole denim on denim look, think again. Denim looks great on everyone! Pair your distressed denim cutoffs with your denim button-up. Find a colorful purse and you're ready to go!
6

Preppy Casual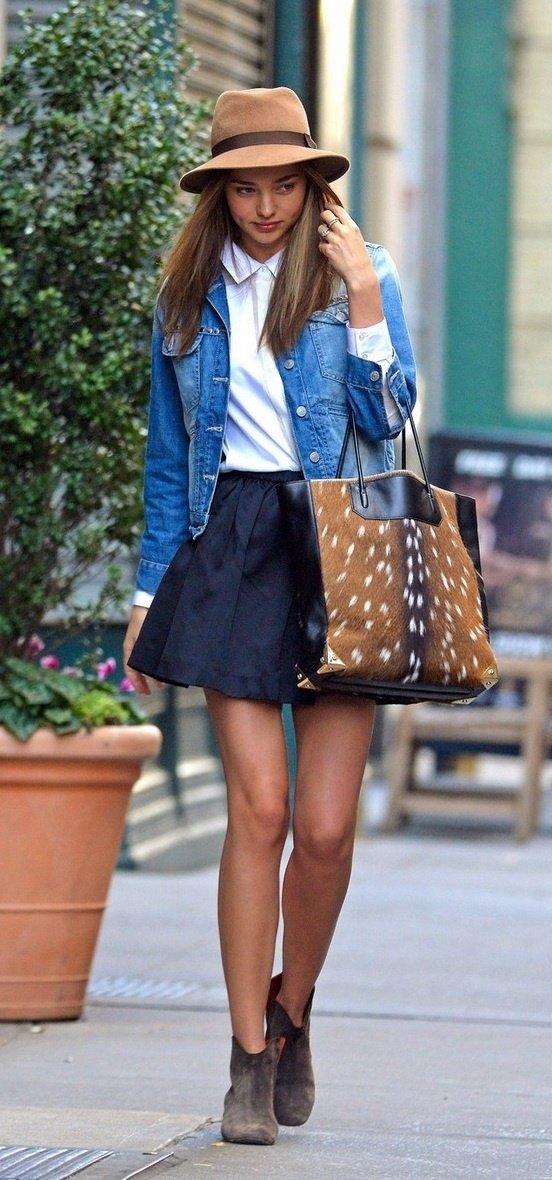 I am obsessed with this look. The white collared tee and black skirt are very preppy. The denim jacket, boots, and hat make this look more casual. It's the perfect outfit for running errands around the city, meeting your girlfriends for lunch, or even heading to class! P.S. how awesome is that purse? I love how it matches the hat!
7

Leather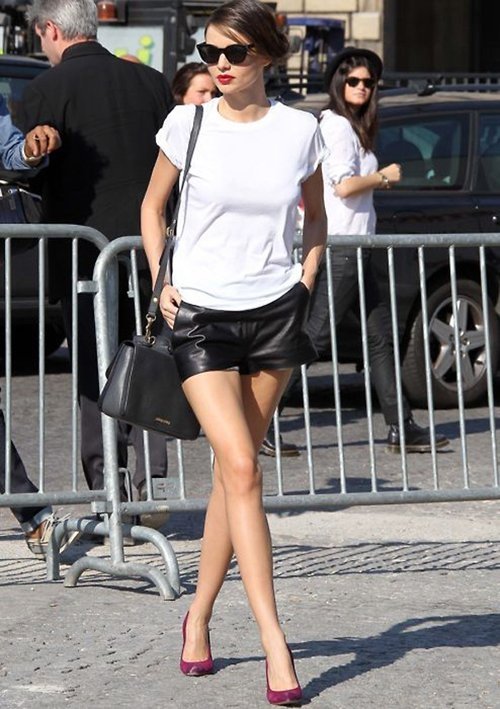 Leather is always in. I love this look because of the simplicity of it. To recreate this look, just pair your leather shorts with a simple white tee. To add a pop of color to the outfit, choose some vibrant colored flats. I love the bold red lip color she has on - it actually helps take the outfit to the next level!
Well, there you have it! These are just seven out of many awesome street style looks from Miranda Kerr. Of the list, which look is your favorite?
Please rate this article