7 Amazing Street Style Looks from Selena Gomez to Recreate ...
By Vanessa
There are so many awesome street style looks from Selena Gomez that would be perfect to recreate this spring! She's always super classy, no matter if she's at a formal event or just running errands. I love that she always manages to look "effortlessly chic" in her outfits. She always looks great, but I narrowed this list down to seven of my favorite street style looks from Selena Gomez. Check them out and then let me know which looks are your favorites!
---
1

Distressed Denim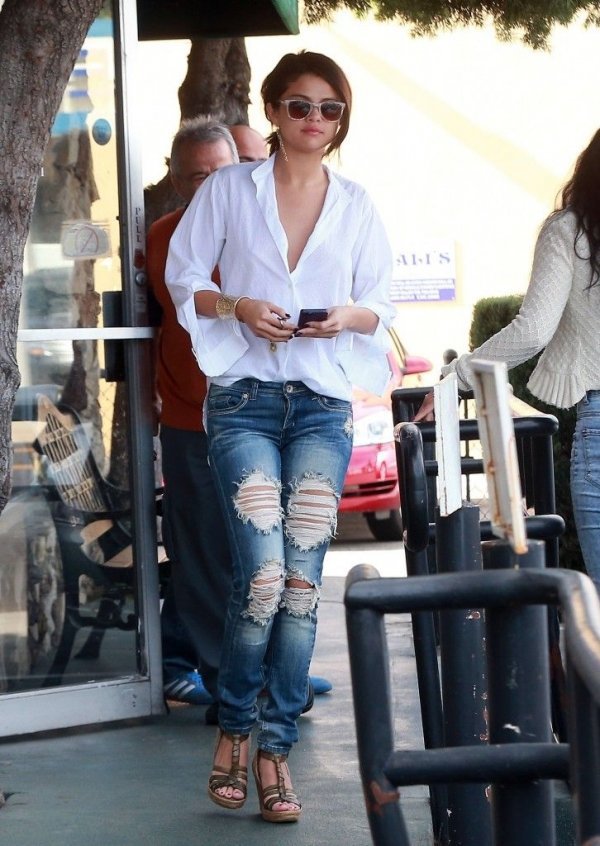 I love this look! It's very simple and casual, but still manages to look effortlessly cool. I love the oversized button up - it's a nice contrast with the ripped skinnies! This outfit would be perfect for running errands, hitting the mall, or just hanging out with friends. The cool thing about denim is that you can pair it with any color! If the white doesn't do it for you, swap it with another colored button up! Even a funky printed blouse would look nice! This is just one of the awesome street style looks from Selena Gomez.
2

Flannel + Jogger Pants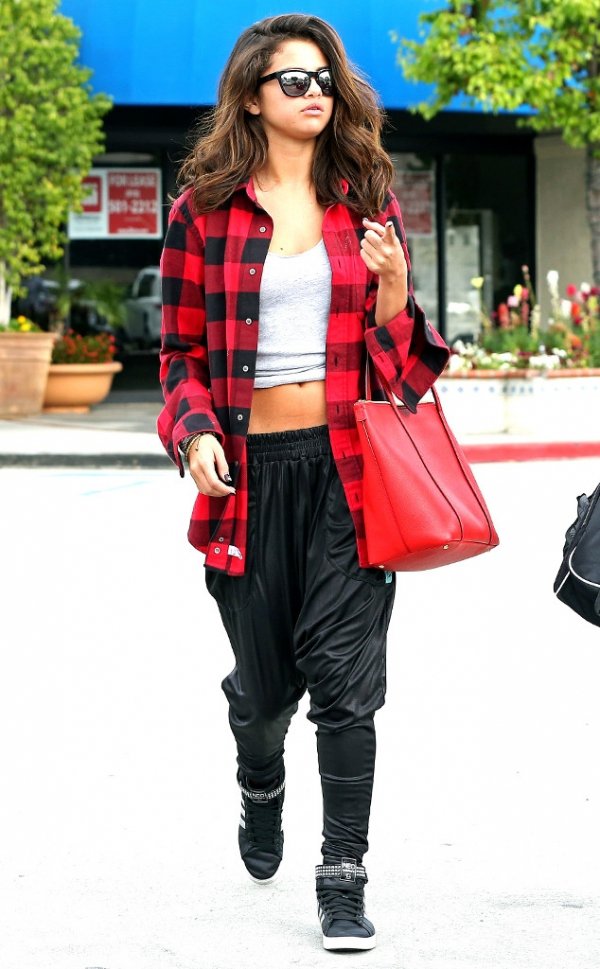 Selena can make anything look cool. I think if I were to wear this outfit, I might not pull it off as well as she does! But anyways, I'm loving the red + black ensemble. Her leather jogger pants look awesome paired with a flannel shirt, and that red purse completes the whole look! Would rock this outfit?
---
3

Denim + Pencil Skirt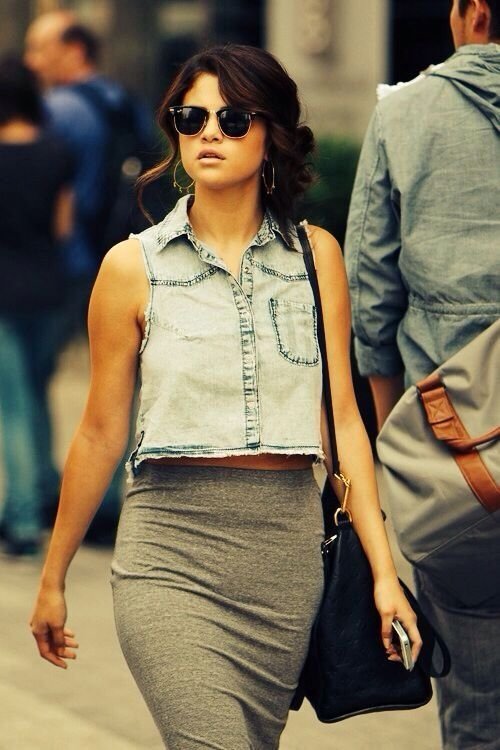 I'm pretty much obsessed with this! It's comfy and casual but still looks really chic. She paired her denim crop top with a grey pencil skirt - a look I would've never thought of! I like that she kept her accessories to a minimum, adding only some stylish hoop earrings and some shades. This outfit looks like it'd be perfect for taking a stroll in the city!
---
4

Oversized Sweater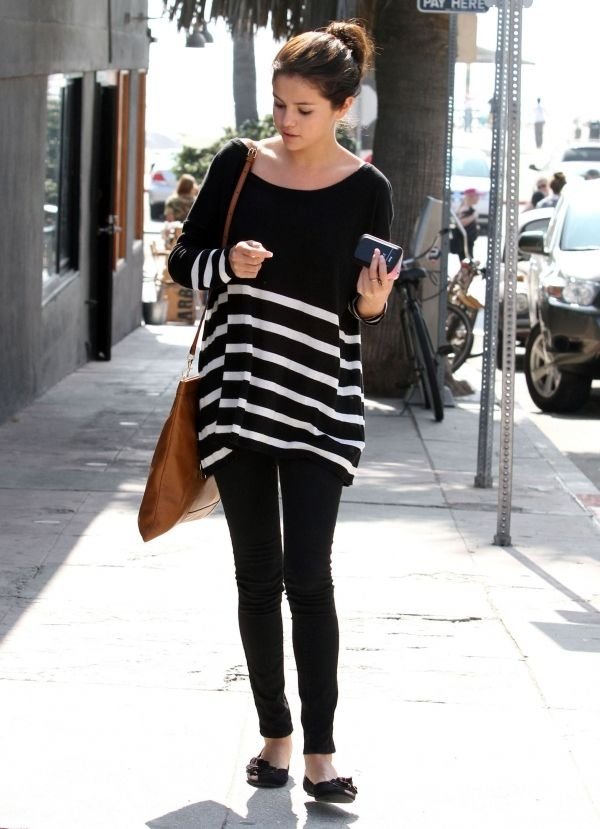 This is probably one of the easiest looks to recreate. An oversized sweater is a must-have in your closet! It's my go-to whenever I want to feel comfy all day. Pairing it with some skinnies automatically pulls the look together. Put your hair up in a messy bun and then you're ready to go! Style meets comfort.
---
5

Peplum + Printed Pants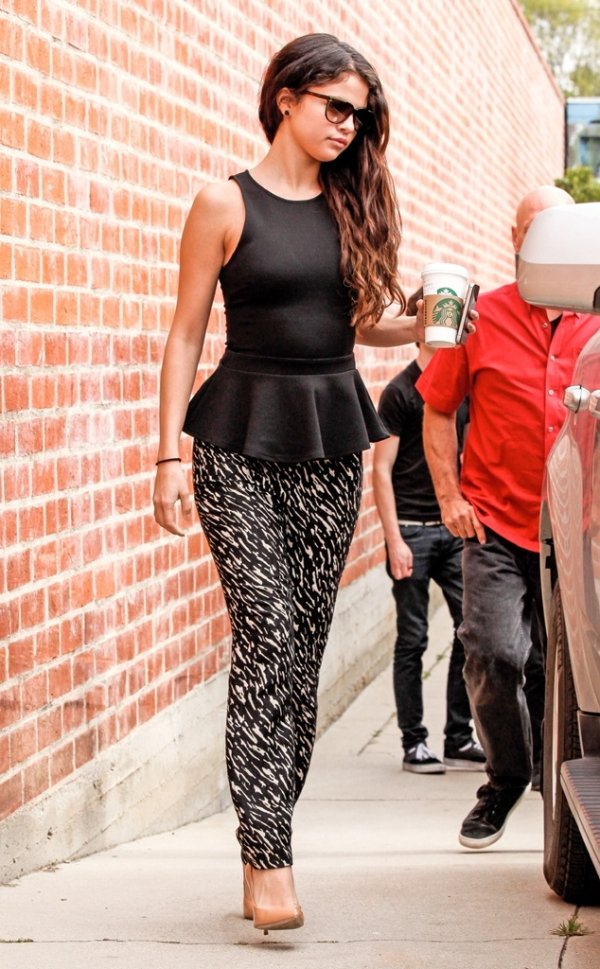 This is a really simple look but I love it! It's something you could wear to work and then out with your friends. Pair a black peplum top (you can find a ton of these at Forever 21) with some printed pants. For the shoes, keep it neutral! Either some nude pumps or flats would look awesome with this!
---
6

Comfy Casual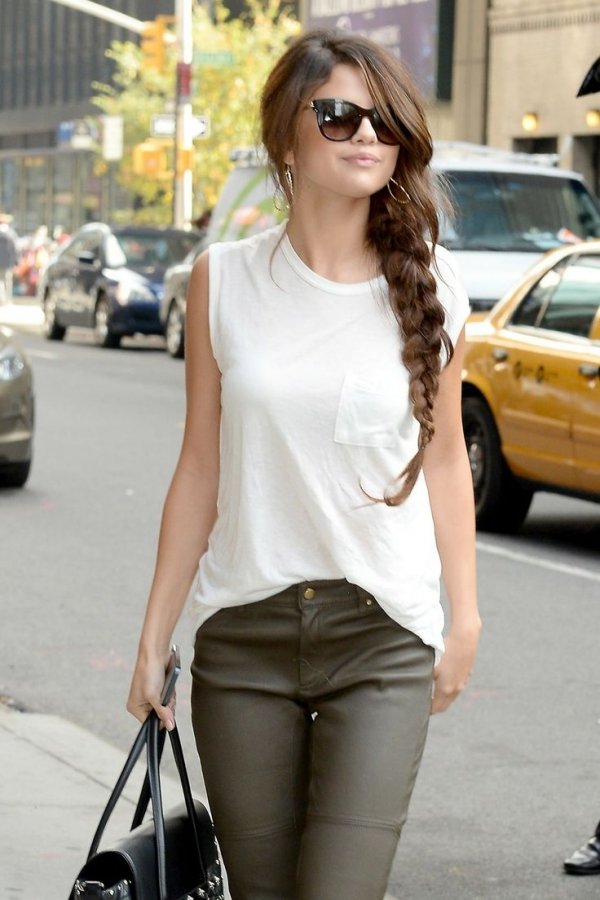 This outfit is so easy to recreate! You can never go wrong with pairing a plain white tee with some skinnies. If you're feeling bold, you can wear colored skinnies - like this olive green Selena is wearing! P.S. that side braid is everything!
---
7

Hippie Chic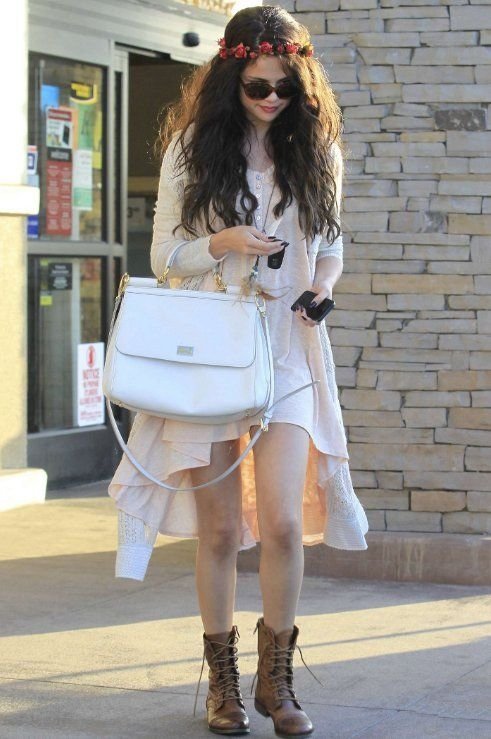 I love when Selena goes for more of an "earthy" look. I think she does the whole "hippie chic" look fantastically. I love the fact that she chose to wear combat boots with this! That floral crown is such an adorable touch!
Well, there you have it! We all know Selena is quite the fashionista. I love how her style has evolved SO much! Of the list, which street style look is your favorite from Selena Gomez? What twists would you put on these outfits to recreate them in your own way?
---
Comments
Popular
Related
Recent