7 Fab Street Style Looks from Taylor Swift to Recreate This Spring ...
By Vanessa
There are so many amazing street style looks from Taylor Swift that would be perfect to recreate this spring! The girl's definitely got style. She always looks amazing - whether she's at a red carpet event or just walking down the street! I love that her street style outfits are really casual yet totally feminine and girly. Check out some of my favorite street style looks from Taylor Swift! Which ones will you be recreating?
---
1

Preppy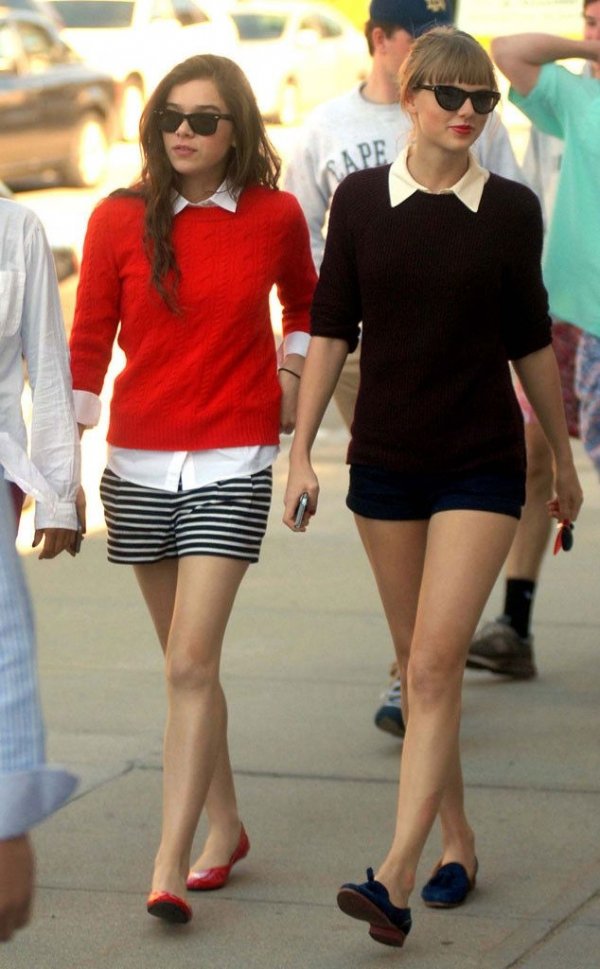 Taylor Swift is the queen of preppy looks. She always looks so tailored and put together, and it's fabulous. This outfit is really simple yet totally stylish. I love how she's somewhat matching with Hollywood starlet Hailee Steinfeld. This is just one out of many cool looks from Taylor Swift!
---
2

Stripes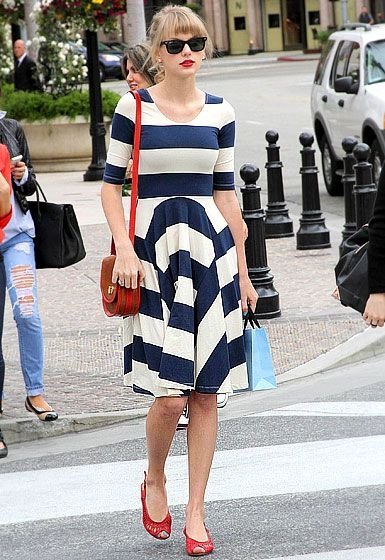 It seems like Taylor can't get enough of stripes! She's always rocking them, but I'm not complaining! Stripes look great on everyone. Wear your striped dress and add some color to your outfit - like she does! I personally love red + navy blue.
---
3

Floral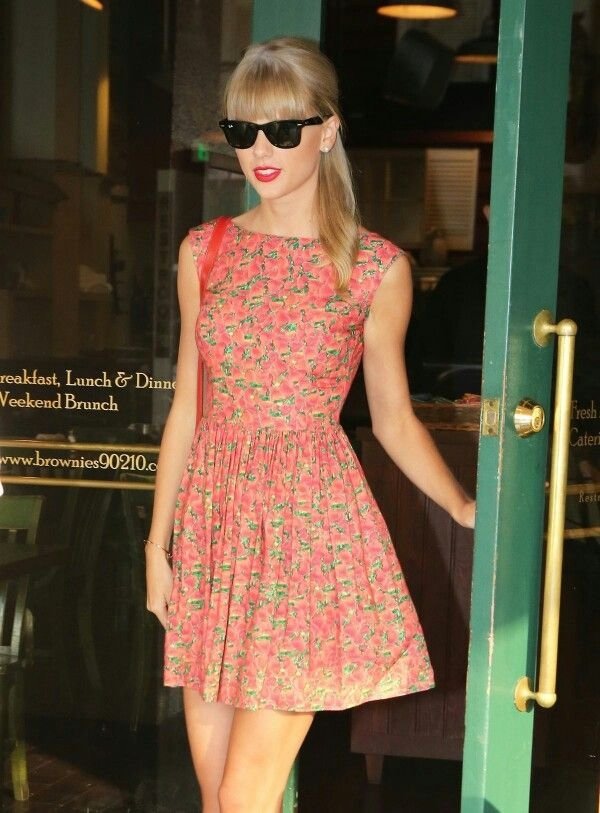 You can never go wrong with floral, right? This spring, try out a floral dress like Taylor's! You can find similar ones at Forever 21! I definitely suggest stocking up on some floral dresses because they're sure to become the go-to items in your closet this spring! Don't forget to rock your Ray Ban sunglasses with the outfit!
---
4

Midi Skirt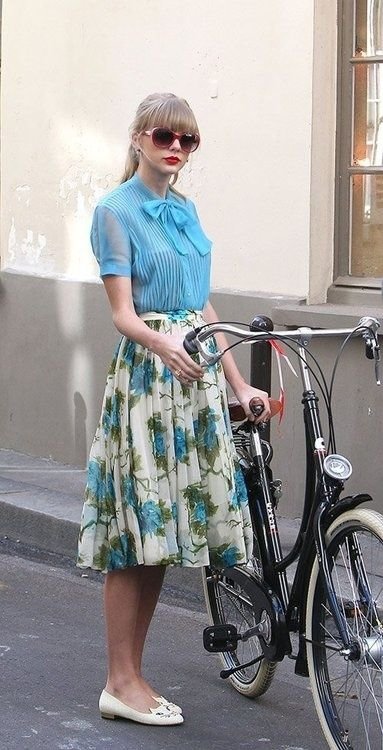 Can she look any cuter?! I'm obsessed with this retro look! The floral printed midi skirt looks amazing with that blue blouse (with a super cute bow) and white flats. Also, the fact that she's about to ride a bicycle makes it look like this look is straight out of a magazine. I love the retro girly feel from this outfit! Would you rock it?
meghan
was not her street style, it was for her music vid...
---
5

Hipster Chic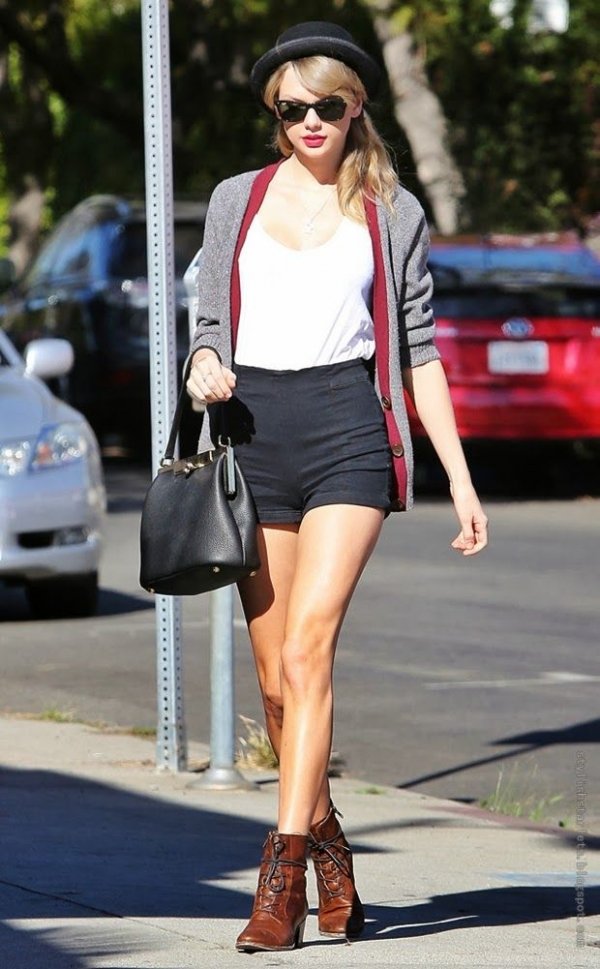 No one does hipster chic like Taylor! I'm loving everything about this outfit, from the high-waisted shorts to the bowler hat! This is definitely an easy and super cute outfit to recreate this spring. If you want to add an 'edge' to the outfit, swap the plain white shirt for a fun graphic tee. Keep the hat and the shades though, those are the statement pieces of the outfit!
---
6

Tailored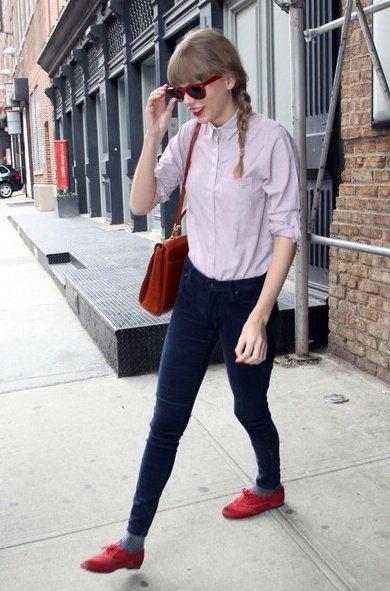 I love when girls go for a more tailored look, somewhat menswear inspired. I love that Taylor added a pop of color to her outfit with that red purse, shades, and oxford flats! To recreate this look, wear some dark skinnies and pair them with a form-fitting button up! It's such a cute outfit for running errands or meeting up with your girl friends for lunch!
7

Varsity Jacket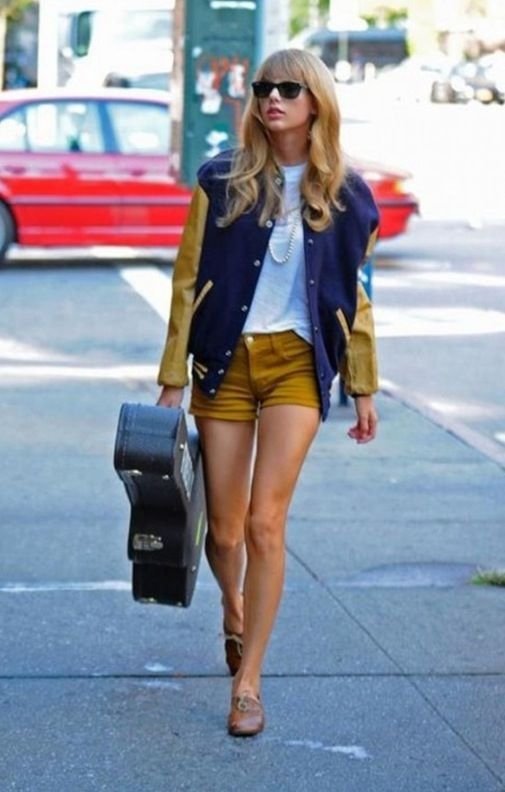 I'm obsessed with this look! The varsity jacket trend is really hot at the moment! I love that she kept it simple by keeping the accessories to a minimum. She gets instant 'cool' points for carrying around that guitar and rocking those black shades! I love that she chose to wear oxford flats with this outfit - I think it looks great! Would you rock this look?
Well, there you have it! These are just seven out of many fabulous street style looks from Taylor Swift. I love that she's not afraid of taking any fashion risks. Of the list, which look is your favorite? Which looks will you be recreating?
---
Comments
Popular
Related
Recent