7 Street Style Ways to Wear a Turtleneck This Fall ...
By Vanessa
There are so many cool and easy ways to wear a turtleneck this fall. You might've thought that turtlenecks went out of style a long time ago but let me fill you in on a little secret... the trend is still very much alive. In fact, it's been popping up all over the place in the fashion scene this season! If you're not sure how you should be styling them, hopefully this list of ways to wear a turtleneck will leave you feeling inspired.
---
1

Oversized Sweater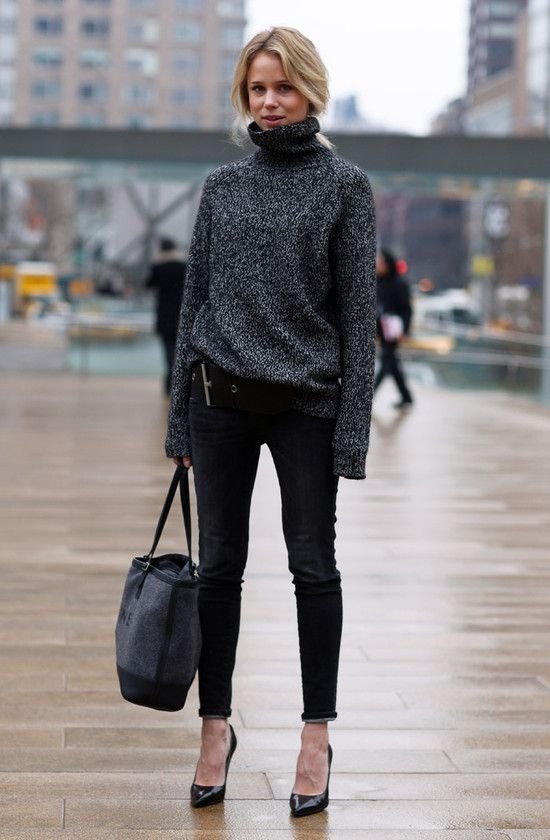 What's comfier than an oversized sweater? Not much!
They're one of my go-to items on a cold day because it gives you comfort and style. What more could you want? I'm obsessed with this knit turtleneck sweater from hm.com, I love how loose it is! You can pair it with skinny jeans or leggings. This is just one of many cool street style ways to wear a turtleneck this fall.
2

Layered under Outerwear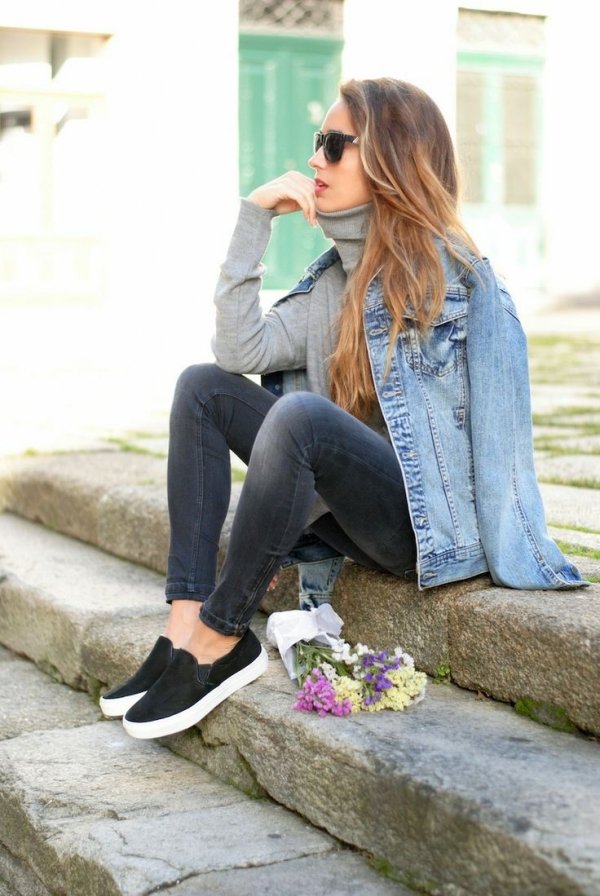 For the super chilly days when the turtleneck just isn't enough, layer it underneath your jacket! For a casual look, layer it under a denim jacket because, well, denim goes with just about anything.
---
3

Feminine Touch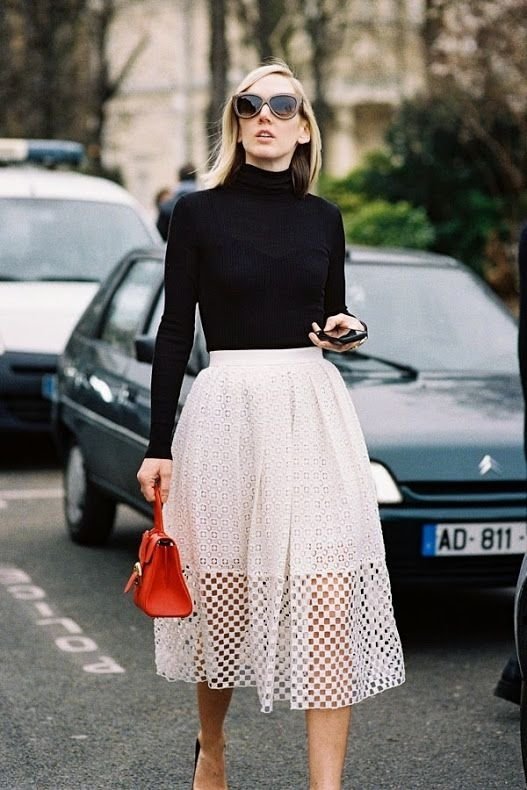 If you want to add a girly and feminine touch to your turtleneck, that's easy! Pair it with a midi skirt and bam, instant chicness. If you want to go for a bold colored midi (or even patterned), then make sure that your top is a neutral color. That way, the two items won't clash.
---
4

Monochrome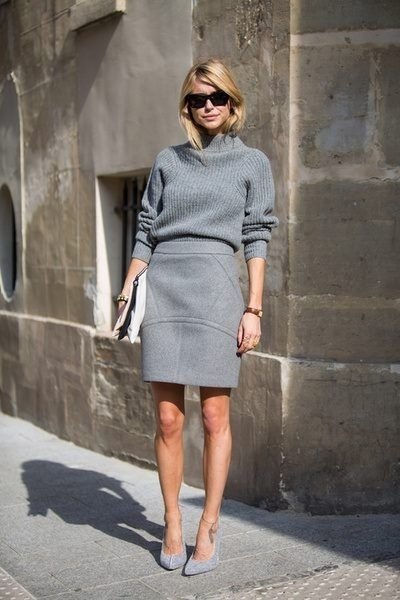 You can never go wrong when wearing one color head to toe! Choosing a neutral color like black, white, or grey will guarantee a chic look. You can pair your turtleneck with a pencil skirt of the same color for a fall-ready work-appropriate outfit.
---
5

Layered over Long Sleeve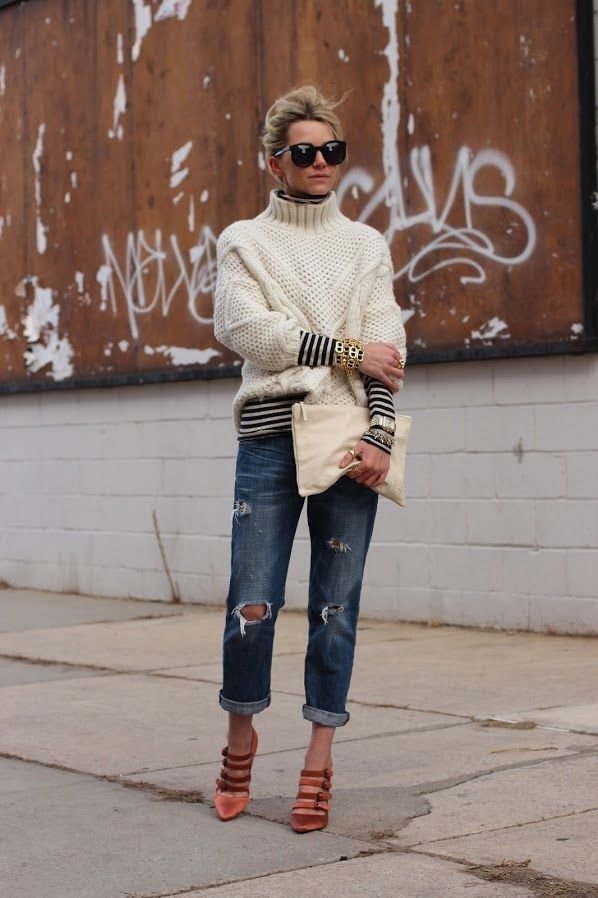 You can totally dress up your turtleneck by layering it over a long sleeved top! You can go with the classic black and white stripes or you can go for a bolder color, like this dark purple striped number from hm.com. By layering a knitted turtleneck sweater over it, you'll earn some major style and comfort points. Try this Calvin Klein cable knit sweater from macys.com!
---
6

Color Blocking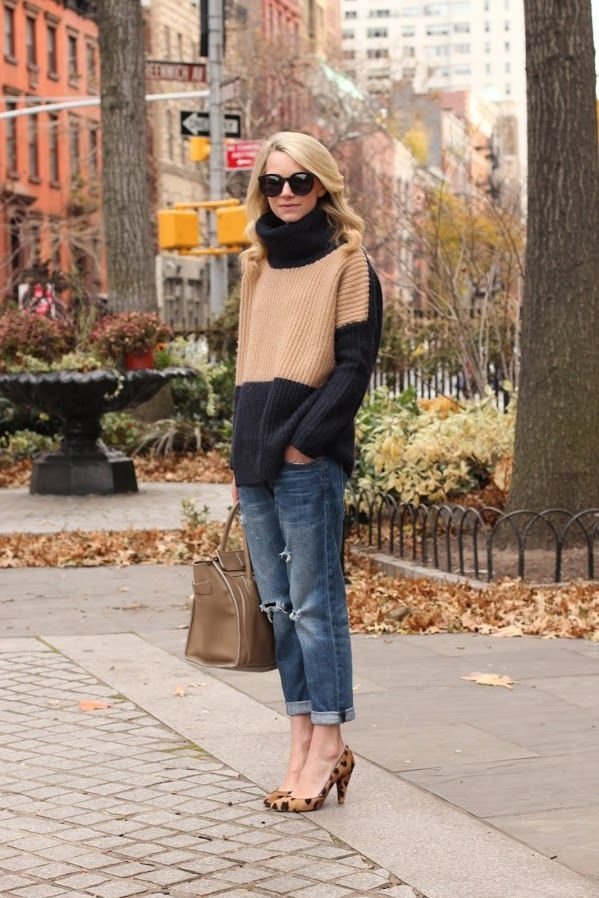 Color blocking is a trend that I hope never goes away. If you don't know what it means, it's when you wear multiple solid colors. It's such a cool and easy way to make a fashion statement! I love this turtleneck from macys.com - you can pair it with some boyfriend jeans for a casual chic type of feel.
---
7

Layered under Dress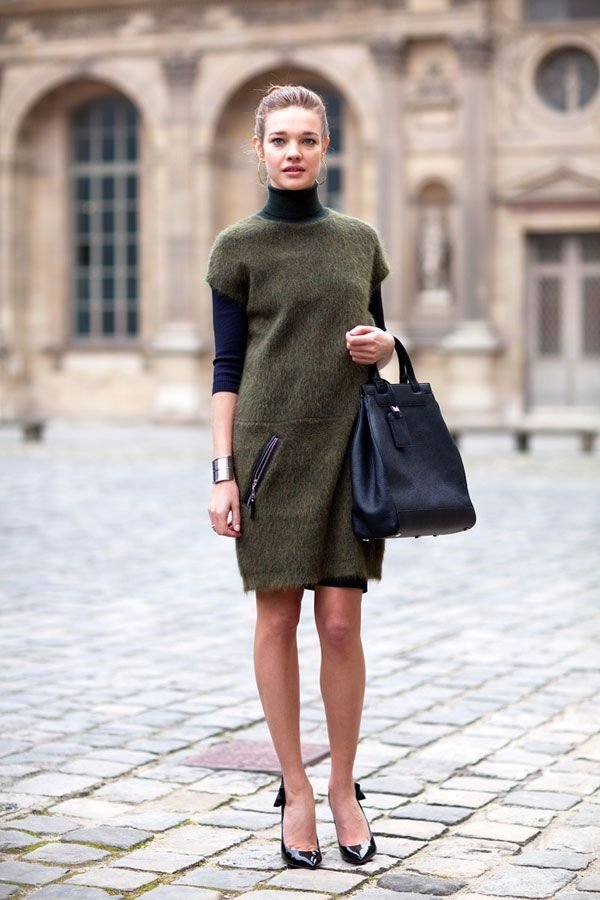 I totally remember doing this when I was a kid. I wanted to wear my summer shift dresses but, of course, it was fall and a lot colder than summer. As a compromise, my mom convinced me to wear a turtleneck underneath them! It's actually really fashionable when executed properly. Choose a neutral color like white, black, or grey - those colors match with anything and everything. It'll look so chic underneath your dress that people will think the items come together! Oh, and your neck will thank you for keeping it warm.
Well, there you have it. These are just seven out of many awesome street style ways to wear a turtleneck this fall! Who knew they could be so comfy AND fashionable? Of the list, which look is your favorite? Which look will you be recreating?
---
Comments
Popular
Related
Recent