7 Streetstyle Ways to Wear Boyfriend Jeans ...
By Vanessa
There are so many incredible ways to wear boyfriend jeans, street style. You can dress them up or dress them down, depending on whatever mood you're in! Either way, it's a super cute item that'll surely become a must-have in your closet! Check out some cute ways to wear boyfriend jeans. Personally, there are some of my favorite looks! Let me know your favorite way to rock them!
---
1

With a Crop Top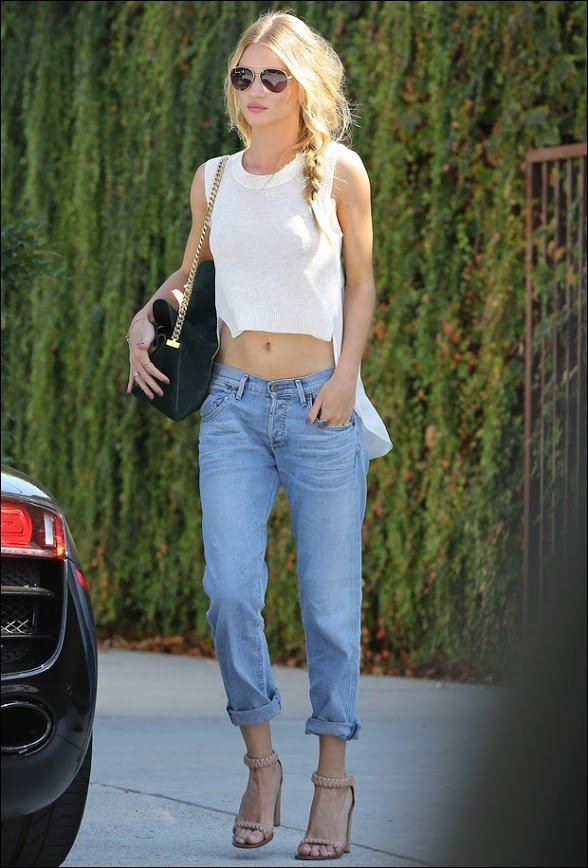 Crop tops scream out sexy! But if you don't want to seem too sexy, boyfriend jeans help tone down the outfit! You'll look sexy without looking like you're trying too hard. If you do plan on rocking this look, keep the accessories to a minimum! Simple goes a long way! This is just one of the cute ways to wear boyfriend jeans.
---
2

Oversized Everything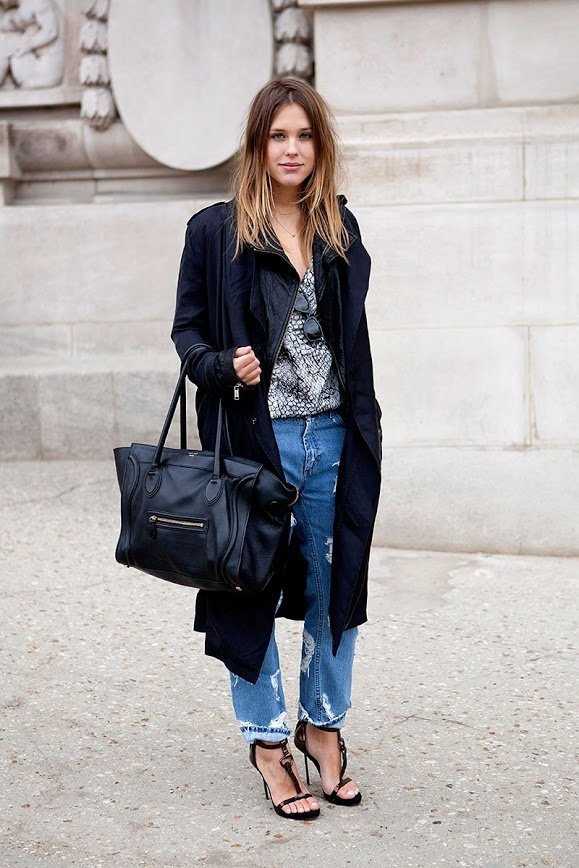 Everything about this look screams yes! Wearing oversized clothing is a cute way to stay comfy and casual. Adding the long coat and big bag instantly makes the outfit street-chic! If you want to drop the coat, wear an oversized sweater instead! Pair your sweater and jeans with some cute heels. Keep the bag, though! Always keep the bag.
---
3

Menswear Inspired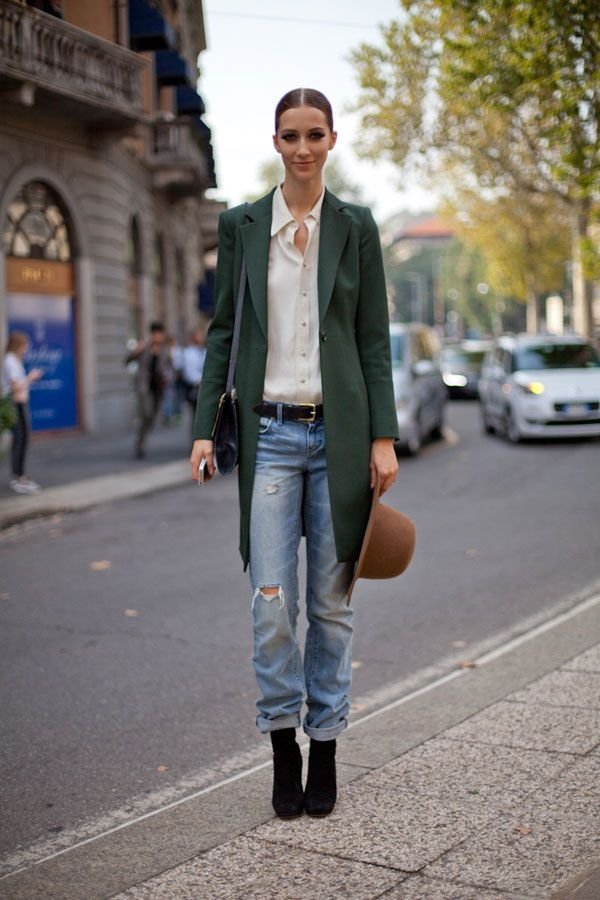 The button up shirt, trench coat, and hat are all awesome pieces in this outfit. This outfit makes you look sophisticated and powerful, like you're going to storm out and take over the world! It's a very polished look so if that's how your wardrobe is, this is the perfect look for you.
---
4

Pair of Bold, Bright Heels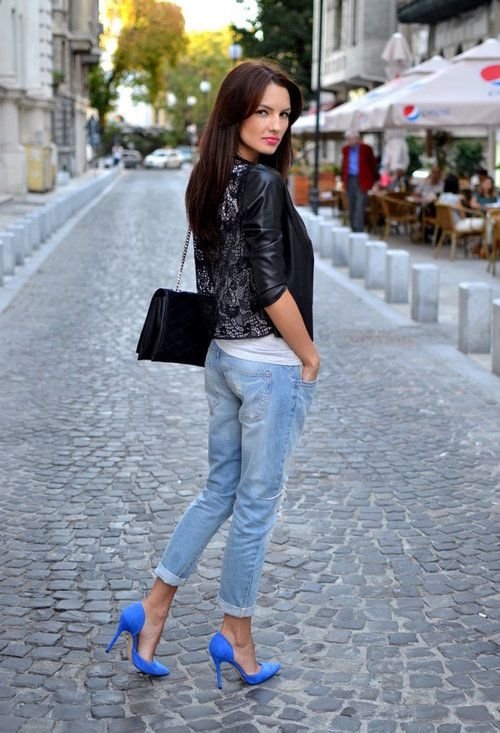 A fun way to spice up your boyfriend jeans is by pairing them with some eye-catching heels! I've found that heels are actually slimming and a total necessity when rocking these baggy jeans. Spring is coming up and it's all about fun bright colors! Which color do you think you'll be rocking this season?
---
5

Bold Print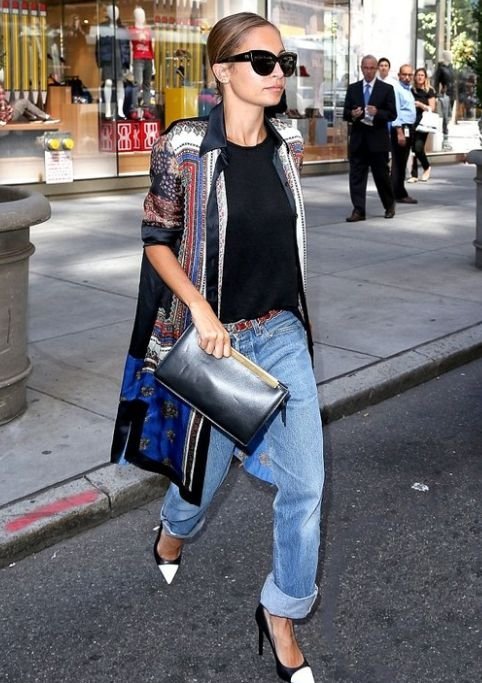 A printed kimono make you look effortless put-together. Pair your boyfriend jeans with a simple black tee, some pointy flats/heels, and your statement making print. If you're going for the Nicole Richie look, add some big sunglasses to the mix. You'll look super street style chic!
---
6

Trench Coat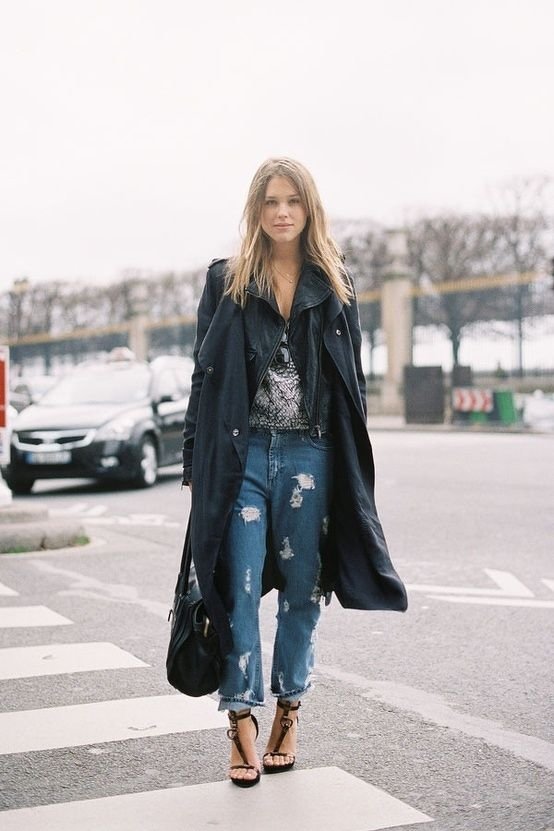 Can you ever go wrong with a trench coat? Sometimes coats are what make or break outfits and in this case, the trench coat is a definite win. If you're going for a spunky, "in-your-face" look with your jeans, the coat helps reel it all in. It's a simply a must-have in every girl's closet!
7

Military Twist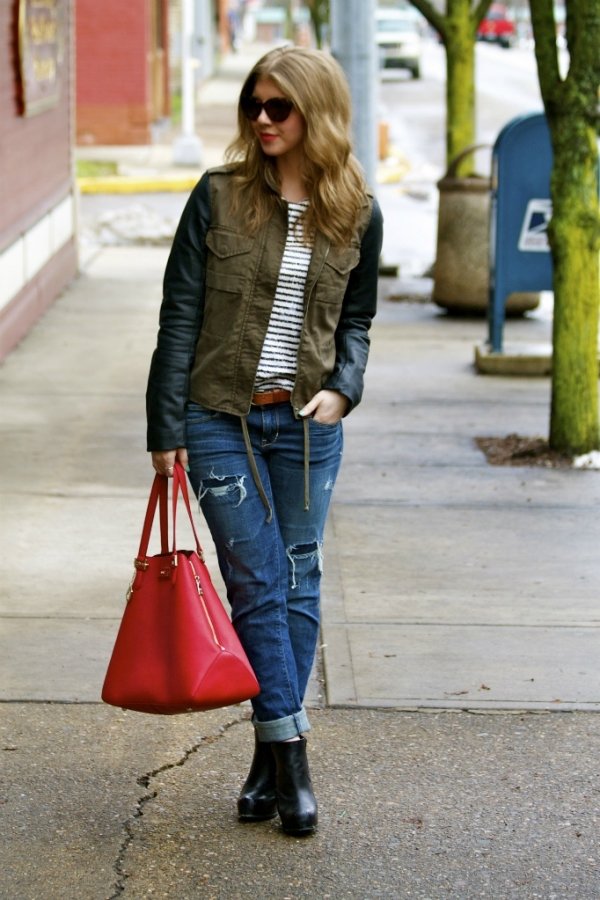 Adding a military twist to an outfit makes your casual look appear to be more put-together. It's something that matches with pretty much anything! Pair your boyfriend jeans with a military shirt or jacket, a bright handbag and some cute wedges. It's the perfect go-to outfit to roam around in the city!
Well, there you have it! These are just seven out of the many awesome ways that you can be rocking your boyfriend jeans. The awesome thing about jeans is that you can pair them with anything and make it look good. Stock up on some boyfriend jeans for the spring/summer season and use this list to make some awesome new outfits! Which one was your favorite look? How do you love to rock your boyfriend jeans?
---
Comments
Popular
Related
Recent