7 Street Style Ways to Wear Knee High Socks ...
By Vanessa
There are so many awesome ways to wear knee high socks. It's become quite the trend and I've been seeing them in so many different outfits! I think it's such a cute and girly touch and I can't wait to try out the trend myself. Check out some of the cool ways to wear knee high socks and the different outfits you can try to recreate. If you have any outfit ideas/tips, let's share them in the comments section!
---
1

Black and White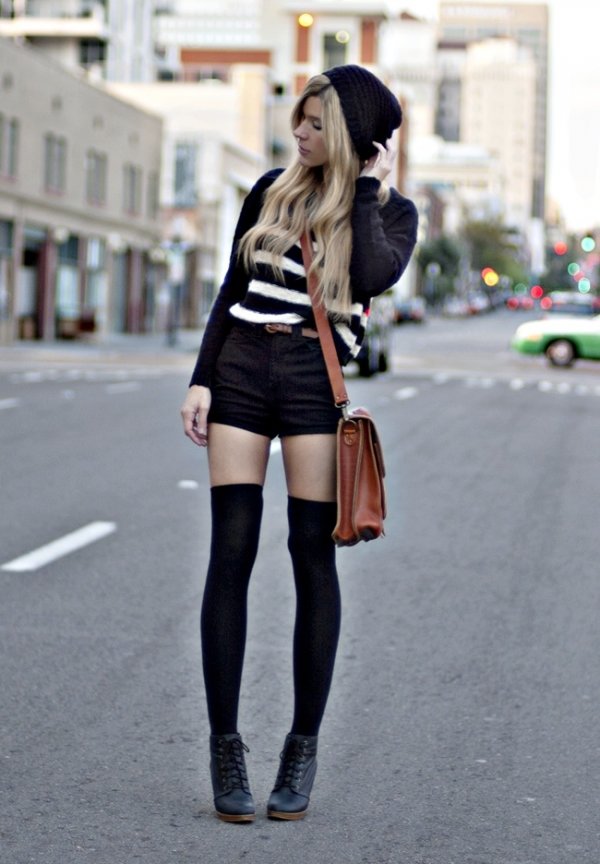 I'm a huge fan of classic black and white outfits. I think the perfect way to recreate this look for the spring is to rock a white tank top and pair it with black high-waisted shorts. Then, wear your black knee-high socks and pair them with some awesome combat boots. Since you're wearing black and white, feel free to accessories with fun colors! Try adding a pop of color in your jewelry or even a cross-body bag. This is just one of the cool ways to wear knee high socks.
---
2

School Girl Chic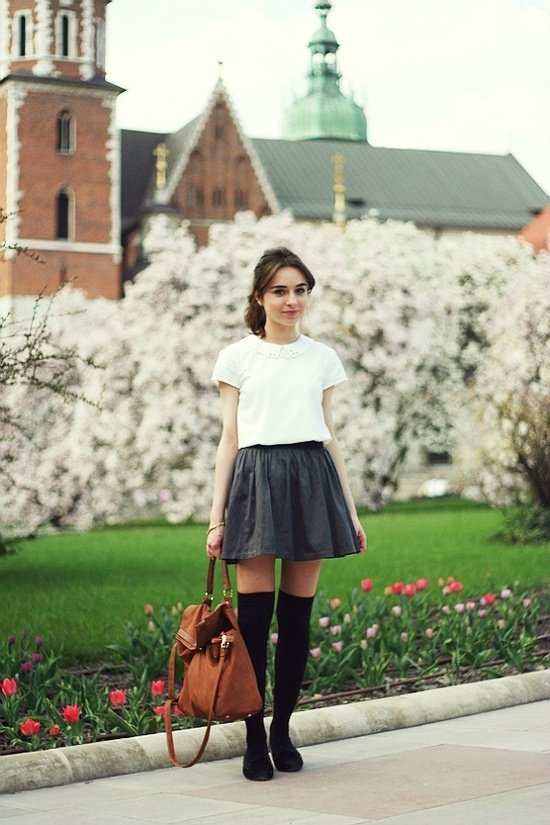 Knee high socks scream out 'school girl chic'. If you're still in school and wearing uniforms, knee high socks are perfect! If you're not in school and just like that 'uniform' type feel, there's an easy way to recreate this look. Rock a white top (or swap it for a graphic tee) and pair it with a skater skirt. Pair your knee high socks with flats and you're ready to go!
3

Hipster Chic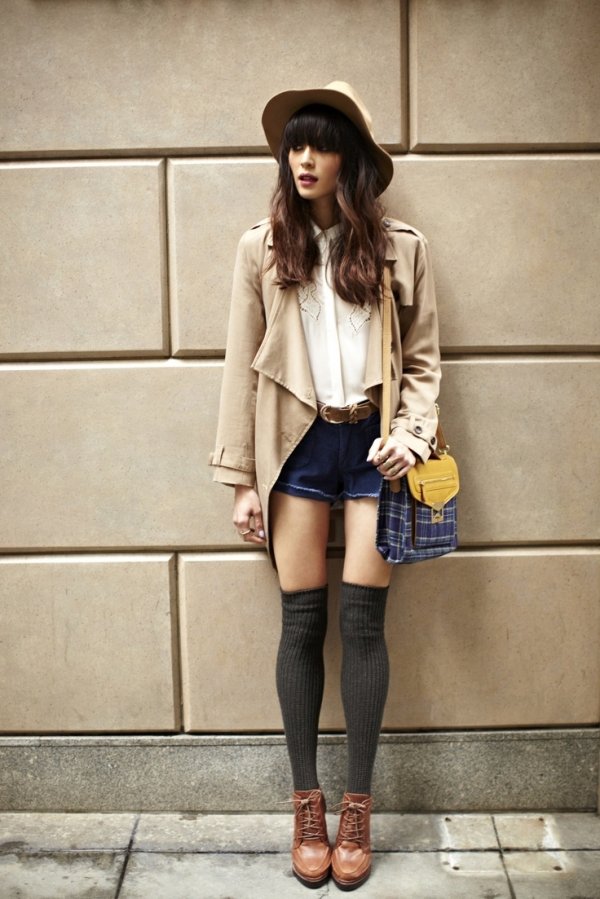 Recreating this 'hipster chic' look is easier than you think. Personally, whenever I'm trying to create a 'hipster' outfit, my go-to inspiration is Zooey Deschanel. Does that work for any of you? Anyways, a big floppy hat is a must. Then, rock a button up top and tuck it under some denim cut-offs. Throw a neutral colored coat on top, some grey knee high socks, and tan colored boots.
---
4

Colorful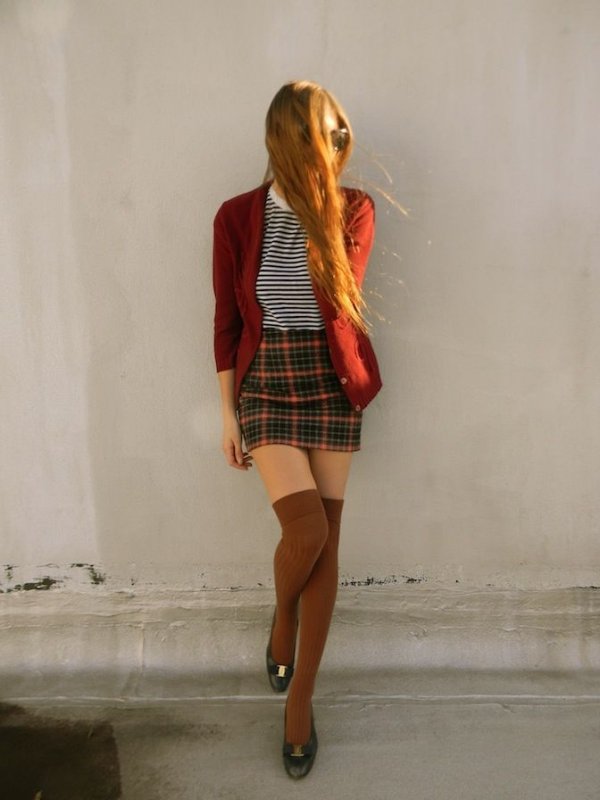 Not all knee high socks are black! You can find colorful ones and make awesome outfits with them. Which color would you want to wear? I'm a huge fan of grey and maroon. I think you can make such fab outfits using those colors.
---
5

Under Boots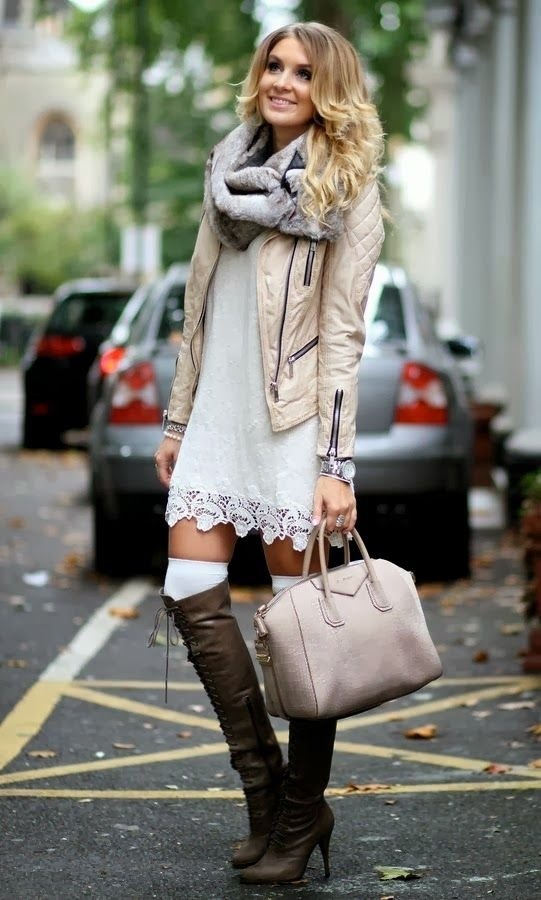 A cool way to wear knee high socks is to wear them under knee high boots and have them peeking out. I think it's such a cute touch! You can pair your boots/socks with a flowy dress for a finished look.
---
6

With Heels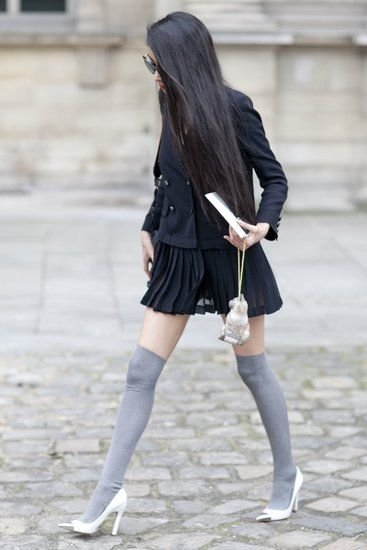 I actually really love this trend. Instead of wearing your knee high socks under boots, pair them with heels. It'll give you major style points and it's the perfect way to glam up any outfit. What do you think of this trend?
---
7

Patterned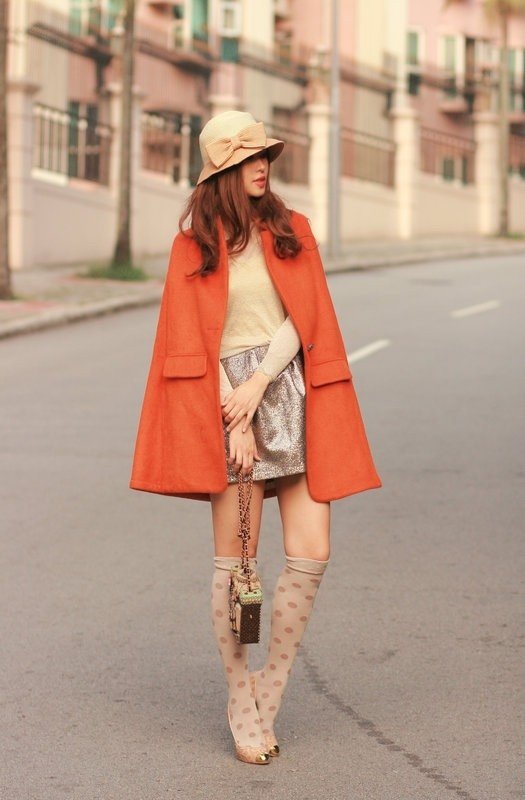 A fun and girly way to rock your knee high socks is to rock ones with a pattern on them! I love polka-dots, I think it's such a cool pattern that goes with just about anything. You can find tons of different one with different patterns/colors, and then make them your own with your outfit!
Well, there you have it! These are just seven out of many awesome ways to wear knee high socks. I have a feeling we'll be seeing them around a lot this spring/summer. How do you like to style your knee high socks? Of the list, which look is your favorite?
---
Comments
Popular
Related
Recent