7 Streetstyle Ways to Wear Metallic and Look Fab ...
By Vanessa
There are so many awesome ways to wear metallic this spring! This trend has been around for years and I don't think it's going anywhere anytime soon! I love metallic accents - whether it be on nail polish, flats, or even a purse! There so many fun and easy ways to wear metallic and look fab! Check out some of my favorite looks. If you have any other ideas/tips for outfits, let's share them in the comment section.
---
1

Pants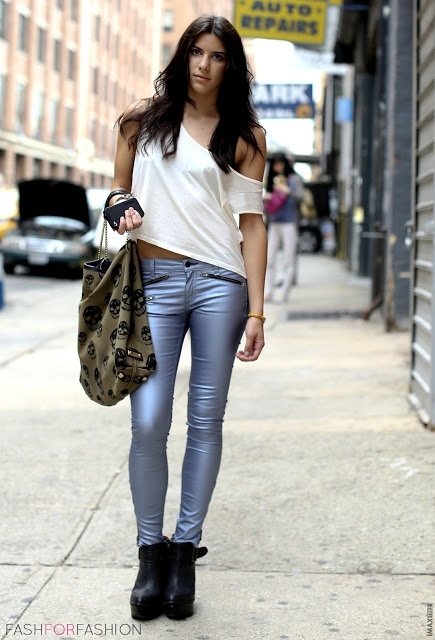 I'm obsessed with this look. Like leather, metallic pants totally give you a "bad-ass chick" vibe. Pair your metallic pants with some combat boots and a graphic tee or crop top! It'll definitely make a fashion statement when you're walking down the street. Pants are just one of the cool ways to wear metallic! Would you rock these?
2

Tailored Suit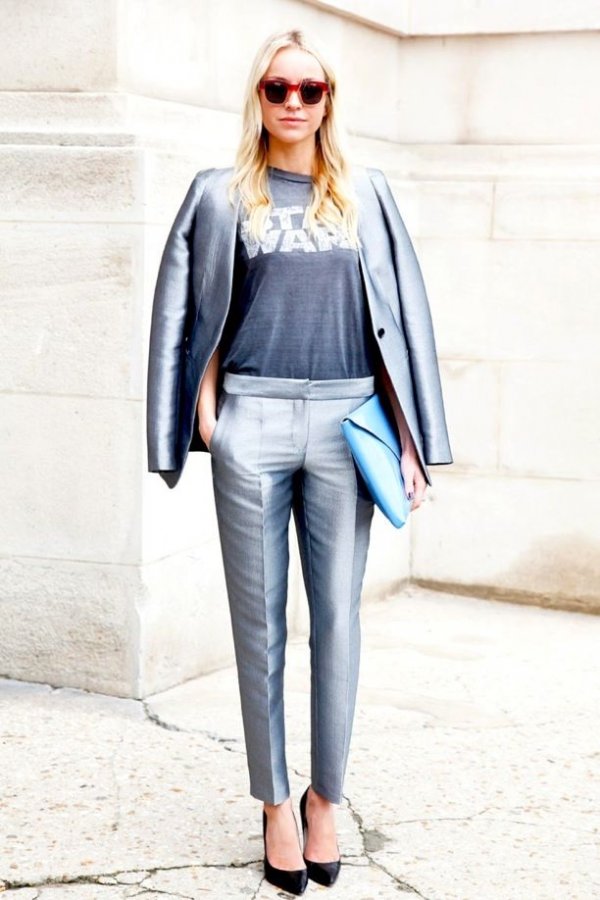 Metallic tailored suit? Yes, please! I'm loving this look. It's very fashion-forward but at the same time, very work appropriate. You can go straight from the office to meeting up with a couple of friends. All the while, you'll look like you're ready to take over the world! Metallic suits will definitely keep you looking fab. What do you think about this?
---
3

Skirt + Denim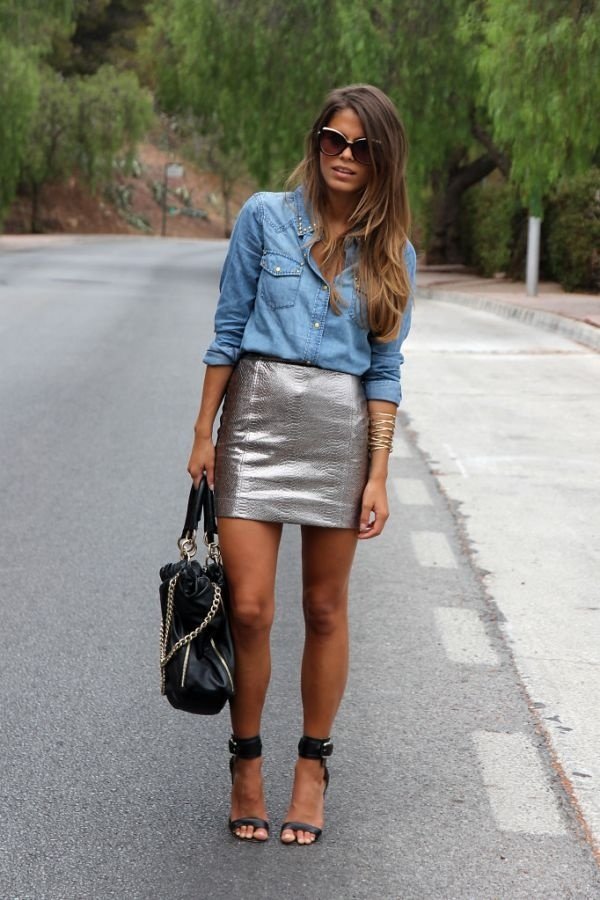 I'm definitely going to try to recreate this outfit for the spring! Pair a metallic skirt with a denim button-up. You can either dress the outfit up by wearing heels, or dress the outfit down by wearing flats/converse! The metallic skirt is very fashionable but the denim tones it down enough where you can wear it for running errands, or just hanging out with friends! Who knew denim + metallic looked so good together?!
---
4

Shoes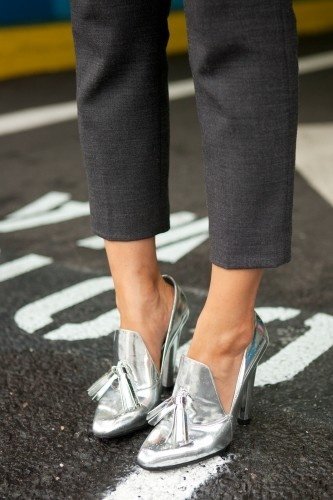 One of the easiest ways to incorporate metallic in your outfits is with your shoes! Whether it metallic-colored heels, or flats with metallic accents, it'll take your outfit to the next level! After all, shoes have the power to make or break an outfit, right? I don't know if I'd go for these metallic shoes, but I definitely love the idea of flats with metallic accents! Don't you?
---
5

Nails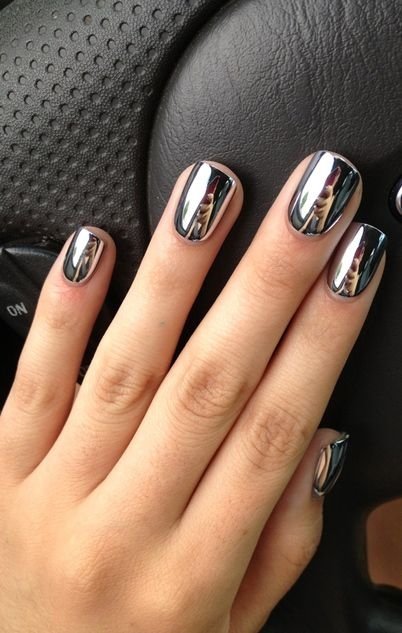 I'm obsessed with metallic nails. They just give any outfit an edgy feel! Plus, they kind of double as mirrors on your finger tips. How awesome is that?! Have you rocked metallic nails yet? There are so many different colors that you can try!
---
6

Blazer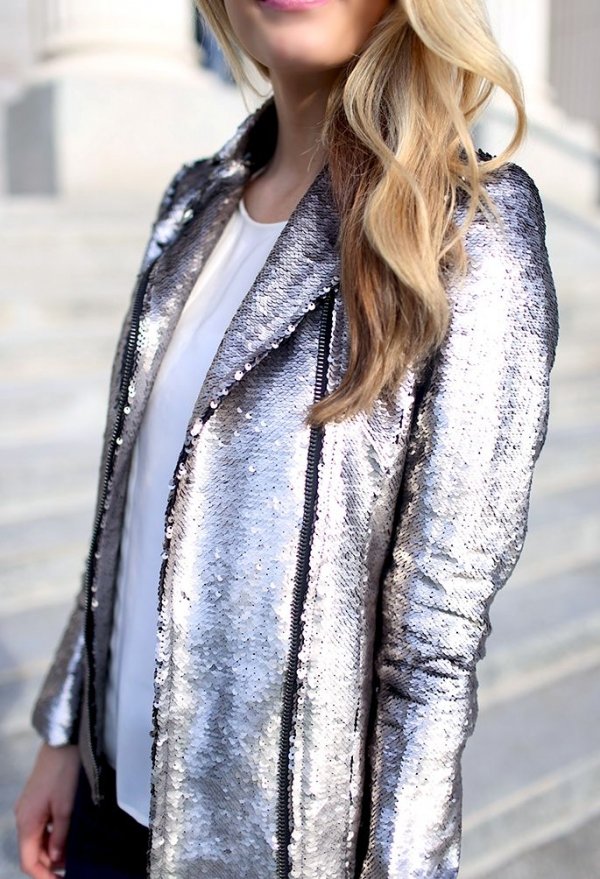 One of the most fashionable ways to rock metallic is on your blazer! Throw it over a simple white tee and black skinnies. It'll serve as your "pop of color" and you'll look fabulous in it! There are different colors that you can find online but I love the classics. What would you pair your metallic blazer with?
---
7

Clutch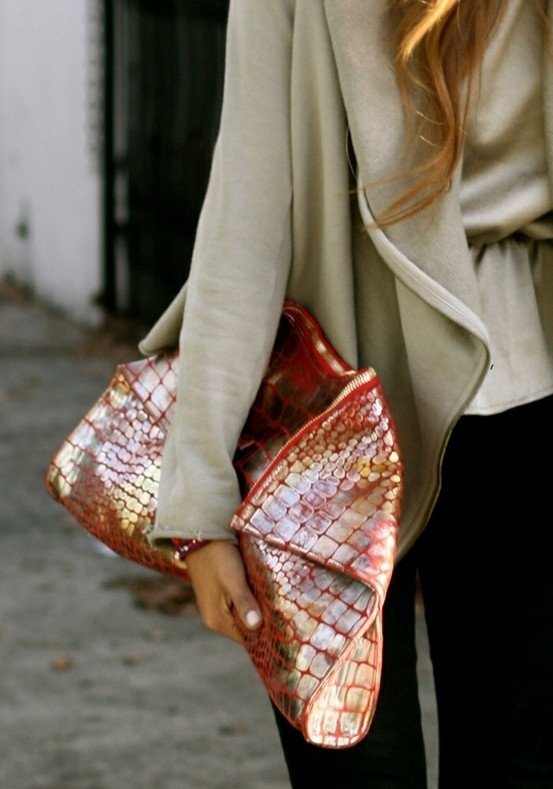 Metallic clutches are so cute! I'm especially loving this one because of the pink accents! It's definitely a fun way to add some color to your outfit. Pair it with neutral colors - that way it won't clash with your outfit!
Well, there you have it! These are just seven out of many awesome ways that you can rock the metallic trend. If you're a fan of the trend, how do you like to wear metallic? Let's share outfit tips/advice in the comments! Of the list, which look is your favorite?
---
Popular
Related
Recent