7 Delightful Street Style Looks from Elle Fanning ...
By Vanessa
There are so many awesome street style looks from Elle Fanning. She's only 16 years old but already understands fashion more than I ever did at that age! She always looks amazing when she's all glammed up for red carpet events and her street style is no different. I love that she's all about comfort but still manages to stay super stylish. Check out some of my favorite street style looks from Elle Fanning and then let me know which looks your favorites are!
---
1

Mens-wear Inspired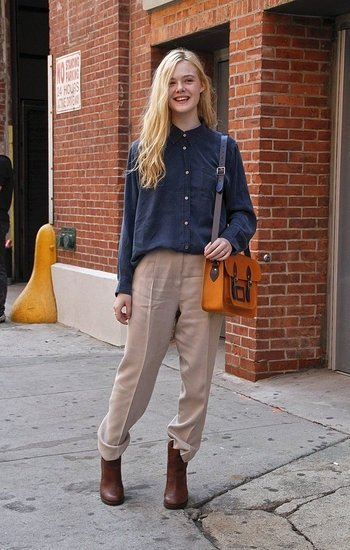 Whatever guys can wear, girls can wear better. Am I right, ladies? I love the whole mens-wear inspired look. Instead of wearing tailored and really fitting clothes, go for a baggier look. That doesn't mean you should wear clothes two times your size. Just opt for flared trousers, and a loose button up shirt. Elle definitely nails this look. This is just one of the awesome street style looks from Elle Fanning!
---
2

Overalls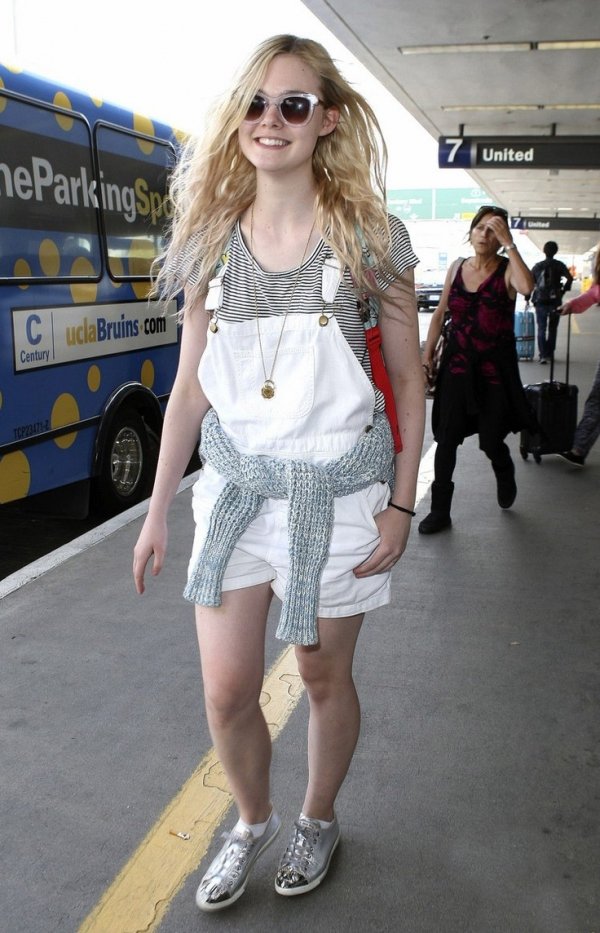 I'm still a huge fan of the overalls trend. I think it's really youthful and fashionable! Every girl should have at least one pair in their closet. You can find tons of cute (and affordable) overalls on us.asos.com. It's my go-to item whenever I can't decide on what to wear! All you have to do is rock a cute tee/crop top underneath and you're good to go.
3

Pastel Coat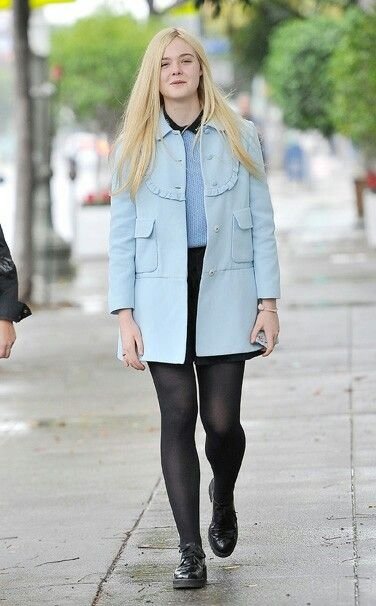 Spring is all about rocking pastel colors. For the still-chilly days of spring, a pastel coat is a must-have! Of course, you can always swap the coat for a cute cardigan instead. You can find some adorable ones on us.asos.com. I'm loving the pastel trend - another fun way to wear pastels is with your nail polish!
---
4

Collared Shirt + Dress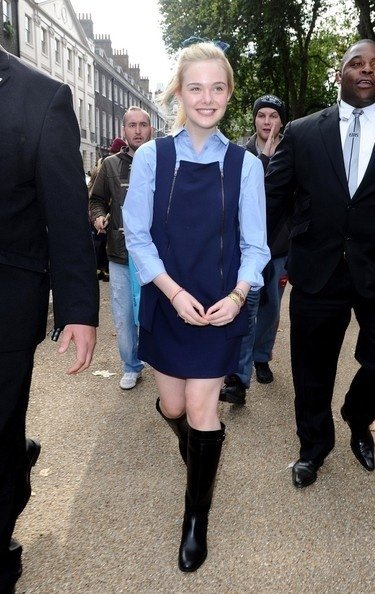 I absolutely adore the 'collared shirt under a dress' look. I think it's such a darling trend. It's really simple to recreate, really. Pick a fit and flare styled dress (you can find cute ones on forever21.com) and then just add a collared shirt underneath. If your dress is a neutral color, you can add some pizazz by sporting a patterned collared shirt! Maybe some polka dots or stripes?
---
5

Oversized Everything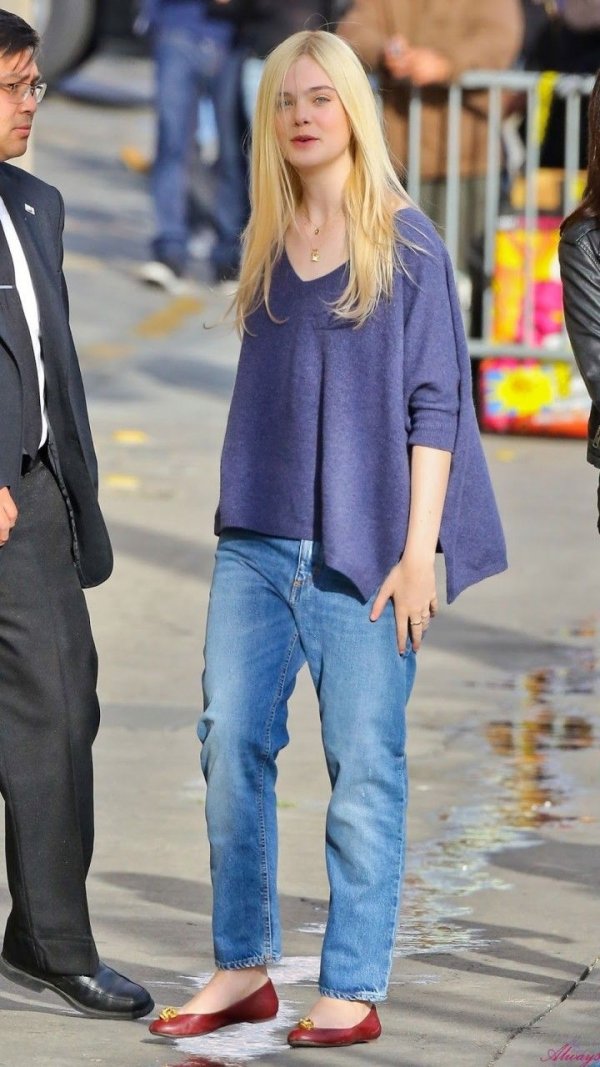 You can never go wrong with oversized clothing. There's just something about it that allows you to feel extremely comfortable, while still looking totally fabulous. For this look, opt for some baggy boyfriend jeans and throw an oversized sweater on top! You can either wear your hair down or throw it up in a messy bun. Wearing flats ties the whole outfit together.
---
6

Crop Top + Ripped Jeans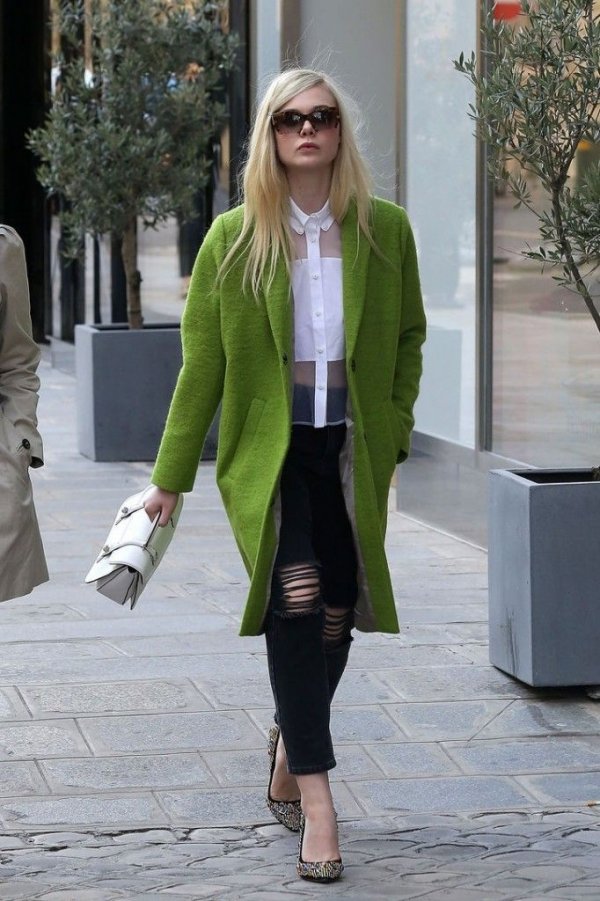 Elle's street style is always effortlessly chic. For this look, pair up distressed jeans and a crop top! The crop top gives you a girly feel while the ripped jeans adds some edge to your outfit.If you want to go even edgier, swap the crop top for a graphic tee.
---
7

Camo + Maxi Skirt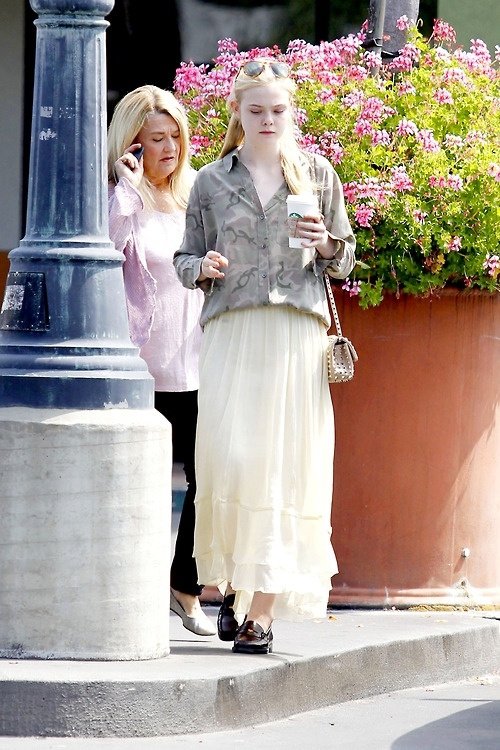 Camo shirts and maxi skirts are both really big trends. Who knew they'd look so good paired together? Elle's always up in the fashion game! Flaunt your camo top with a maxi skirt for a cool and breezy spring look. Personally, I'd go with a black skirt! I think the camo shirt would contrast really nicely with it.
Well, there you have it! These are just seven out of many delightful street style looks from Elle Fanning. She's really taken the fashion world by storm and I'm always really impressed with her street style. Of the list, which look is your favorite? Will you be recreating any of these outfits?
---
Comments
Popular
Related
Recent