COMMENT
There are so many amazing Taylor Swift outfits that can totally inspire your street style. She's definitely been on her A game when it comes to fashion! I love how she always manages to look casual, yet totally chic. I mean, she looks runway-ready no matter where she's going! Take a look at some of my favorite Taylor Swift outfits and let me know which outfit inspires you the most.
1. Chambray Top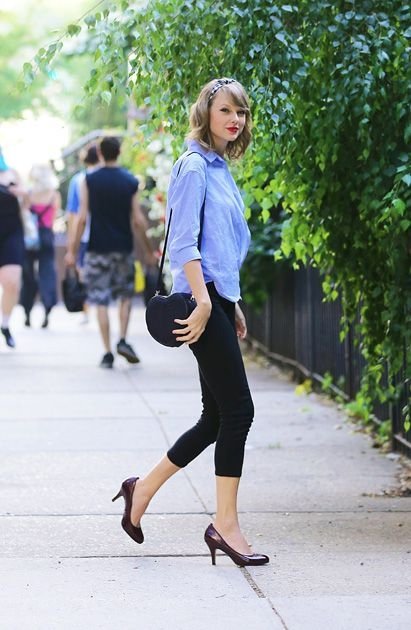 Chambray tops can easily be dressed up! I would pair it with some black skinny jeans and some black pumps. If you want to add some color, do it with your purse or through a fun accessory! It's a great outfit to run errands in or meet up with your girlfriends.This is just one of many Taylor Swift outfits that'll inspire your street style!
2. Pretty Pastels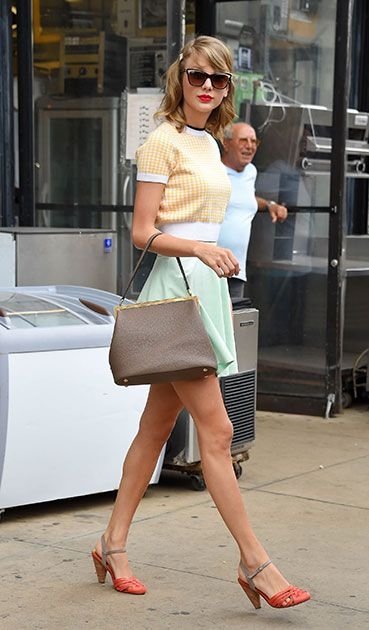 The summertime is the perfect time to break out all those pastel-colored items you've been storing. Don't be afraid to mix and match different colors and patterns! After all, that's what style is all about right? You can mix colors like yellow and mint green, pink and lavender, etc. What colors would you pair together?
3. Floral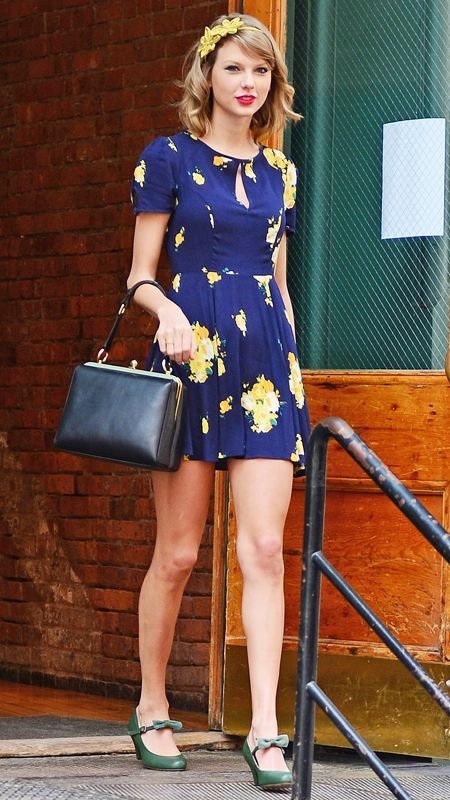 You can never go wrong with floral! Personally, it's my go-to pattern in the summer. I think it's sweet, youthful, and totally stylish. You can choose between so many adorable (and affordable) options on forever21.com. To keep the outfit sweet and simple, I'd wear some flats! For the purse, a mini cross body bag would look great.
4. Casual Chic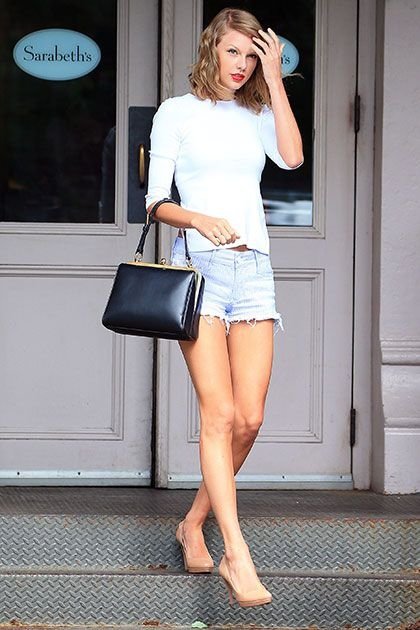 Who knew denim shorts could look so chic? To recreate the look, pair your denim cut offs with a basic white tee. For shoes, I'd go with some ballet flats or oxfords. If that's too casual and you'd like to really take your outfit to the next level, nude pumps are the way to go. Red lipstick would definitely add some pizazz to your look so don't forget that!
5. All-black Ensemble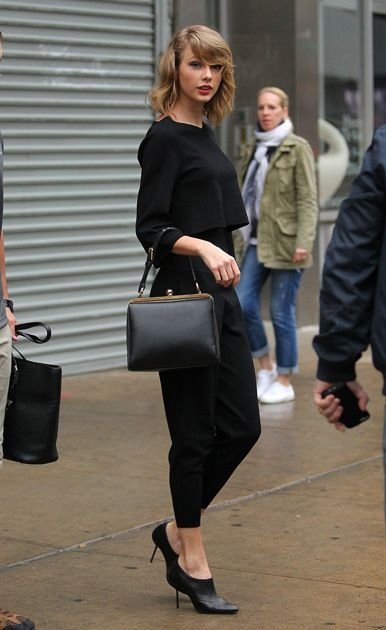 Just because it's summertime, that doesn't mean you have to hide all your black clothing! I think all-black ensembles are acceptable no matter what season it is. It keeps you looking sleek, sexy, and incredibly sophisticated. You can recreate the look with a black jumpsuit paired with some black heels! Or, if you'd like to tone it down and edge it up a bit, try a black romper paired with some black combat boots.
6. Pretty in Pink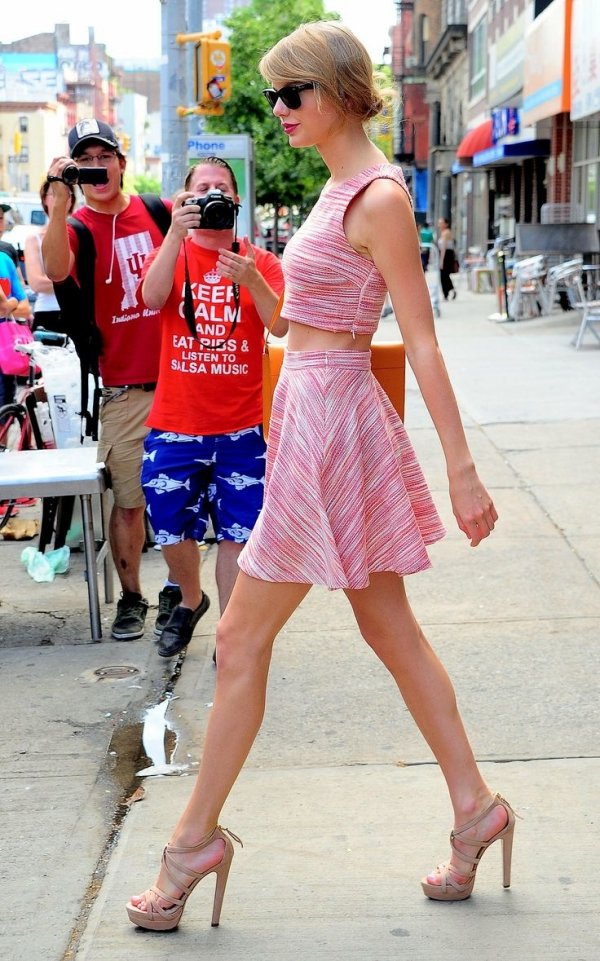 Ladies, no one looks bad in pink. Take a page from Taylor's street style playbook and recreate the look! I love the idea of pairing a matching crop top + skirt. Of course, you can channel your inner fashionista and create tons of different outfits by mixing and matching different types of patterns together. How would you wear the "pretty in pink" look?
7. Printed Pants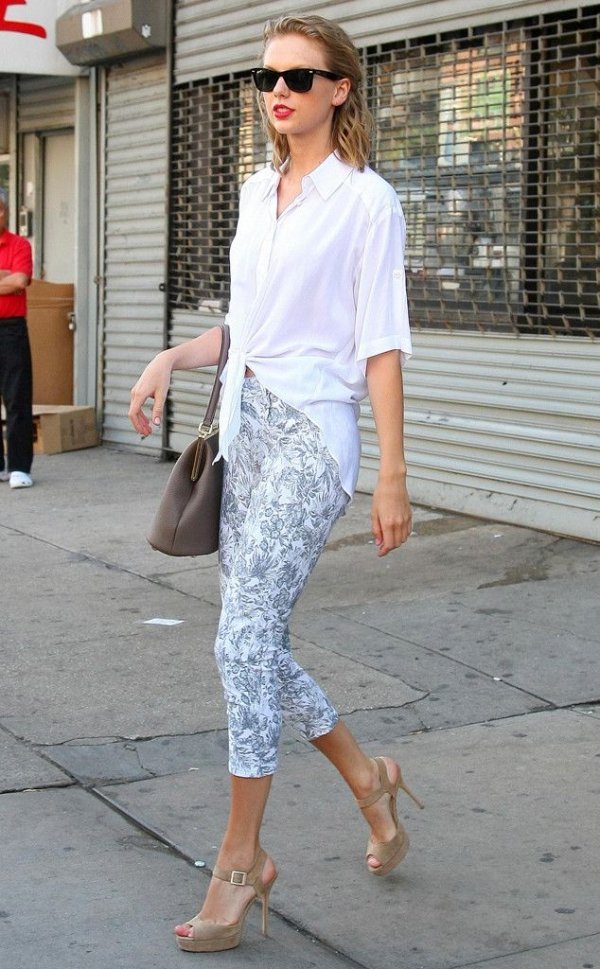 Printed pants are always a good idea. I think they're perfect for the summer because while expressive, they still maintain their comfort. You can find similar jeans on freepeople.com. I would pair it with a white top to keep things sweet and simple. You could always add a pop of color with your shoes or with a bright red lip!
Well, there you have it. Taylor has been on top of her street style game and these are just seven out of many outfits that'll inspire your own street style! Of the list, which look was your favorite? Which look will you be trying to recreate?
11 Seemingly Healthy Foods That Can Cause Acne and Bad Skin ...