There are so many fantastic ways to wear sequins - they are not just for Prom anymore! I'm a huge fan of sequins in the daytime. Wearing them is a really fun way to add some pizzazz to your outfit, no matter the time of day. It might seem like a hard thing to incorporate into your daily outfits but it's really not! Check out some of my favorite ways to wear sequins. If you have any other tips, share them in the comment section!
1

Blazer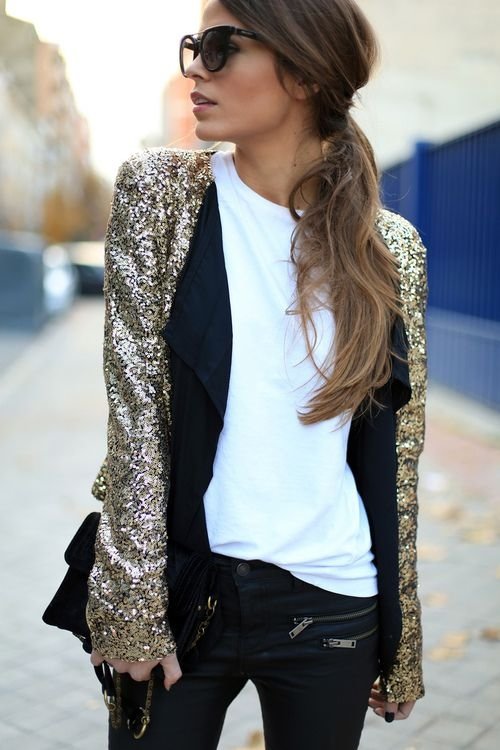 One of the fun ways to wear sequins is on a blazer! It's great for a business-casual look. You can go straight from the office to a night out with your friends. I especially love these gold sequins! It looks great paired over a white tee and black leather pants. You can find different colored ones online. Which color sequins would you love to rock on your blazer?
2

Cardigan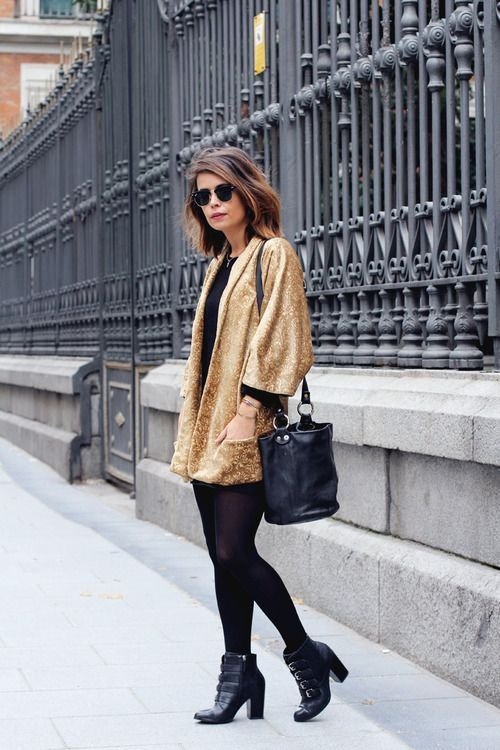 If you want a comfier feel, opt for the cardigan instead of the blazer! It's another fun way to add a pop of color to your outfit. I love that it's thrown over an all-black ensemble. Who knew black and gold looked SO good together?! This is definitely an outfit worth recreating this spring.
3

Skirt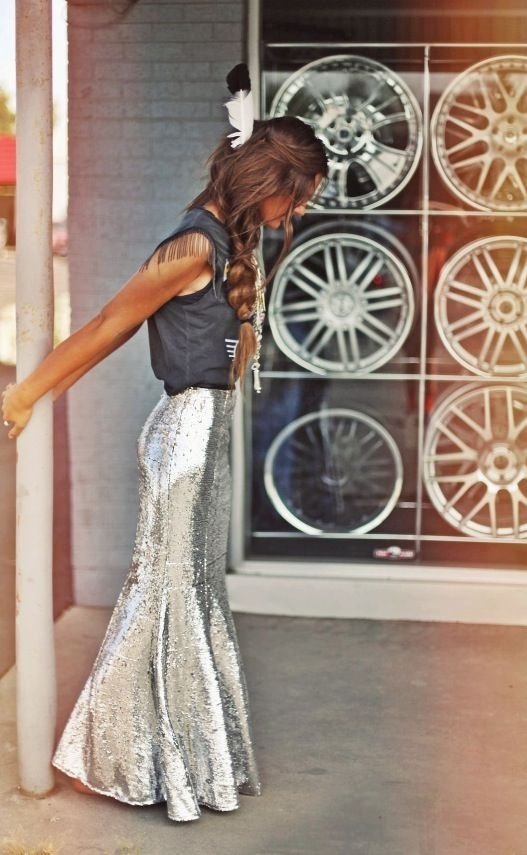 One of the easiest ways to incorporate sequins into your outfit is on a skirt. I'm loving this floor-length one! Pair it with a graphic tee to give it more of an edgy vibe. I love the fringes on the tee's sleeves and the braided hair! It's definitely a fun way to dress up an outfit! Who knew there were such things as sequined maxi skirts?!
4

Shorts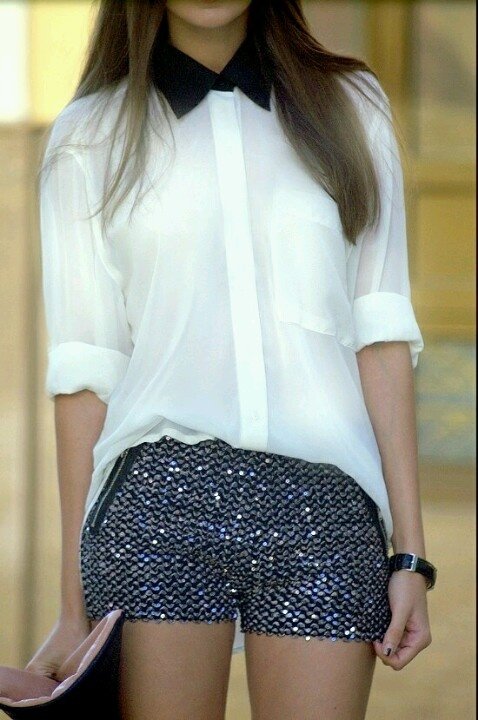 I love this look! Pair your sequined shorts with a white button-up shirt. If you want, throw a blazer over it to complete the look. Who knew sequins could look so sophisticated?!
5

Pencil Skirt + Graphic Tee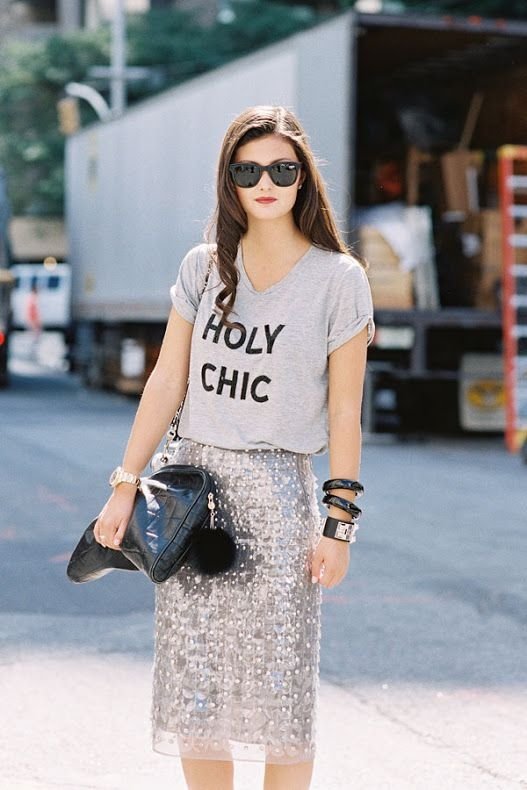 I'm a huge fan of the pencil skirt + graphic tee trend. I'm especially loving this sequined skirt! I love the whole black + grey look, that'll never go out of style! Pair your sequined pencil skirt with a loose-fitting graphic tee or a graphic crop top. Black accessories are always a good idea!
6

Pants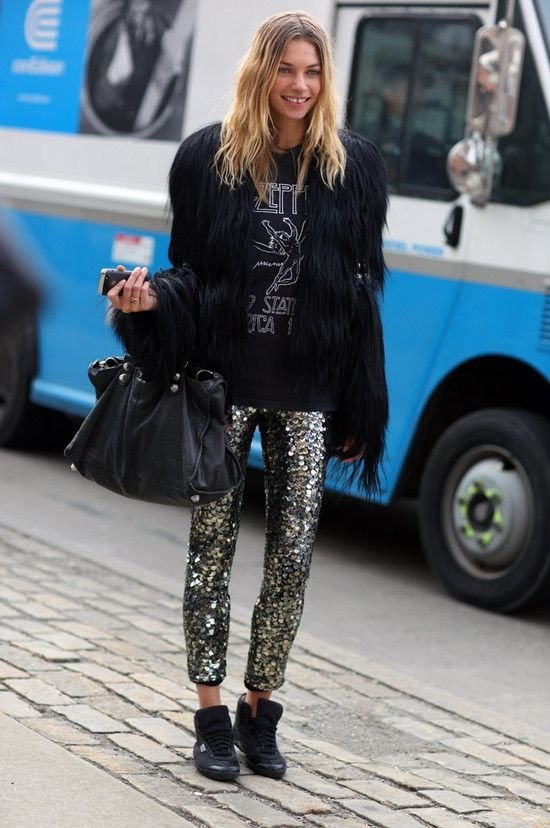 I don't think I'd be able to pull these off but I'm totally loving how they look! If you love being the center of attention while walking down the street, you need to pick yourself up a pair of sequined pants. You can find different colors online but I really like the gold/silver look. I think those are the best to pair with black accessories! Would you ever rock pants like these?
7

Top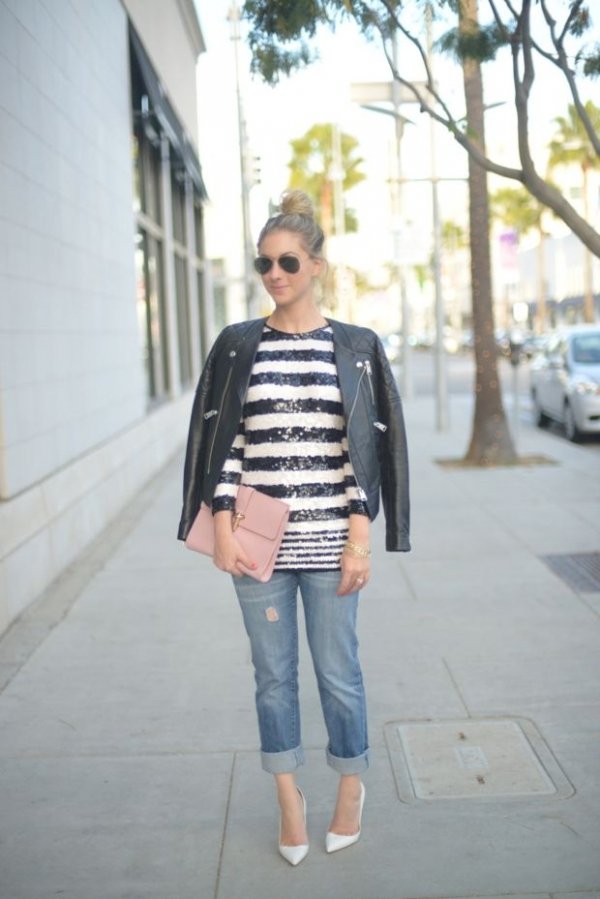 One of the most casual ways to rock the sequin trend is with a sequined top! You can dress them up or down, all depending on the occasion. I love this outfit! The boyfriend jeans, sequined top and white heels look great with a leather jacket to top it all off. Plus, how cute is that pastel pink clutch? It's perfect for the spring!
Well, there you have it! These are just seven out of many cool ways to rock the sequin trend this spring. If you're a big fan of sequins, how do you like to wear them? Let's share outfit ideas! Of the looks, which is your favorite?