Let's be real, the maxi trend isn't going out of style anytime soon. It's perfect for the spring and there are so many different ways that you can rock a maxi dress or skirt and look absolutely fab. Are you a fan of the maxi trend? How do you like to dress it up? Let's share outfit ideas int he comments section!
1

With Denim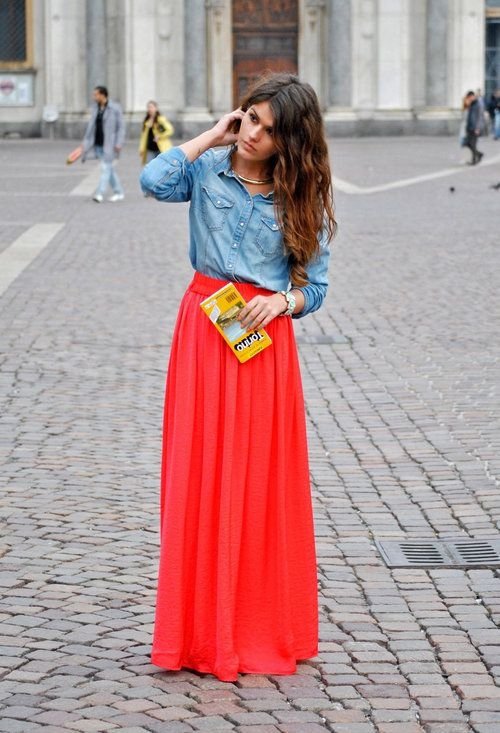 I'm such a big fan of this look. It doesn't sound like it would work but it really does! Denim looks great with anything. So, to recreate this look, wear a denim button-up top and pair it with a maxi skirt! You can either pick a bold color like red (which is fantastic) or you can even go for a fun print! The denim allows you to play a little with the skirt. What would you go for - color or print? This is just one of the ways to rock the maxi trend!
2

With a Graphic Tee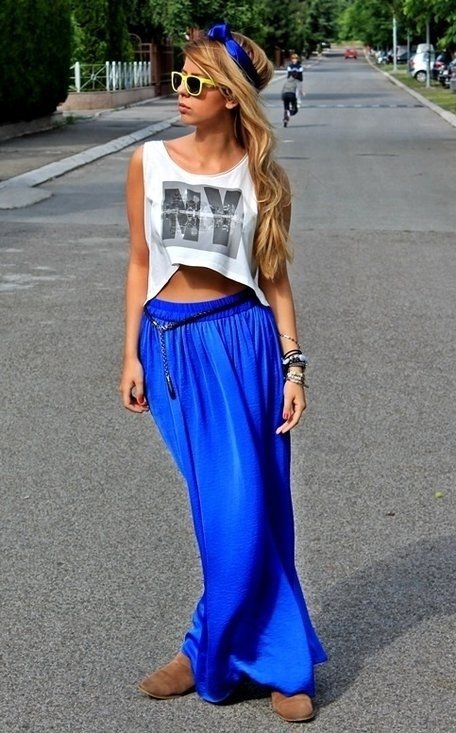 A graphic tee can add an edgy vibe to any outfit. To recreate this look, go for a bold colored maxi skirt. I'm loving this electric blue color! Pair it a with graphic crop top, or a graphic tee tucked into your skirt. It's fun way to add some major style points to your outfit! P.S I'm loving the whole "blue headband matches the blue skirt" look going on.
3

All Black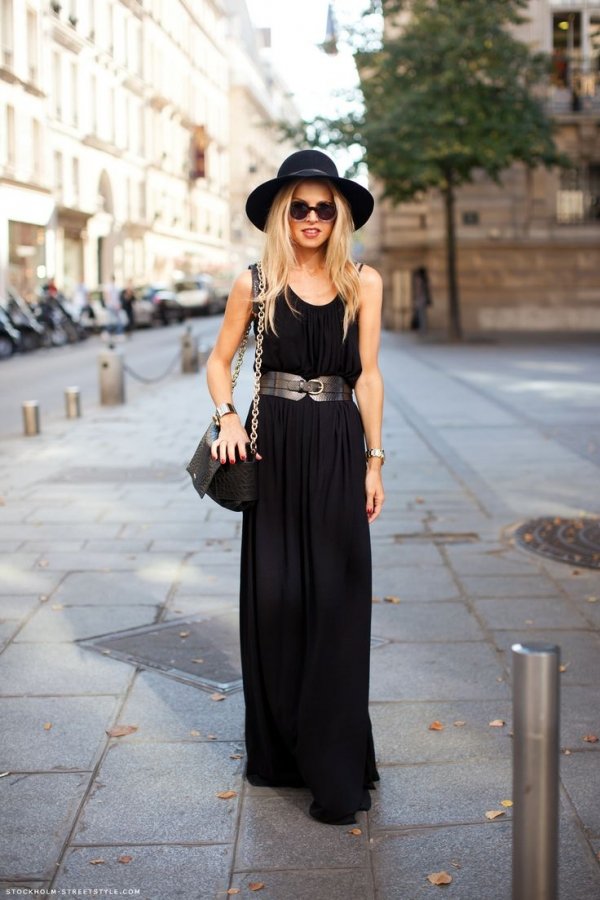 Spring is usually all about colors but, that doesn't mean you should put your black away! An all-black ensemble is always a good idea. To recreate this look, wear a black maxi dress (add a fun belt if you want to!), and a black floppy hat. Of course, don't forget your cross body bag and your oversized sunglasses. It's a really simple outfit but it does make you look like you're ready to take over the world!
4

Go Floral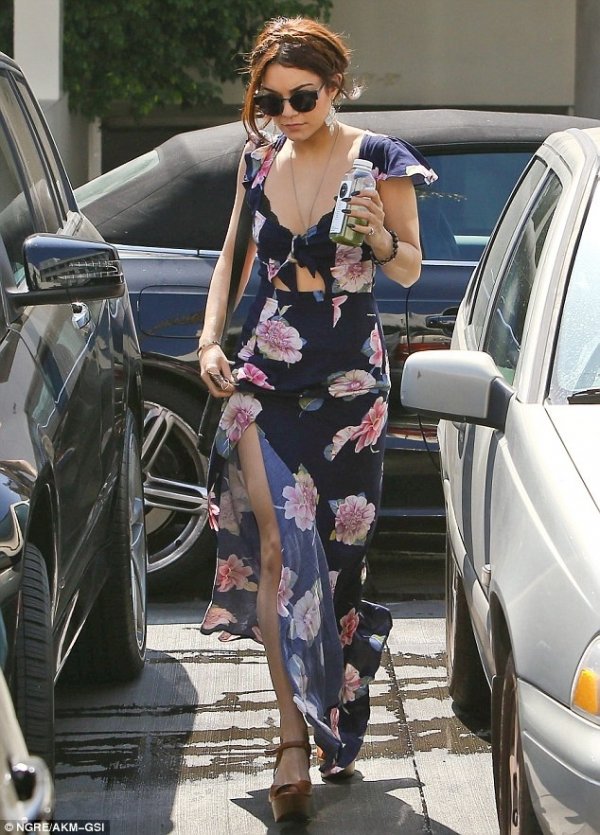 You can never go wrong with floral, right? Vanessa Hudgens knows all about the floral trend - why not incorporate it with the maxi trend? It screams out spring time and those big flowers definitely make a statement! For a more "mellow" vibe, braid your hair. You'll look very boho-chic.
5

Bohemian Vibe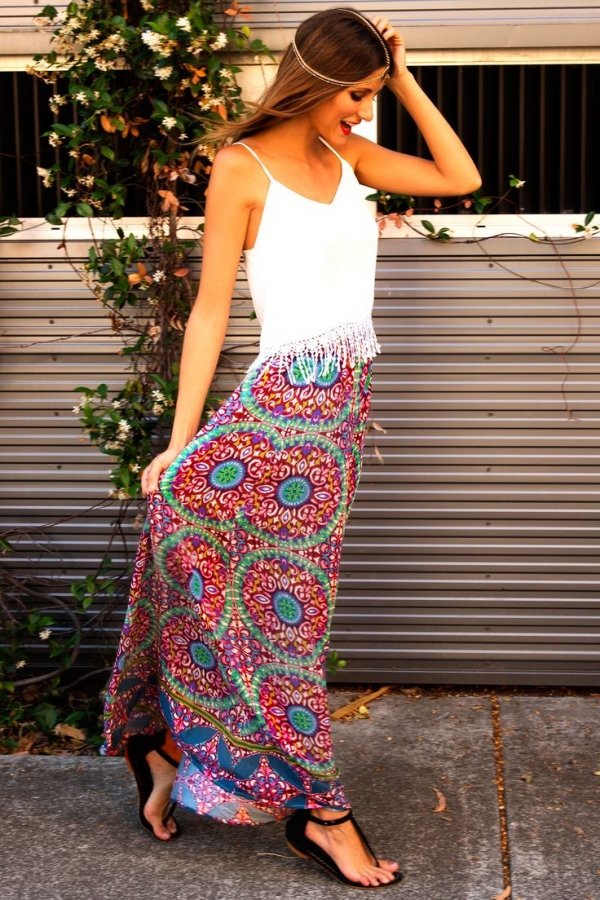 I'm loving everything about this look! If you're more of a "boho" girl, this is the look you need to recreate. Find a printed maxi (tie-dye, paisley, etc.) and pair it with a white top. I'm especially loving the fringes on this crop top! You can also wear a decorative head piece to complete the look - you'll look fabulous!
6

Print + Blazer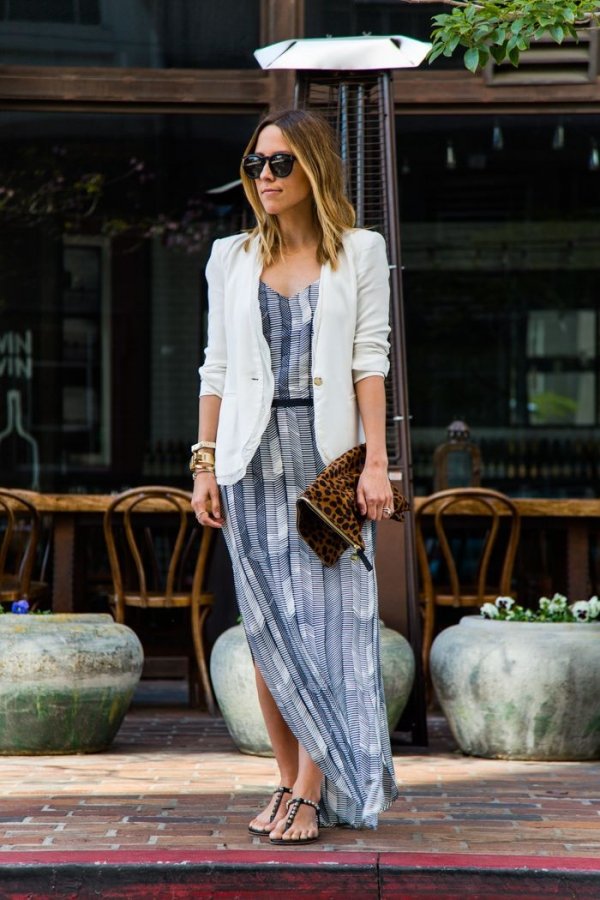 For a more business-casual look, wear a printed maxi dress and then pair it with a blazer. I love white because it allows you to pair it with any print without having the two clash. Of course, you shouldn't be afraid of wearing different prints! I'm loving the cheetah-printed clutch in this outfit. It's an extra touch of fierce!
7

Pleated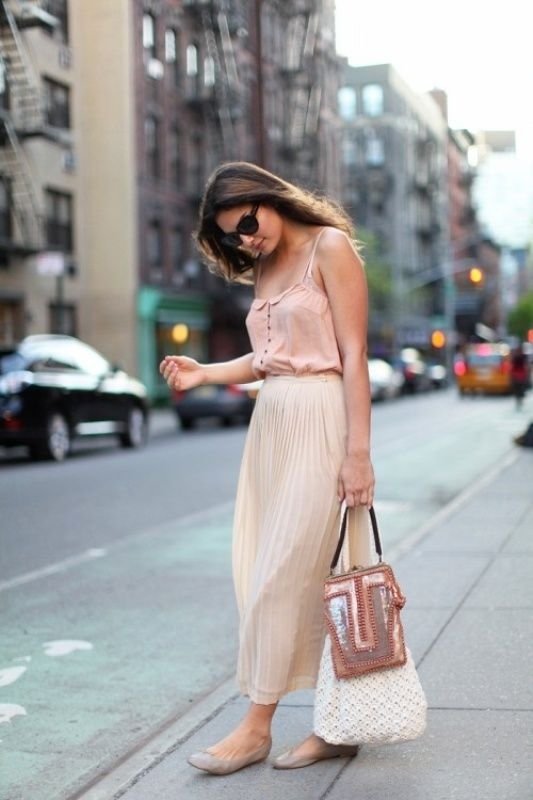 How adorable is this skirt?! The pleated look is totally in right now. I love the colors in this outfit - they're very neutral and totally girly and feminine. It's the perfect look for roaming around the city or meeting up with a couple of friends.
Well, there you have it! These are just seven out of many different ways to rock the maxi trend this spring. How do you like to dress them up? Of the look, which outfit is your favorite?