There are so many fashionable ways to wear a blazer! It's perfect for any occasion and can instantly turn a simple outfit into a street-chic one! Stocking up on blazers is always a good idea. It's great to have them in your closet because you'll make great use of them! Check out these awesome ways to wear a blazer. Let me know which look is your favorite! Us girls have to stick together in the fashion world!
1

Floral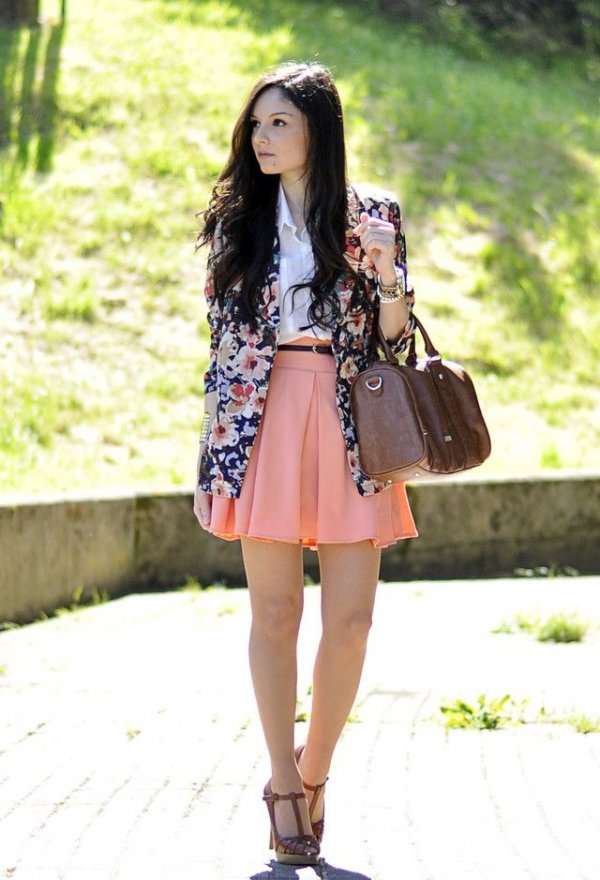 I'm a sucker for anything floral. I just think you can never go wrong with it! I love this look. The colors look perfect together! You can rock floral blazers with a cute skirt and button up top, or swap the skirt for some skinnies! Wedges complete the whole spring/summer look and then you're all ready to go! This is just one of the fashionable ways to wear a blazer.
2

With Boyfriend Jeans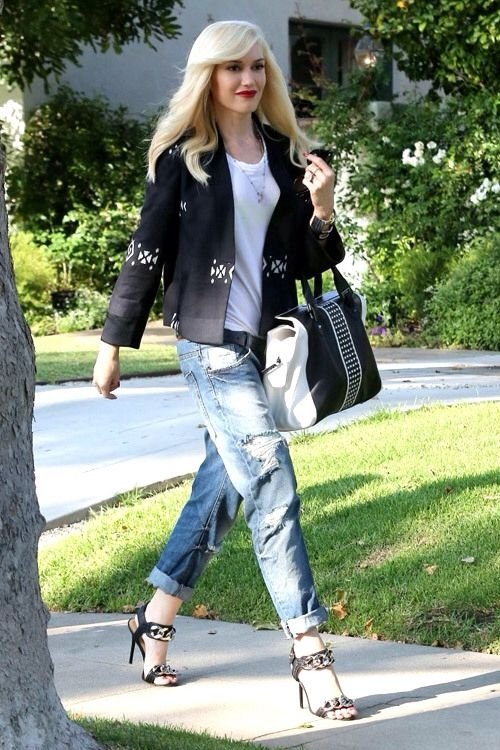 Boyfriend jeans are a must-have for your closet! They're great for comfy and casual looks. Gwen Stefani knows all about rocking them and that's why I love this look! The blazer she threw on top just completes the whole outfit. I like that she kept the colors simple. However, you can totally swap the black blazer for a colored one!
3

Stripes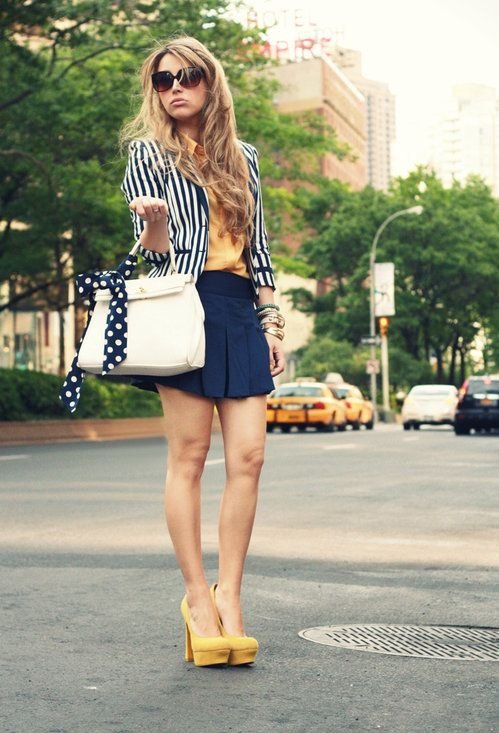 Striped blazers are my favorite! They have this cool nautical look to them, but still look fabulous paired with different colors! I love that the navy stripes match the skirt. You can swap out the beige top for any other color you'd like! Keep the bag a neutral white. That way, it'll match anything!
4

Business Casual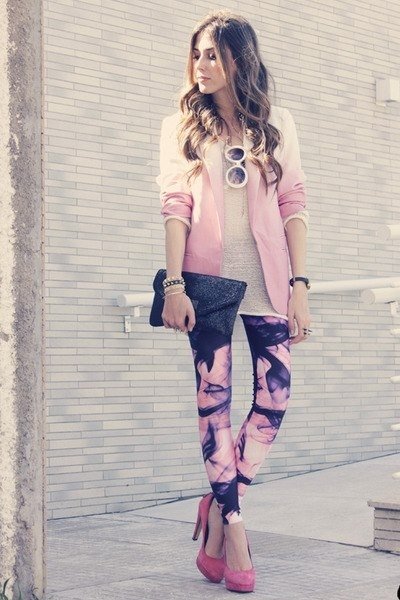 Blazers are the best for a business casual look. I love that adding so much color to your outfit can still look sophisticated! This is the perfect outfit for a business lunch, or just running some errands before heading into the office. Do you like the color?
5

Sequins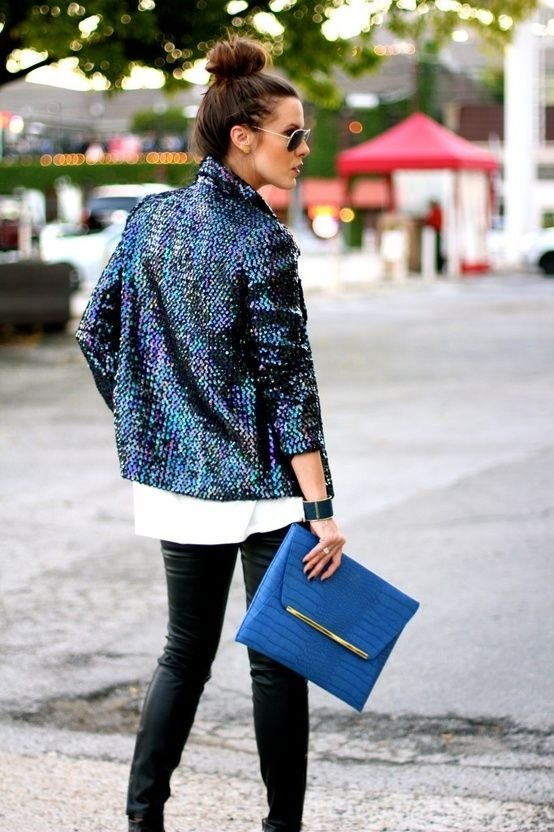 I'm obsessed with this! I always thought that anything with sequins could be a bit "overwhelming," but blazers are the exception. I love the color! It looks totally fab over a white shirt and some leather skinnies! Is it too early to start planning my New Year's Eve outfit? Because this is a serious contender!
6

Bold Print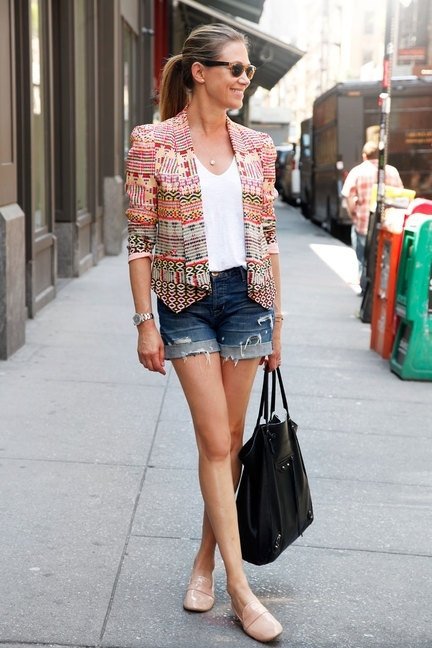 To spice up the usual shorts-and-tee outfit, throw a printed blazer over it! It'll give you an instant "put-together" look and you're ready to take on the day! The cool thing about this outfit is that any patterned blazer would look great with it! If you're a fan of cheetah print, go for it! I personally love this geometric pattern. It's fun and adds a pop of color!
7

Lace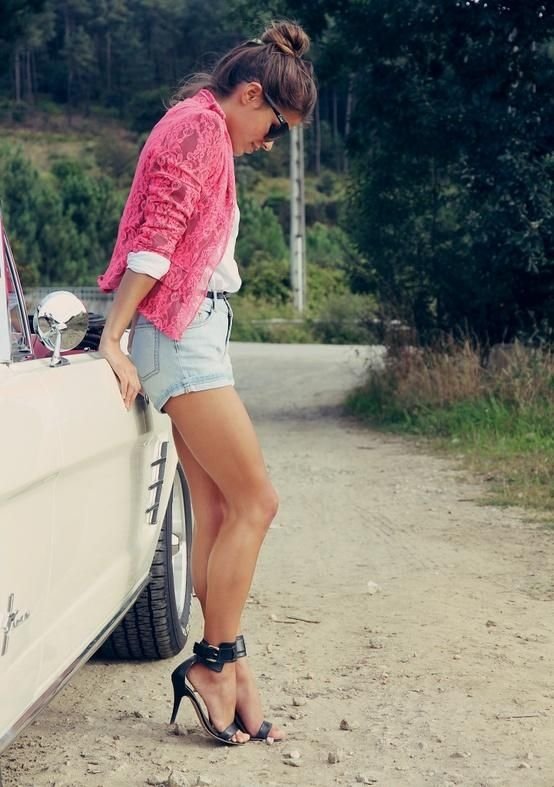 Can you ever go wrong with lace? The answer is always no! Lace is a great way to add some girly flare to your outfit. I'm loving this pink lace blazer over some shorts and tees! You can actually find lace blazers that come in many other colors. Which color would you choose?
Well, there you have it! These are just seven out of many awesome ways to wear a blazer! I'm definitely planning on trying out some of these looks! What's your favorite way to rock one? Which look will you be trying next? Let's share ideas in the comments section!