There are so many awesome ways to look rocker chic. It's actually a really easy look to achieve! Of course, it's all about leather jackets and combat boots. If those aren't items in your closet, what are you waiting for? Check out some of the cool ways to look rocker chic this summer and let me know which outfits you'll be recreating!
1

Skinny Jeans + Combat Boots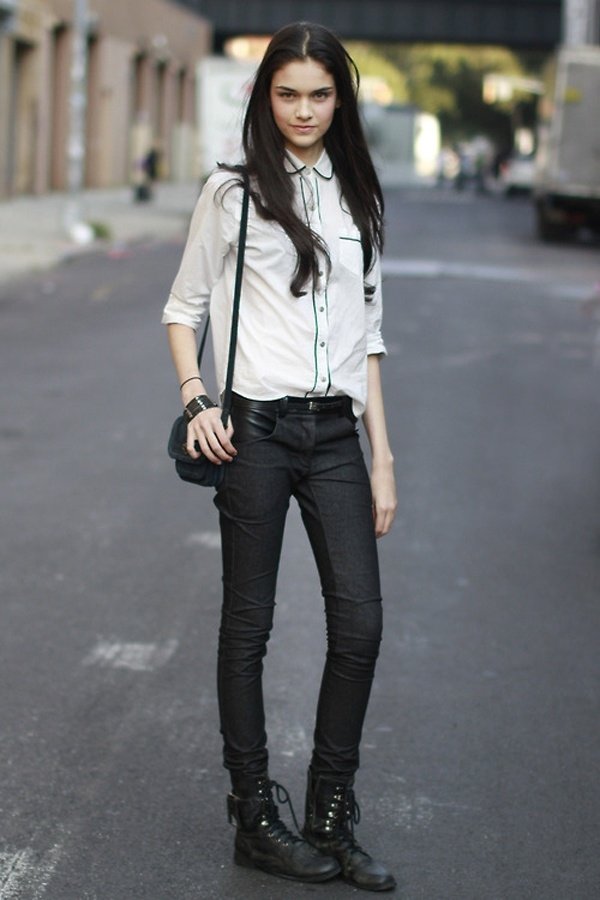 The easiest way to look rocker chic is to simply wear skinny jeans paired with combat boots. I think that already gives your outfit a cool edge! To add even more edge, swap the regular jeans for some ripped or distressed ones. This is just one of the cool ways to look rocker chic this summer.
2

Skulls + Denim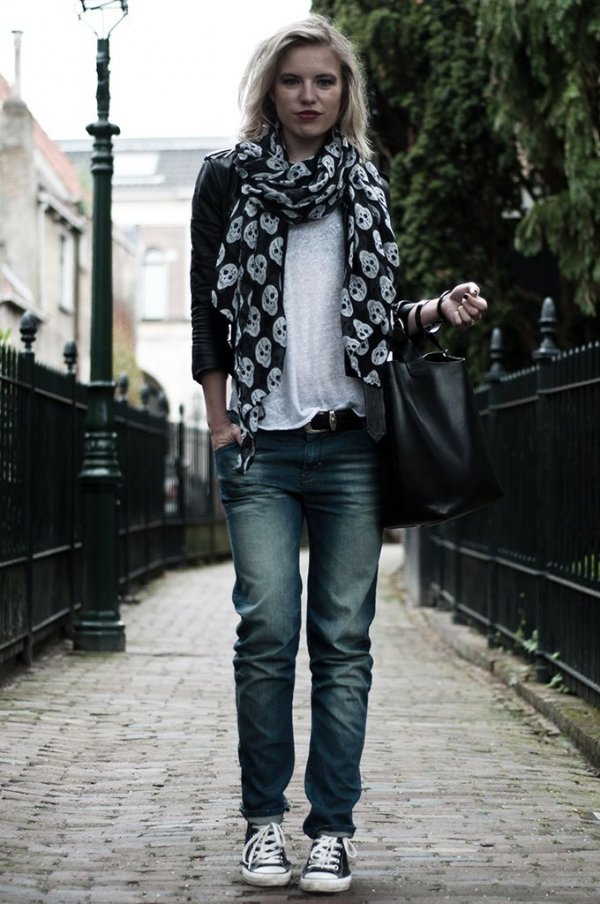 What's more rocker chic than wearing skulls on your shirt? LOL! You can find some really cool ones at urbanoutfitters.com. Since it's kind of its own statement piece, I'd pair it with a black skirt or skinnies. Thrown on a denim jacket and you're good to go.
3

Tights + Denim Cut Offs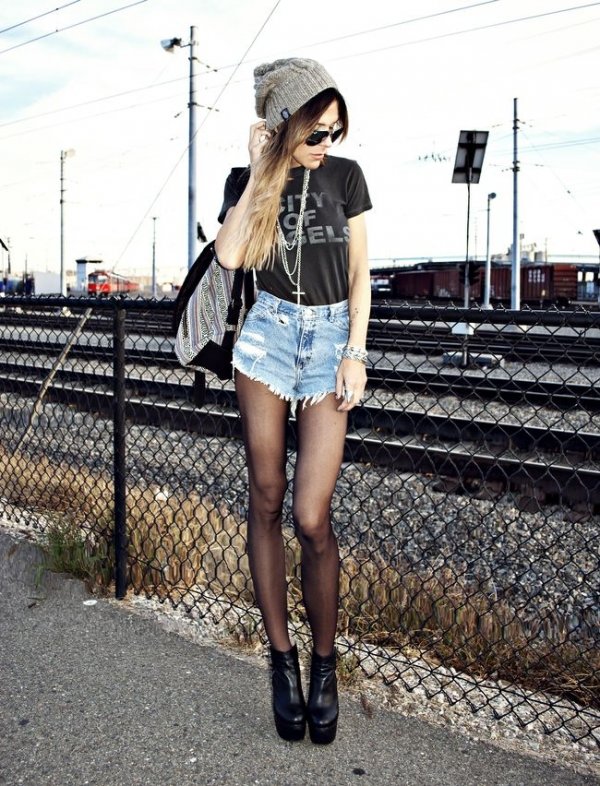 I think it's so stylish to pair tights and denim cut offs. It keeps you from looking and/or feeling too exposed. You can choose between plain black ones or pick from the awesome collection at us.asos.com. For your top, I'd go with a graphic tee or a plain white one. That way, you can accessorize however you'd like and really make the outfit your own.
4

Dress + Leather Jacket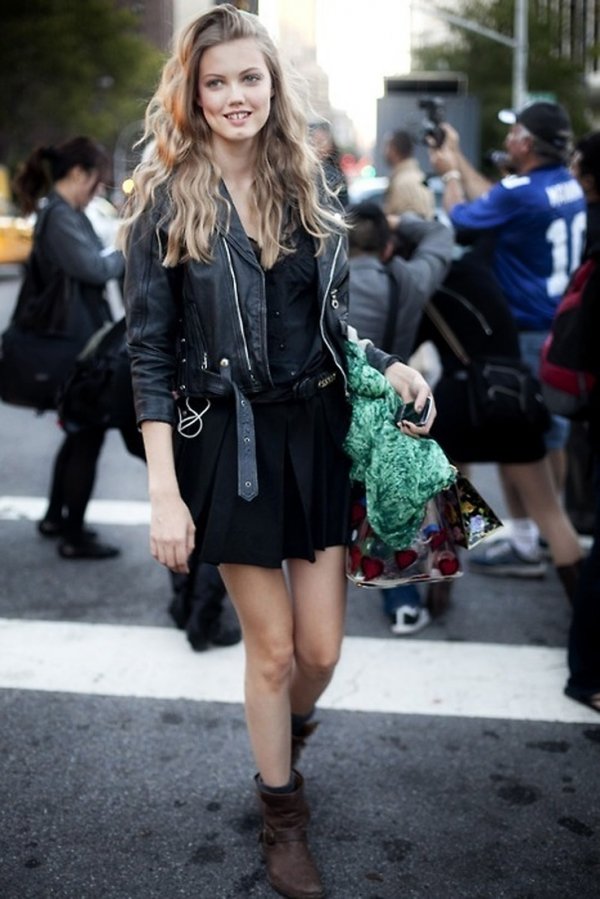 A leather jacket is a must-have item for any rocker chic fashionista. You can throw it over anything and make it look great. I love the idea of wearing a mini dress with a leather jacket over it - it adds some edge! You can have fun with the patterns on your dress, just make sure to rock some combat boots on your frets for the finishing touch!
5

Lace Overlay Dress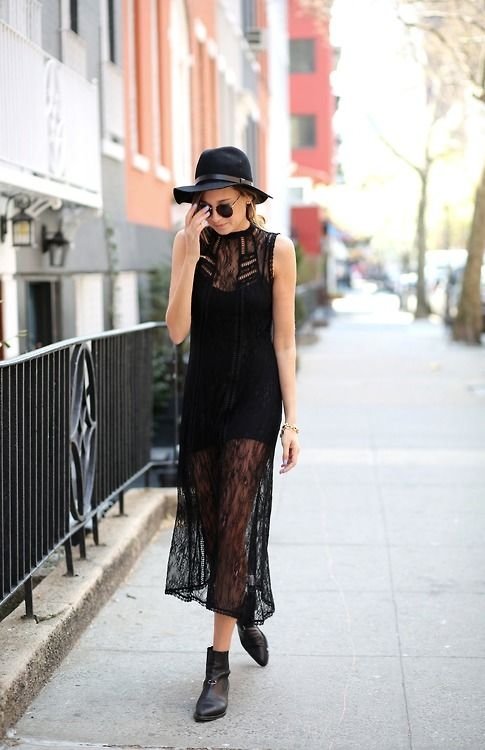 When worn correctly, lace can be a great addition to your rocker chic outfit. Overlay dresses allow you to show some skin and keep you from looking and feeling too exposed. A long lace overlay dress, paired with combat boots and a black floppy hat, is the best way to a complete look. What do you think of this outfit? You can add colors with accessories.
6

All-black Ensembles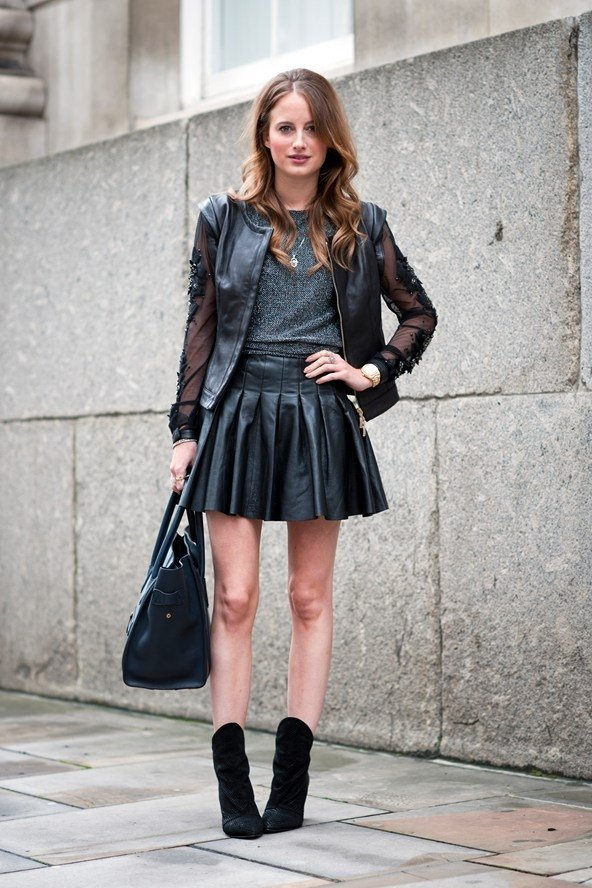 Nothing says rocker chic like an all black ensemble. Personally, I'm a huge fan of an all-black outfit. I think it's timeless and will always keep you looking great. So, even though it's summer, don't feel pressured to hide all your black items in the back of your closet! For a cool rocker lock, go with leather. A leather pencil skirt, black crop top, and leather jacket will make you look sophisticated, sexy, and totally rock n' roll.
7

Band Graphic Tees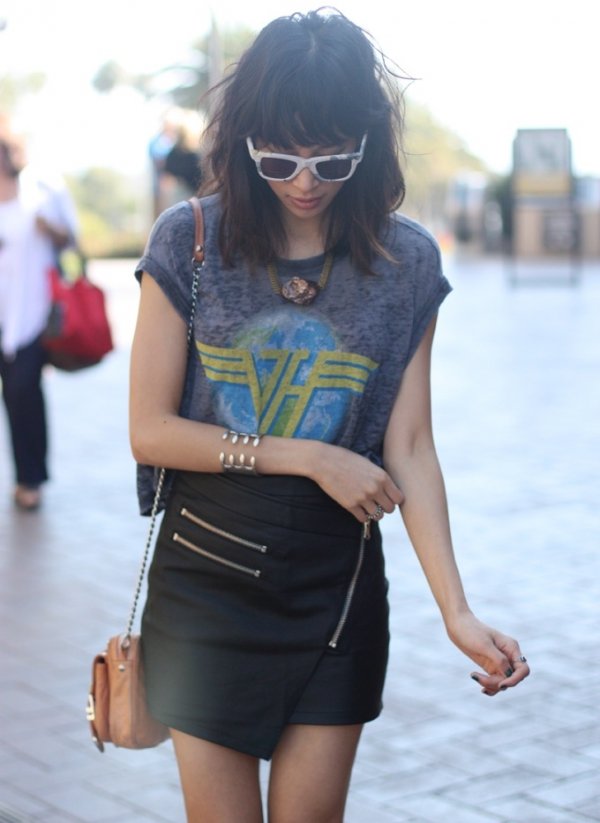 Band graphic tees have become my go-to item in my closet. I have so many of them and I think they look great with anything and everything. Side note - try avoiding wearing shirts of bands that you don't listen to. You never know when somebody will come up to ask you what your favorite song from them is! Stick to the bands you love; those are always fun to wear.
Well, there you have it. These are just seven out of many awesome street style ways to look rocker chic this summer. Overall, it's all about your confidence and attitude! You can make any outfit work if you believe that you look great. Of the list, which look was your favorite? How will you be recreating these looks this summer?