Street-style Ways to Rock Timberlands and Look Awesome ...
By Vanessa
You'd be surprised at how many different looks you can rock when you wear Timberlands! It used to be a "guy" look, but us girls always do it better, right?! Now, Timberlands are fashionable for both men and women. I bought a pair recently and now I wear them everywhere! They're practical, fashionable, and totally underrated. Check out some awesome ways you can wear Timberlands and let me know which look is your favorite!
---
1

Comfy and Casual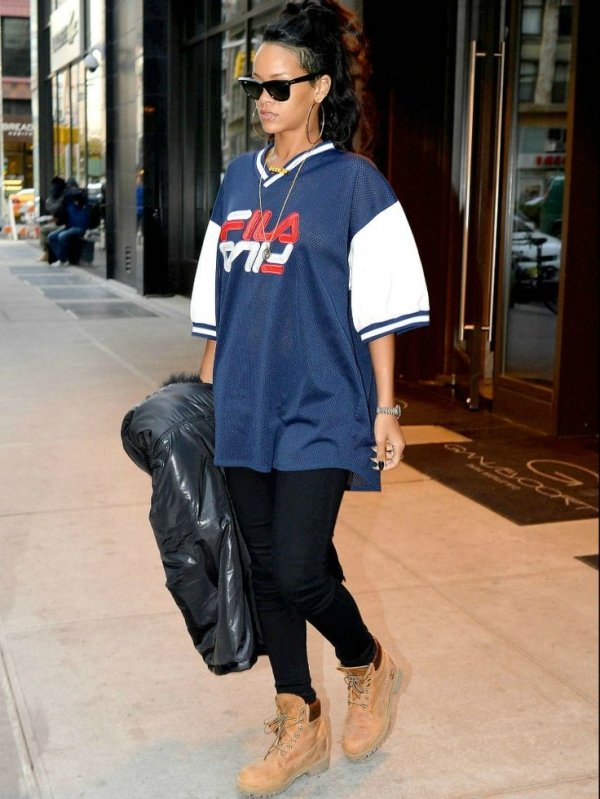 Rihanna is one of the many celebs to wear Timberlands! They're great to wear with any casual outfit. In this look, she pairs them with skinnies and an oversized tee! Somehow, it manages to look put-together. Of course, Rihanna can pull off any look. I know, it isn't fair sometimes! But now you can totally rock the same look!
---
2

Flannel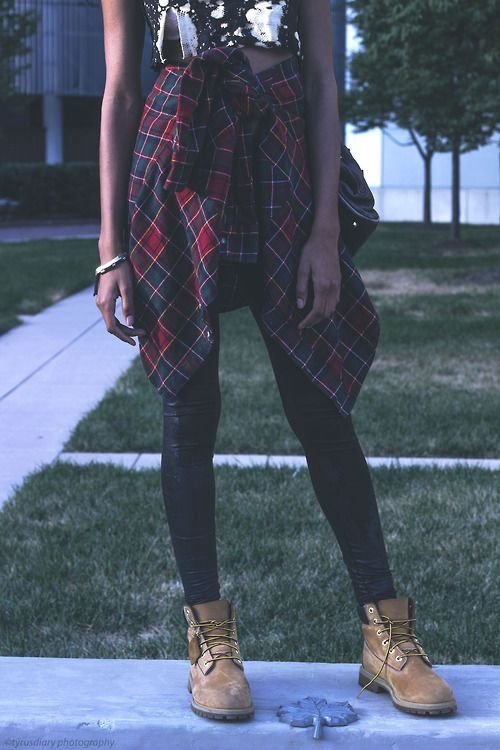 Flannel and Timberlands are such a good combo! I've definitely seen many girls rock this look in NYC and even around my school campus. The whole outfit screams "bad ass chick." Or am I the only one getting that? Hmmm. Either way, it's definitely a cool look to sport this spring! Start stocking up on those flannel shirts!
---
3

Preppy Chic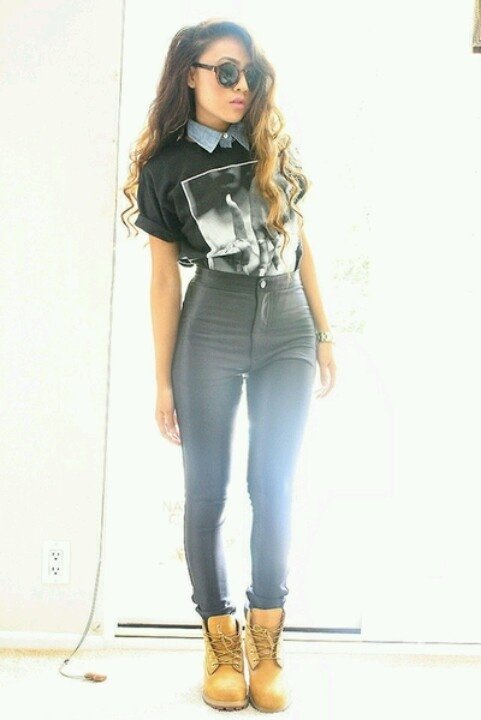 I don't think I'd be able to pull this outfit off but I still love it! The top half has this whole preppy thing going on with the collar, while the bottom half is getting some serious street-cred. I love that the boots are being used as the outfit's "pop of color". I think the shoes are what makes the outfit!
---
4

With Layers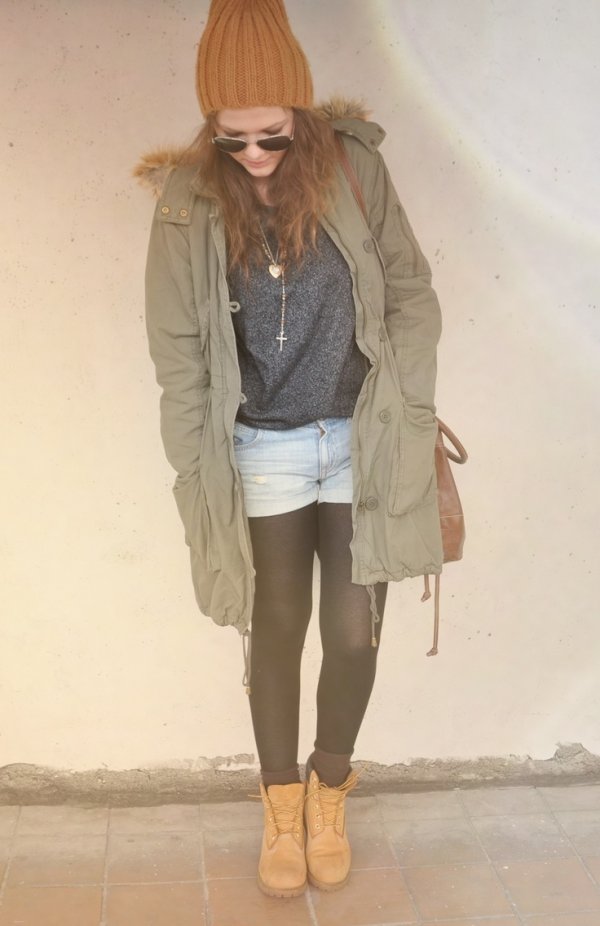 These boots will definitely keep your feet warm in cold weather! I love the whole layered look! Wear some cute leg warmers for some extra style points! I'm loving the whole stockings+shorts, baggy shirt, beanie, and long jacket combo! It's definitely a good outfit for running errands on a chilly day.
---
5

Classy Chic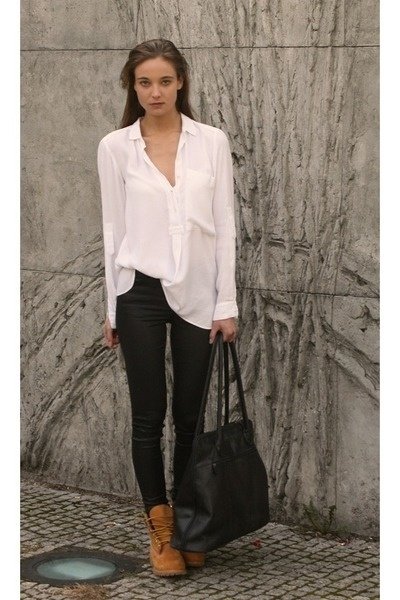 It doesn't sound like it would work, but it does. With some pumps, this outfit could be worn into work. With some Timberlands, this outfit could be worn on a night out with friends! I love how these shoes don't take away from the outfit. I love everything about the look!
---
6

With a Dress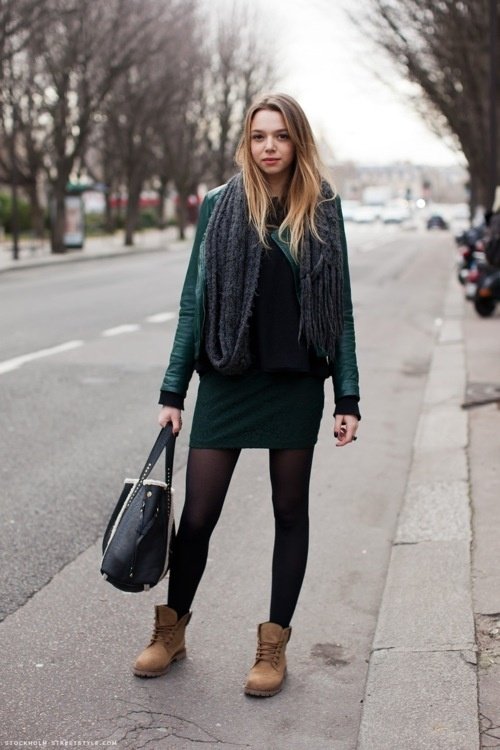 This is another outfit you really wouldn't think would work with Timberlands. I love that you can take a chic outfit and swap the pumps for the boots! It's definitely a cute look to try now! It'll look good with any colored dress but I particularly like this green one!
---
7

With Camo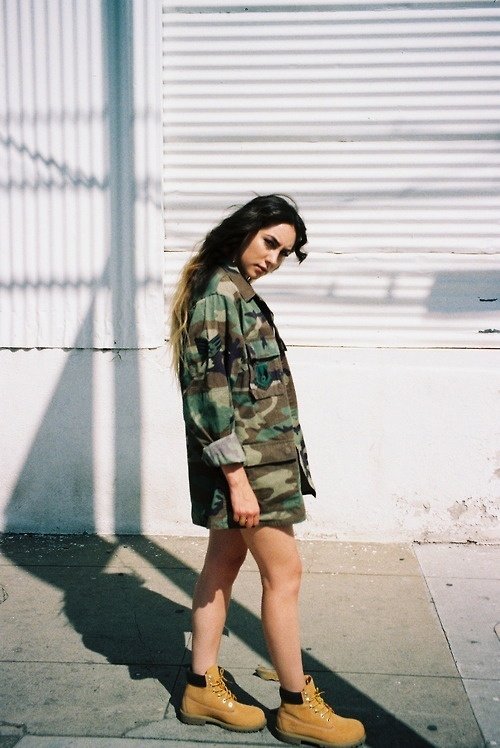 Camo and boots?! Sign me up! I love this look whether it be with some skinnies or some shorts. I love the whole "uniform" vibe that the camo+boots look give off. I've definitely seen a bunch of girls rock this look and I think they look bad-ass doing so! Buying a camo jacket is definitely on my to-do list because this outfit is awesome! It's perfect for feeling comfy while walking around the city!
Well, there you have it! These are just seven out of many awesome styling ideas for Timberlands! If you own a pair, how do you wear them? If you're looking to buy some soon, which outfit are you most excited to try? Let's share ideas in the comments section!
More
---
Comments
Popular
Recent