There are tons of awesome ways to wear combat boots! They're definitely a go-to item in my closet. I just think they go fantastic with just about any outfit! From rocker-chic to just laid-back casual, combat boots can do wonders for an outfit. Check out some of my favorite ways to wear combat boots. Let me know which look you love rocking the most!
1

Casual Rocker Look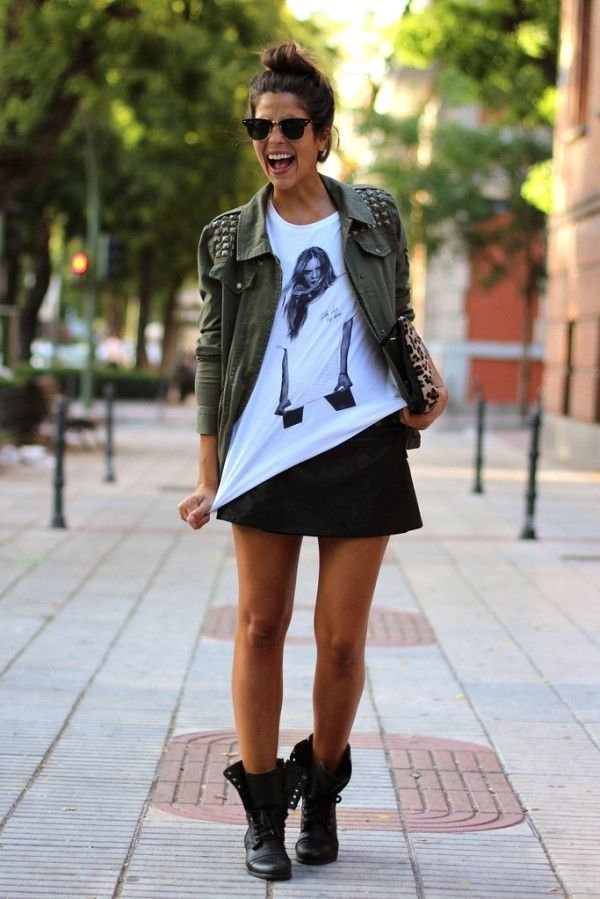 Combat boots are great for any casual look. I think they give an instant "edgier" look to the outfit and is very rocker-chic. I love the whole simplicity of the graphic tee+skirt look. The studded military jacket and black combat boots just complete the ensemble! This is just one of the cool ways to wear combat boots.
2

Oversized Sweater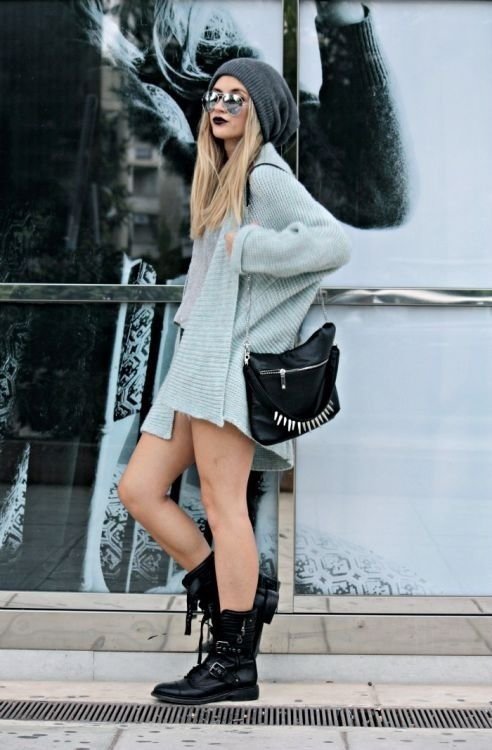 If you're going for the whole "grunge" look, this is it. Rock an oversized sweater, big beanie and shades, plus a black leather purse. The combat boots will give you tons of "street style" points. It's perfect for looking and feeling comfy while running errands! I think this look just screams out "effortlessly cool."
3

Colorful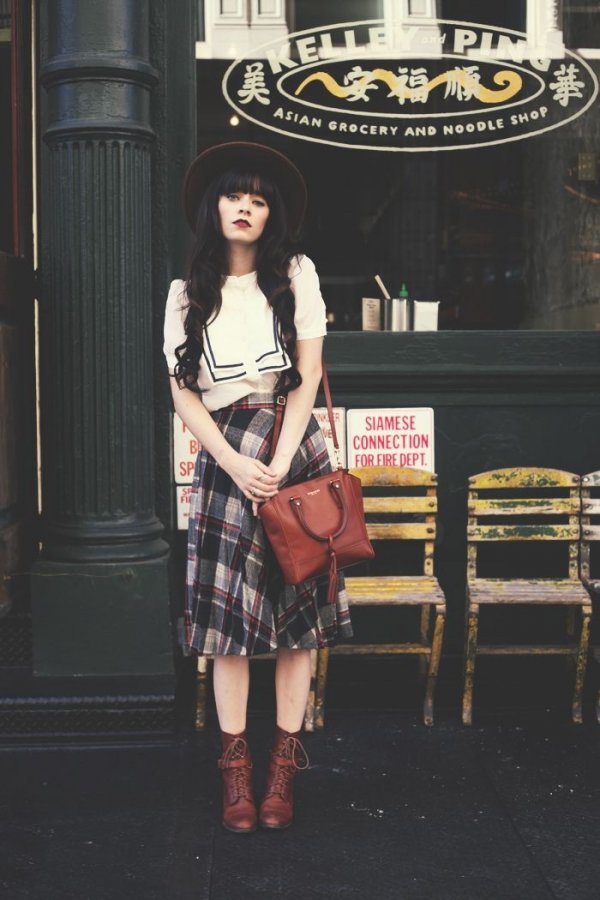 If you want to change things up a bit, try some colorful combat boots! I am loving this burgundy color! I only own black boots because I think it matches more with my wardrobe. I do however, love this whole look! The matching shoes+purse combo is a sweet touch. Not to mention that the whole outfit is adorable! Are you a fan of these colored boots?
4

Ripped Leggings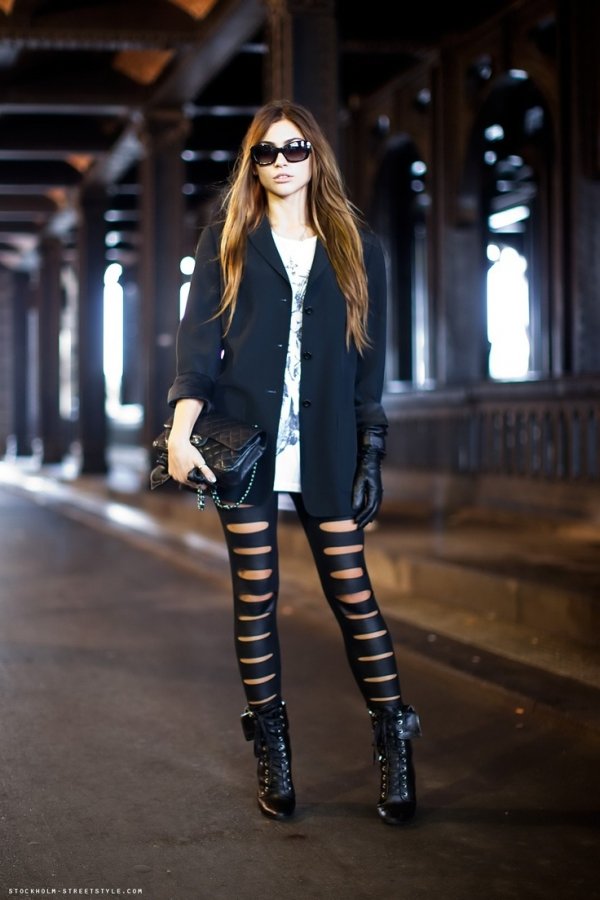 I think ripped leggings and combat boots equal "total badass." Those leggings are totally the focal point of the outfit and I think the boots complement them without taking anything away from it. I love the long graphic tee and coat. However, you could swap it for a long white tee, and wearing your hair in a top knot bun! It'll look sleek and edgy at the same time.
5

Ripped Jeans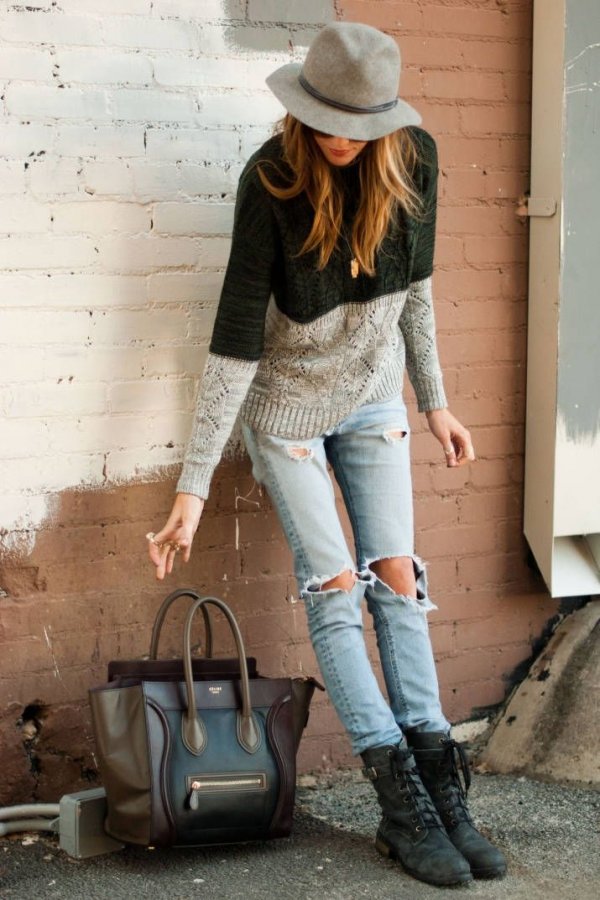 One of the most classic ways to wear combat boots is to pair them with some ripped jeans. In this look, actress Katie Cassidy shows us how it's done! I love that the boots are grey and not just a regular black. I'm also totally loving the two-toned sweater and grey hat! This is definitely an outfit worth recreating, don't you think?
6

Dress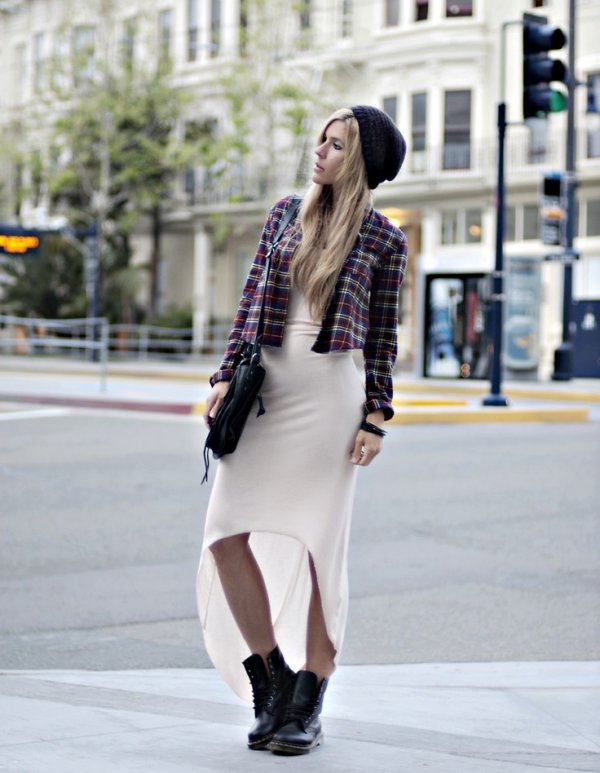 Even though it sounds strange pairing combat boots with a dress, it actually looks fantastic. It tones down your dress and adds a more "laid-back" vibe to the outfit. If you're just going out to run some errands, add a beanie and a black leather purse and you're ready to go!
7

Denim Shorts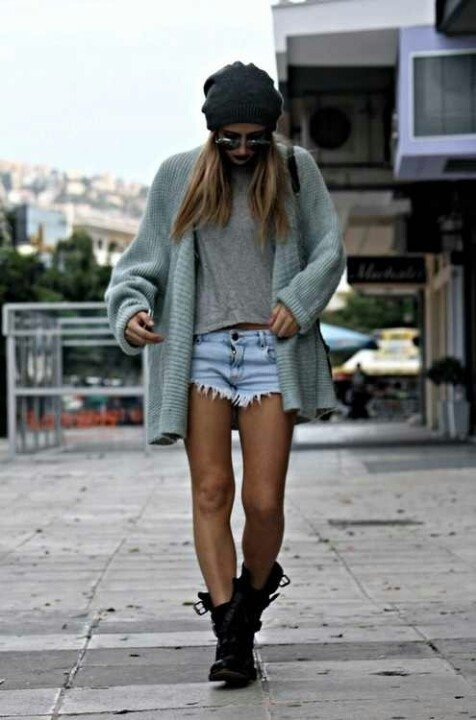 Pairing your combat boots with denim cut-offs is definitely a more casual look. I love the grey shirt, beanie, and oversized cardigan! The boots add this edgier feel to the outfit and really takes it to the next level. This is another great outfit to try and recreate!
Well, there you have it! These are just seven out of the many cool ways to wear and rock combat boots. If you're looking to take your outfit to the next level or even just give it an edgier vibe, totally invest in a pair of combat boots! Of the list, which look are you planning to recreate next?