7 Streetstyle Ways to Wear Neon Colors ...
By Vanessa
There are so many awesome ways to wear neon colors and incorporate them into your outfit! This spring/summer is all about vibrant colors so I definitely suggest you stock up on some of these items! Whether you're walking around the city, running errands, or hitting a night out on the town, neon will always look great! Check out some of the stylish ways to wear neon colors, and let me know which look you plan on rocking next.
---
1

Purse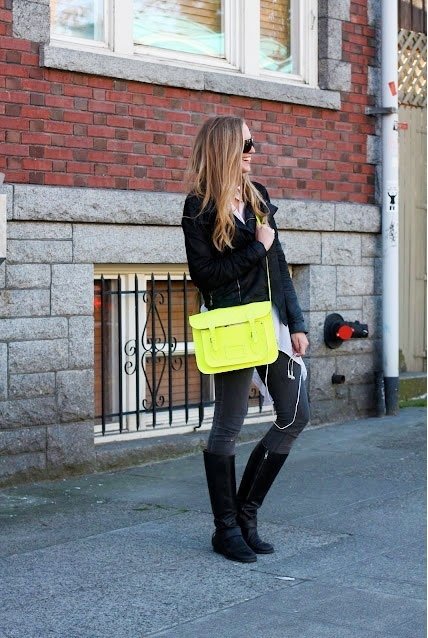 You can never go wrong with a neon purse! It's one of those must-have items in your closet because it works so well with any outfit! The fun thing about neon is that it won't clash with neutral colors like black, grey, and white. I love this look because the purse becomes the focal point of the whole outfit and gives it more pizzazz. Rocking a neon pure is just one of the easy ways to wear neon colors!
2

Shoes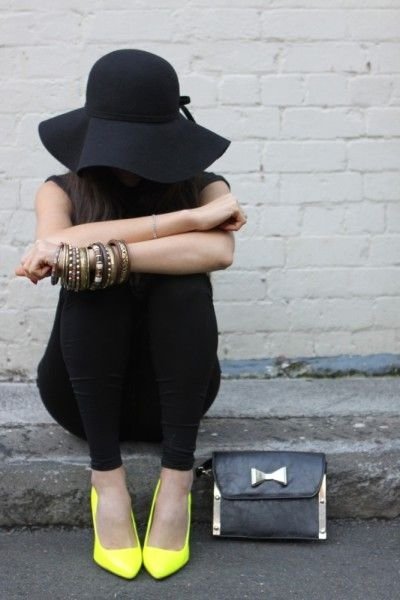 One of the easiest ways to incorporate neon colors into your outfit is through your shoes! An all-black ensemble will look fantastic with any color shoes! These yellow heels definitely make a statement. But, if yellow isn't your color, swap it for another vibrant one! P.S. if you're going for an all-black look, don't be afraid to add more colorful accessories to it!
---
3

Skirt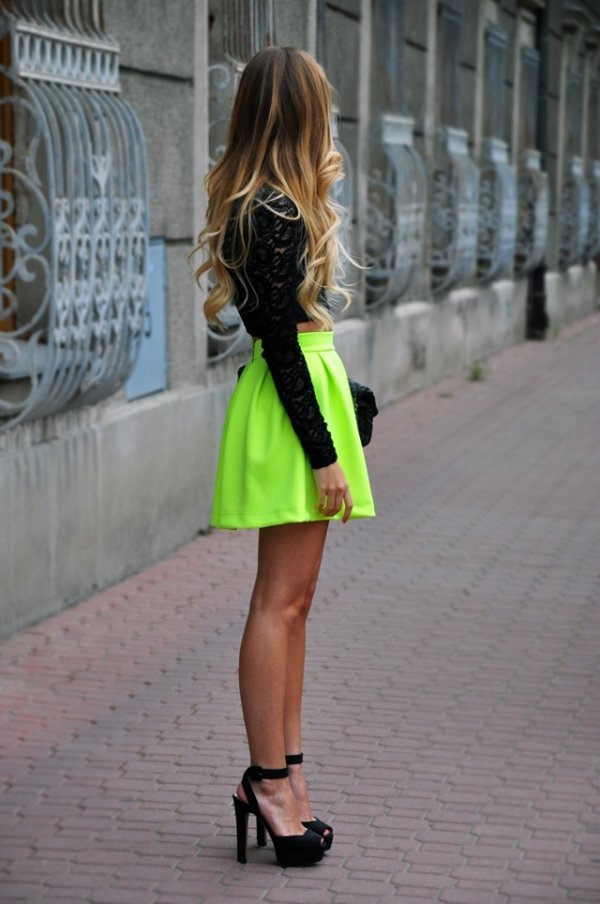 I'm in love with this outfit! I think neon colors give a really youthful look to an outfit but it can also be styled to look really sophisticated. I like that the rest of the outfit is black. That way the bright lime color doesn't clash with anything else. How sweet is this outfit for walking around the city?!
---
4

Coat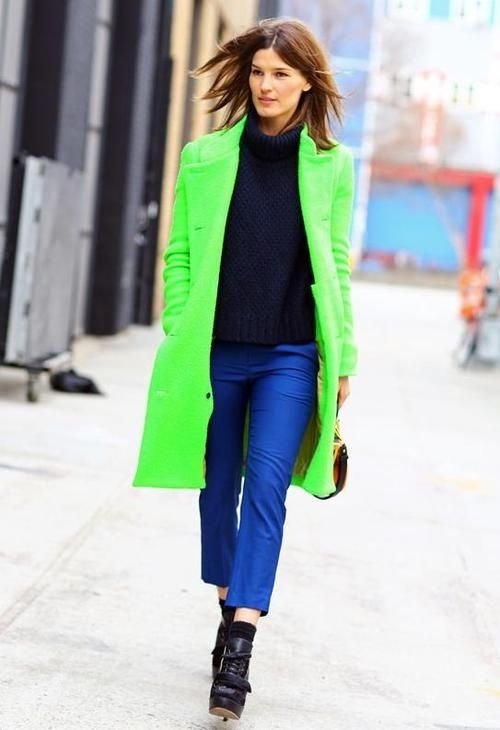 You'll be seeing neon coats all over this spring/summer! It's the new must-have for your closet! It can turn any outfit into a street-chic one. I'm loving this neon green color, but you can swap it for any of your favorite colors! Maybe a neon pink? It's sure to make a fashion statement!
---
5

Beanie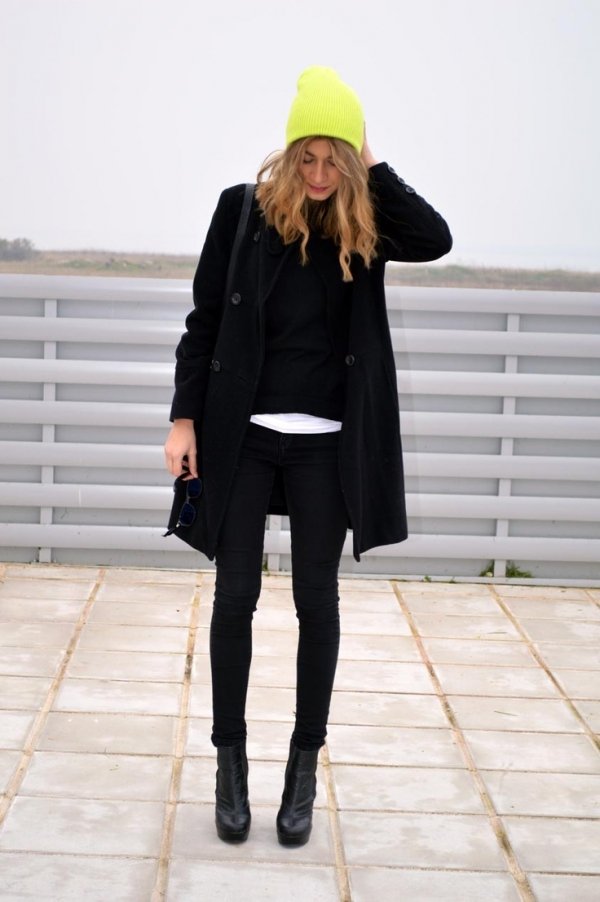 If you want to add a fun pop of color without it being too "overwhelming," try wearing a beanie! I particularly love it with an all-black ensemble. It becomes a focal point of your outfit and even helps you with a bad hair day! Win/win, right?
---
6

Dress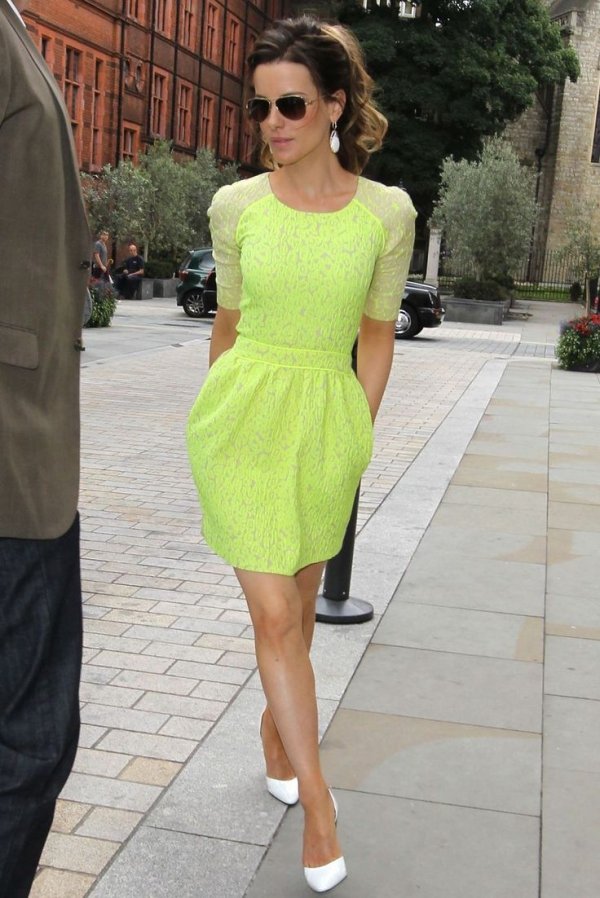 One of my personal favorite ways to add some neon to an outfit is by rocking a neon colored dress! I think it's great for the summer because it looks amazing against sun-kissed skin! I love this color but I also think a neon pink or orange would look just as fashion-forward. What color dress would you like to wear?
---
7

Accessories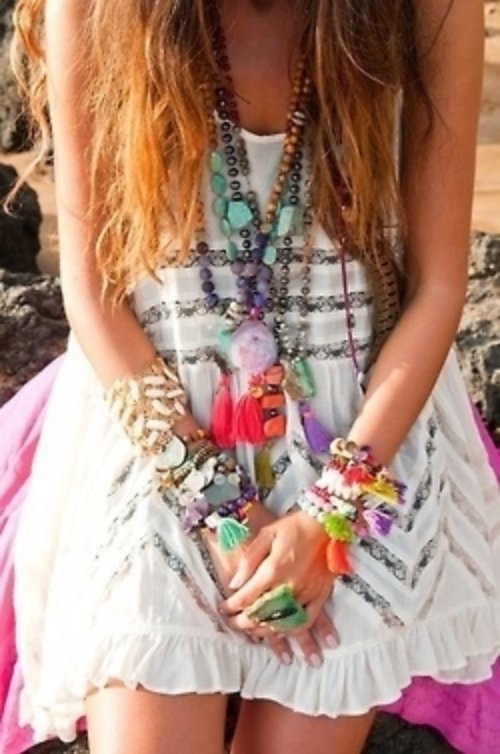 If you're wondering about the best way to rock multiple neon colored jewelry pieces, pair them with all-white or all-black! It'll be a beautiful contrast. I really love that, in this look, it isn't just limited to one color. You can wear tons of different vibrant accessories with either a white or black dress!
Well, there you have it! These are just seven out of the many awesome ways to add some neon colors to your outfit. How do you love to add a pop of color to your outfit? Of the list, which look is your favorite?
---
Comments
Popular
Related
Recent