7 Streetstyle Inspired Ways to Look Fabulous in Graphic Prints ...
By Amber
In the summer, it's easier to be bright and flashy, and it's so simple to figure out ways to wear graphic print if you don't want to sacrifice comfort when you're out and about. These fun looks are great inspiration for when you want to turn up the style and make your wardrobe shine in the daytime. Personally, graphic prints are my favorite pieces to wear. They're so versatile. A graphic print could be the star of my outfit, while everything else remains low-key. Awesome! So, here are some of my favorite ways to wear graphic print!
---
1

Black & White Chic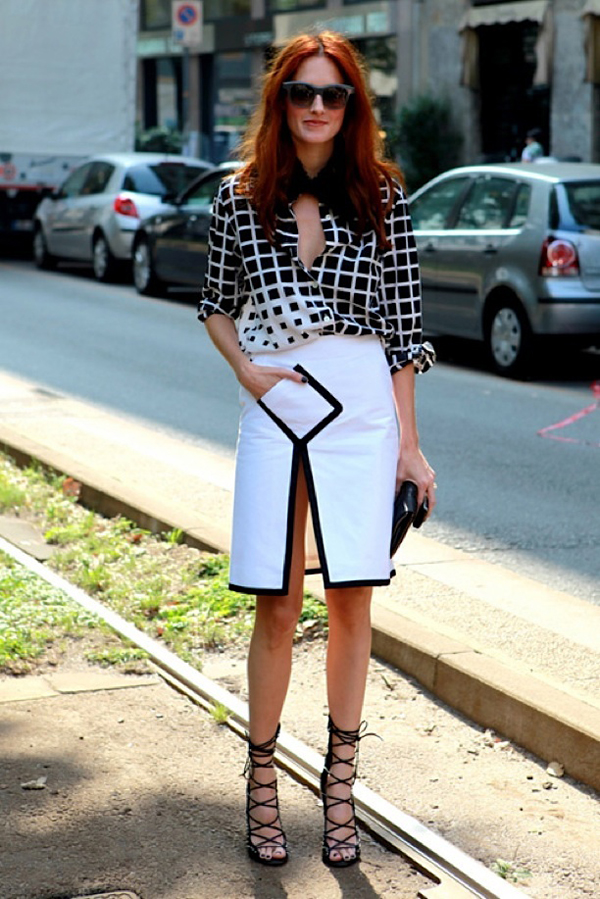 This black and white look featured on Who What Wear is so chic. I love black and white because it is a look that is timeless. You literally cannot go wrong when you stick to these shades. And, if you add graphic prints into the mix, well I'd say you're well on your way to becoming a fashion maven! I love that she paired a black and white graphic blouse with a crisp white skirt and black tie up shoes. The look is cool, casual and stylish! It's definitely one of many great ways to wear graphic print.
---
2

Animal Lover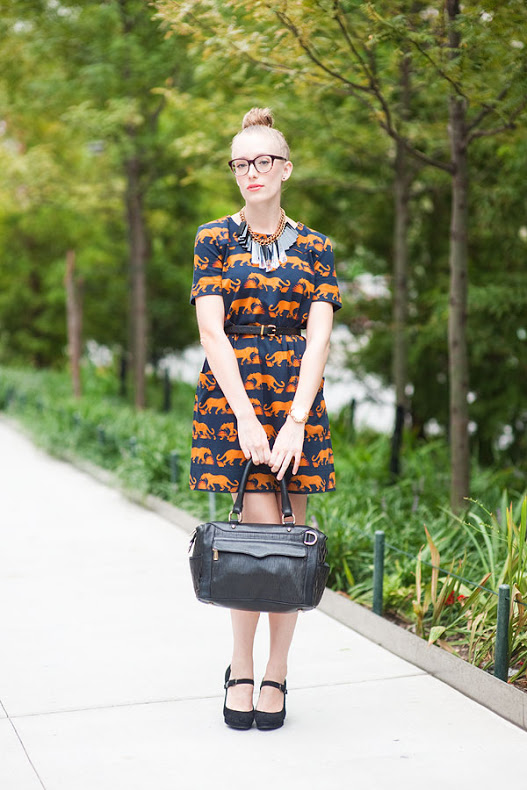 This look on this Lithuanian beauty over at Supermama's blog is quirky, fun, yet casual. I love that you can rock this blue and yellow frock for a walk in the park or a lunch-date. The elephant imprints are so cute too.The fact that she belted the dress and added glasses give it a sort of hipster, Zooey Deschanel kind of vibe. I totally dig! Keeping the bag and shoes simple is a great way to go when wearing such a loud print too. They have tons of dresses like this at vintage shops and even at inexpensive stores like Forever 21 and H&M.
3

Reptilian Power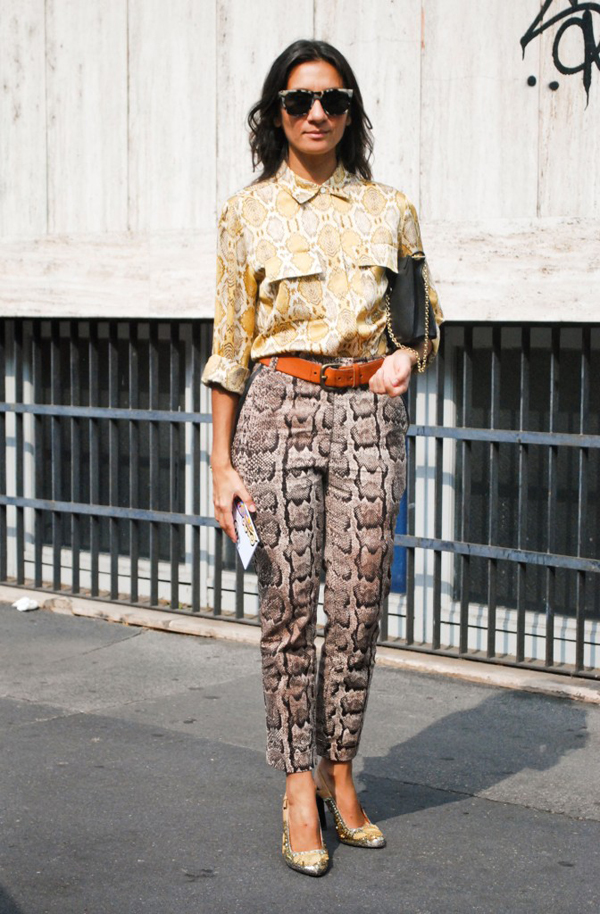 I like this look featured on the blog Style Sight so much because of the color combination of the gray reptile printed pants with a sandy colored '70s style printed blouse. It would be a great outfit for a nice, warm, sunny day. I especially love that she carried the reptile print throughout, down to the shoes! Though this is streetstyle, I'm pretty sure you'd fit right into the safari too! J.Crew, Topshop, and American Apparel among others have a great selection of this cool look.
---
4

Ethnic Fab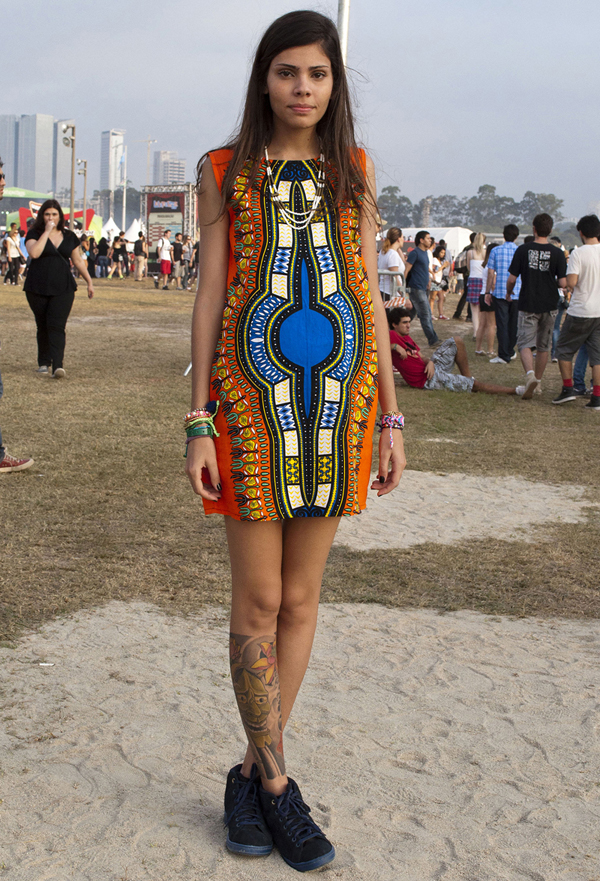 Totally crushing on this ethnic inspired ensemble. Louise, a blogger at Do It in Paris, owns this piece. It's a colorful, loud, fun print that is just wonderful to wear during this bright season. It's great because it makes a statement all on its own. I like that she kept her shoes subdued, which brings all of the attention to this eclectic piece. Try wearing minimal makeup and neutral accessories with a graphic number like this one.
---
5

Floral Fun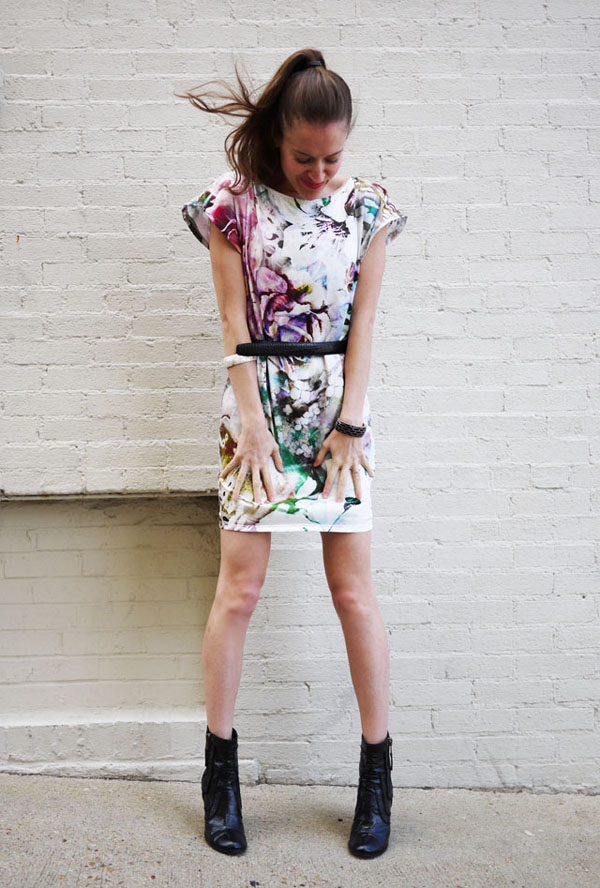 This super stylish floral look is such a winner for the summer. It's featured on the blog My Fair Vanity. If you get a chance to, definitely check out the blog; they feature clothes that are fair trade, organic and good for the people and environment (yay!). Anyway, this floral frock is great because it can show off your fabulous legs, and looks funky and bright. I love that she paired it with black booties, though you can easily pair this with nude pumps or Chuck Taylors alike.
---
6

Tribal Queen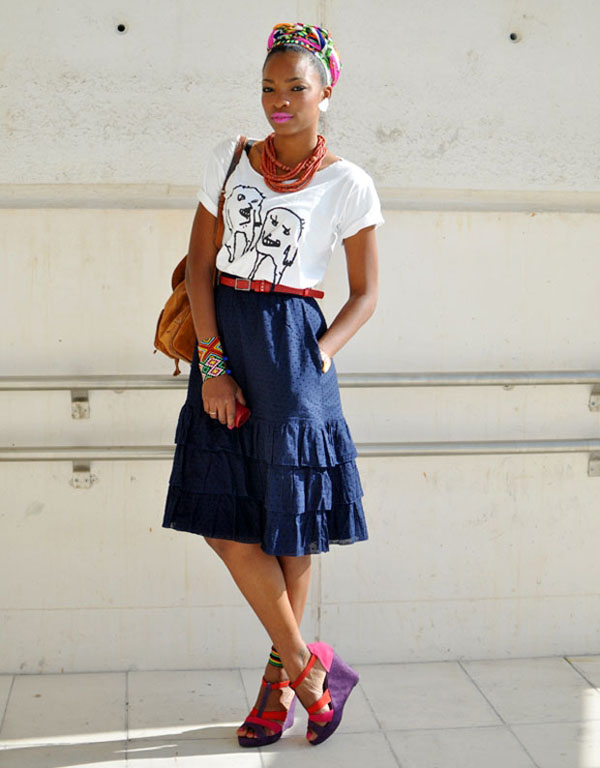 Angelica Balanta over at Brooklyn Bombshells blog looks great in pops of graphic print in a small yet chic way. I love that she incorporated tribal print into her accessories, while incorporating graphic print on her t-shirt as well. Pairing casual items like the t-shirt along with a flowy, brightly colored skirt is perfect streetstyle, especially in the funky city of Brooklyn. It's easy to pull off and takes little commitment too. Just get tribal printed accessories at your favorite stores and viola! Your outfit is instantly stylish!
---
7

Tropical Cool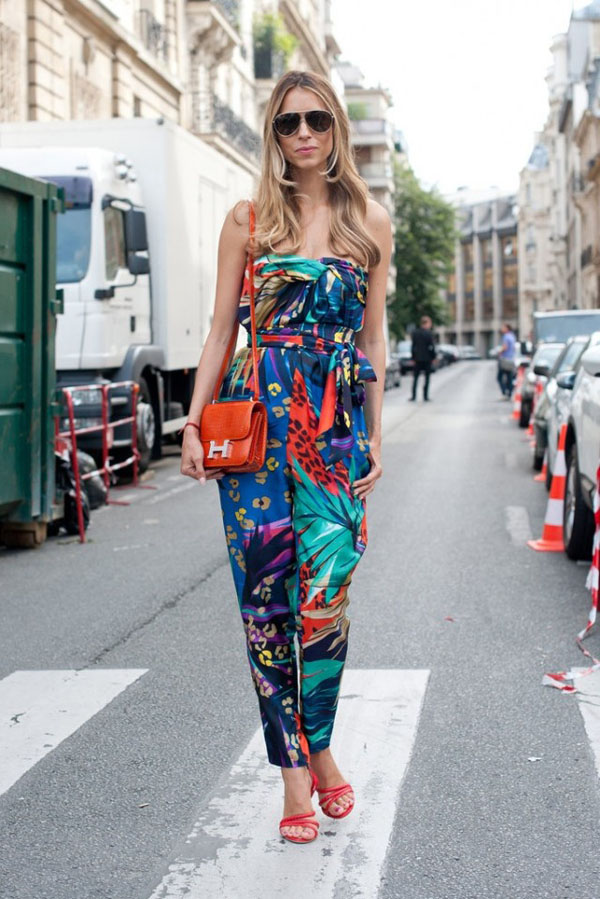 This look is so fantastic. I love that the graphic streetstyle is in a cute jumpsuit. Jumpsuits are great because it's an outfit all by itself. I love that it is so vibrant and so easy to pull everything together in such a short and sweet way. This look featured on Need Supply's blog is perfect for the warm weather! It's definitely one of the simplest ways to wear graphic print this season. You could find super cute ones over at stores like ASOS, Polyvore and even on eBay!
There are so many ways to wear graphic prints this season that it's hard to choose which one to go with! I say, wear them all! Well, not at the same time, unless you're daring enough. Looking through these has definitely given me some inspiration. Are there any graphic prints you like?
---
Comments
Popular
Related
Recent