7 Ways Streetstyle Women Rock Pencil Skirts and You Can Too ...
By Kati
Have you noticed how everywhere is covered in pencil skirts right now? From fashion magazines to celebrities and well-dressed women on the street, it seems a longer skirt is definitely in vogue right now! If you get it right, it's a great look too. You can wear pencil skirts to work, for cocktails, out at the weekend – pretty much anywhere. Here's how to capture that gorgeous pencil skirt look we're all lusting after.
---
1

The Inspiration…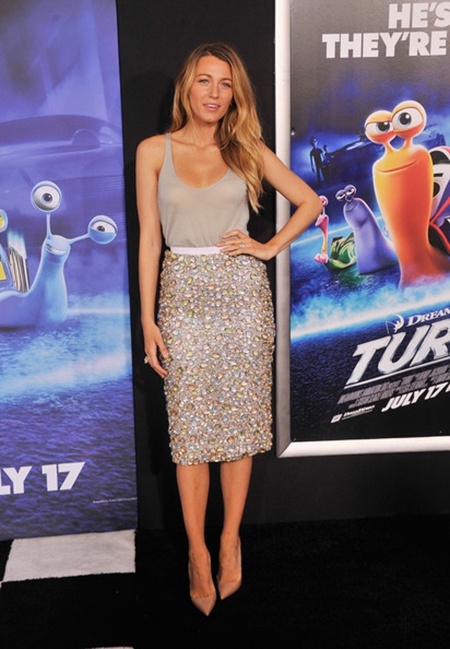 Blake Lively has been pretty quiet recently, but she got her name back in all the fashion columns after pulling off this outfit at the Turbo film premiere in New York. It's a sophisticated, glamorous look with a slightly sexy edge – and that's so Blake. I love the embellished skirt and lightweight vest combo, and her tousled hair and minimal make-up give this a really low-key feel. If you want to rock pencil skirts this summer, this is how to do it.
---
2

Metallics…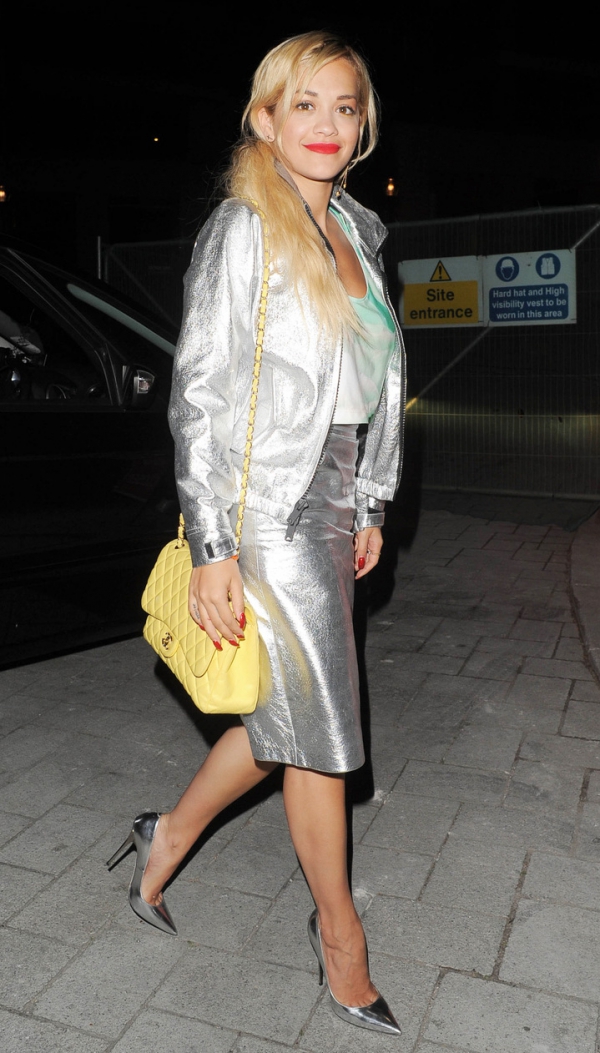 Okay, so Rita Ora always takes things to extremes, but she's got this one spot on. Metallic is a big trend right now, and it's hugely flattering for most skin tones. While Rita has gone for a matching skirt and jacket, and shiny silver shoes, too, you can capture the look with just one key metallic piece. I love how she's worked the pastel trend into her look with that mint green top, too.
Trendinig Stories
More Stories ...
3

Smart…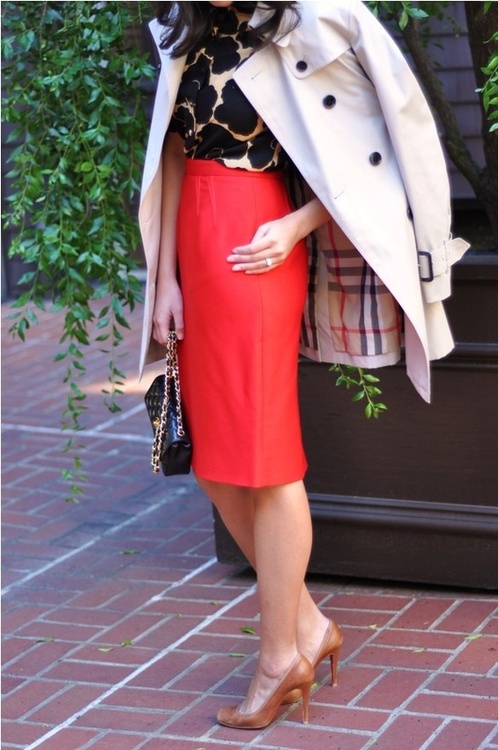 If you spotted this lady on the street, wouldn't you stop her to ask for a photograph? Just look at how well she coordinates that bright red skirt! She teamed it with a fitted printed blouse, chain handbag and tan heels. I love the casually-slung trench coat, too – it's perfect for unpredictable weather. Don't be afraid of going bold with your pencil skirt!
---
4

Leather…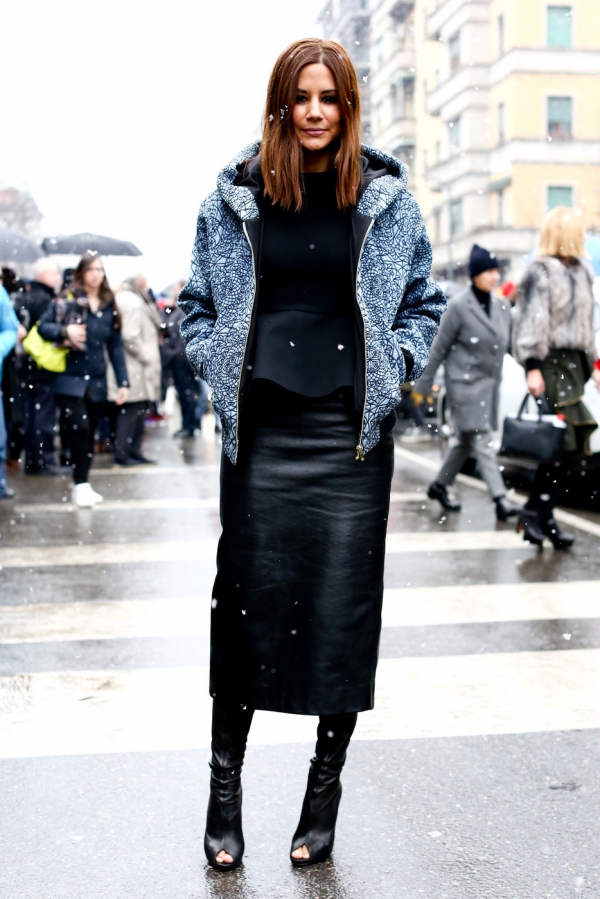 Leather is a big look right now, and a pencil skirt can be an easy (and comfortable) way to own the look. If you do take the plunge, make sure the skirt fits well, and you can move easily in it. Then team it with a short-sleeved white tee, some chunky black shoes and a satchel. Leave your jacket a home – this one is better off worn casual.
---
5

Black and Tan…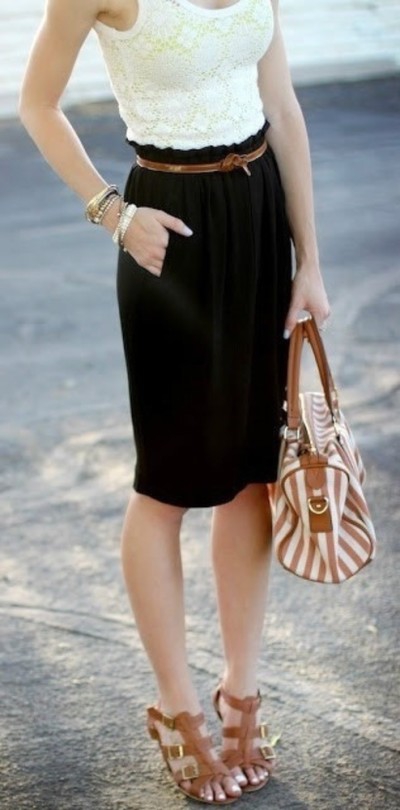 This was another irresistible outfit – how elegant and well put together does this outfit look? I love how a plain black pencil skirt has been given a brand new contemporary look. Try it yourself by teaming a black skirt with a short-sleeve lace top or blouse, tan sandals and a striped bag, and don't forget the tan belt and bangles. It looks great with a sheer white blouse for cooler days, too.
---
6

Business Casual…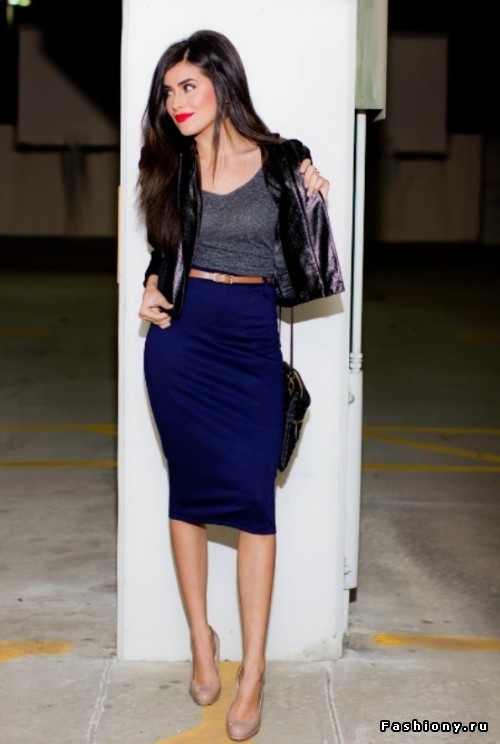 Do business casual at its finest, and team a colorful pencil skirt with a round-necked tee and jacket. I love the contrast between the nude heels and navy skirt, which look ready for the office, and the comfortable gray top and cropped leather jacket. To keep it work-ready, add a thin tan belt around your waist, and add a touch of lipstick. Dreamy. I'll definitely be trying this one!
---
7

Floral…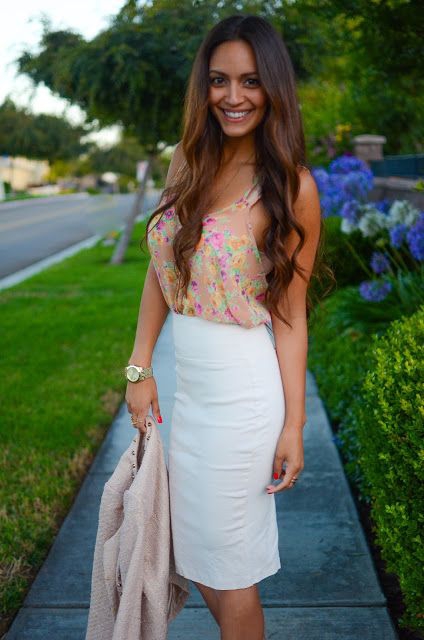 Got an amazing waist? Show it off by choosing a high-waisted pencil skirt and teaming it with a tucked-in chiffon top. The floral print on this one adds to the summery vibe, but you could go with anything, from plain black chiffon for a sophisticated monochrome look to bold candy stripes or even neons. It's so relaxed and pretty – just be careful about grass stains on a white skirt!
Have these looks inspired you to give pencil skirts another try? I'm definitely going to be investing in some colorful skirts to try out with various outfits. Work-wear that's casual and cute enough to wear everyday?! Yes, please. Got a great way to wear pencil skirts? Leave a comment, I'd love to try it!
---
Comments
Popular
Related
Recent