There are so many cool and easy ways to look sporty chic in the summer. Personally, I think it's all about the confidence in what you're wearing. You can easily take an outfit and dress it up or dress it down, all depending on your shoes and accessories. Check out some of the ways to look sporty chic and then let me know how YOU like to rock the trend!
1

Varsity Shirt Dress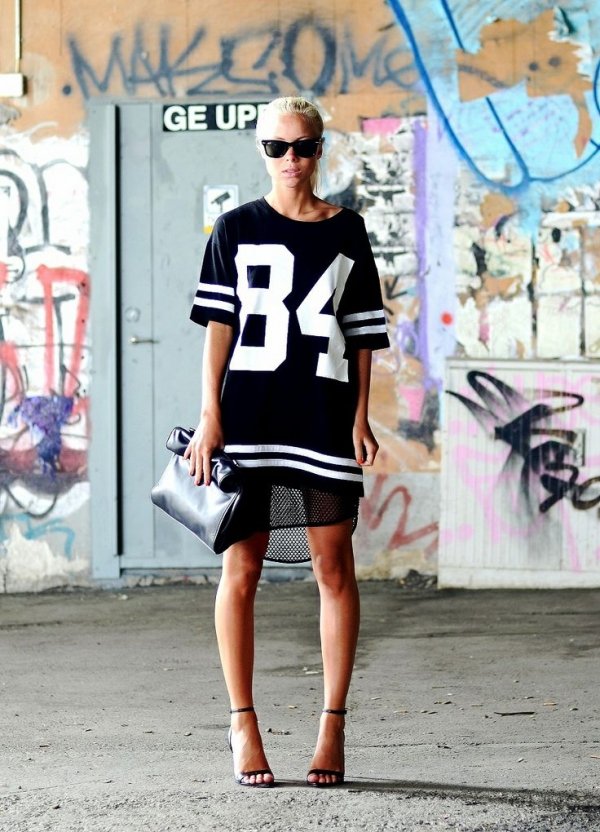 I think this look is so cute. It can easily be transformed from a day to night outfit. All you need is an oversized varsity jersey and bam - you can wear it as a dress! I would keep the accessories to a minimum and keep my hair in a high ponytail! That way, the jersey is the focal point of your outfit. To take the outfit to the next level, throw on some black heels. This is just one of many street style ways to look sporty chic!
2

Crop Top + Midi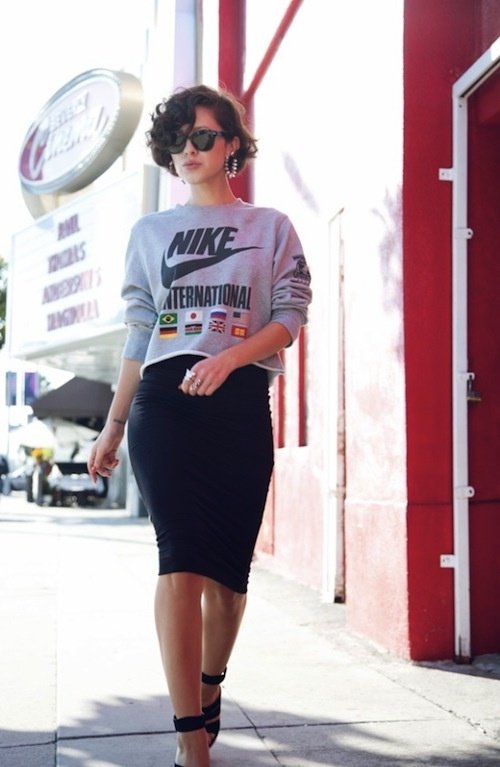 I think this look is the perfect balance between sporty and girly. To recreate it, pair a black pencil/midi skirt with a sporty crop top. You can find tons of options on forever21.com or shop.nordstrom.com. With the shoes, you have the power to either dress the outfit up, or dress the outfit down. If you want a more causal vibe, I'd go with some simple converse. If you want to spice things up, add some heels to the look!
3

Jogger Pants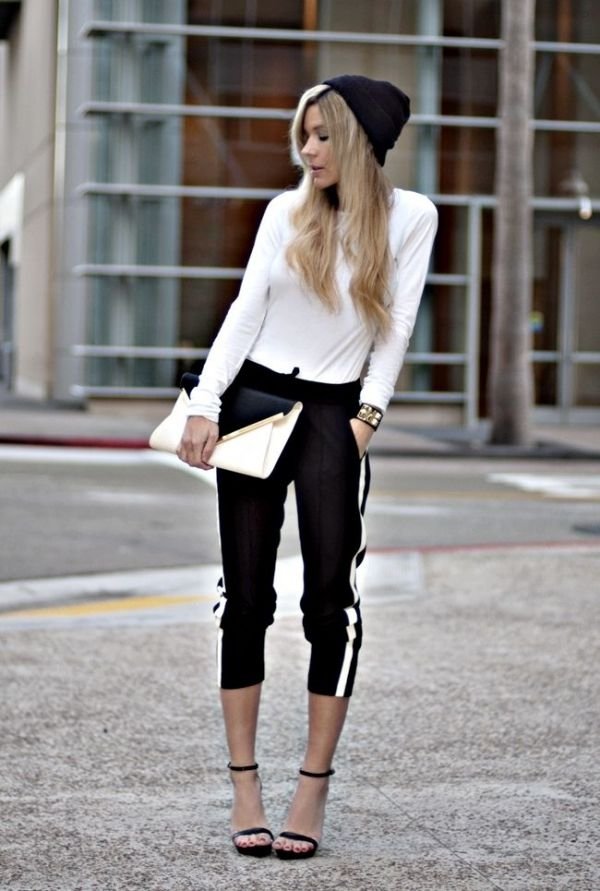 I think jogger pants are great because they're very athletic-inspired but still tailored and cute. You can find some on us.asos.com! I love the idea of keeping the outfit really sleek and simple by keeping the colors black and white. Pair the pants with a basic white tee! You can even add a beanie to the outfit. The chic aspect of the look is definitely the shoes and the clutch!
4

Uniform Inspired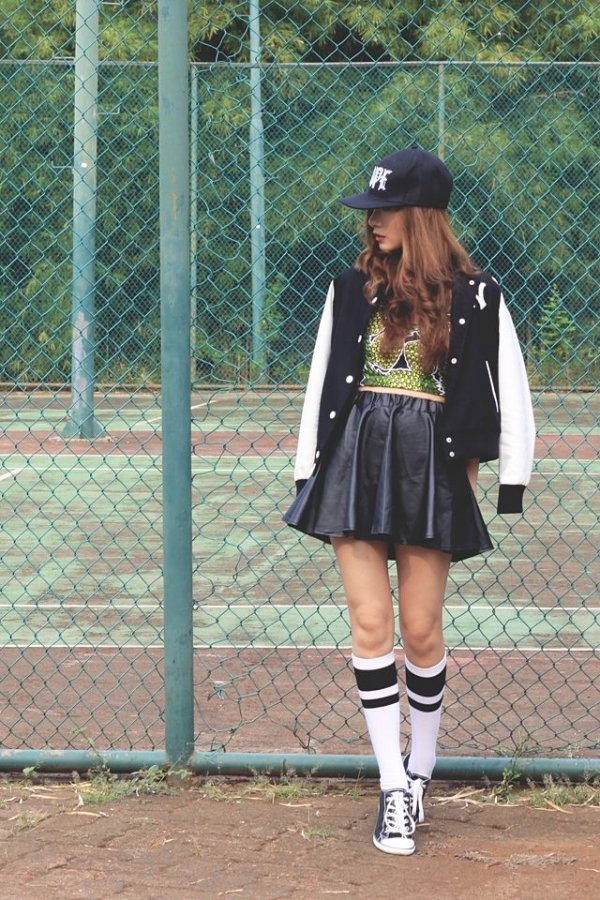 Want to look sporty chic? Don't be afraid to go all out! Pair some knee-high socks with classic converse. Rock a crop top with a leather skirt (forever21.com) and throw a varsity jacket on top. Of course, what's a sporty look without a baseball cap?
5

Pop of Color on Your Feet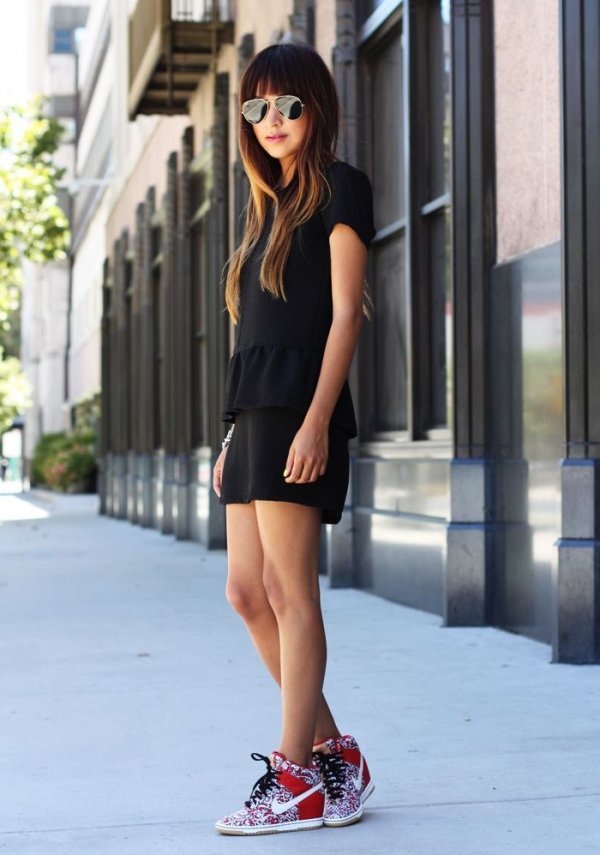 Like I said, sporty chic is all about the shoes! To recreate this look, pair something simple like a black romper (forever21.com) with some fun printed trainers! I've recently been obsessing over the Nike Dunk Sky Hi-Print Sneakers (barneys.com)!
6

Boyfriend Jeans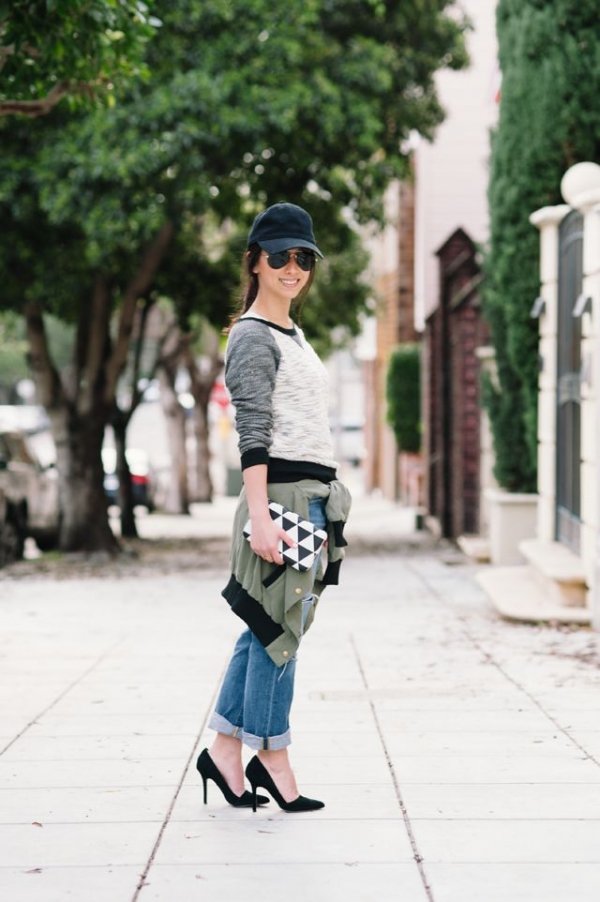 Boyfriend jeans are a must-have in every girl's closet. Seriously, there are so many different looks and outfits that you can create with them! For a sporty chic look, try pairing the jeans with an oversized sweater. You can even wear the flannel trend by tying one around your waist! Complete the look with a baseball cap, some heels (or converse) and you're all set!
7

Sweatpants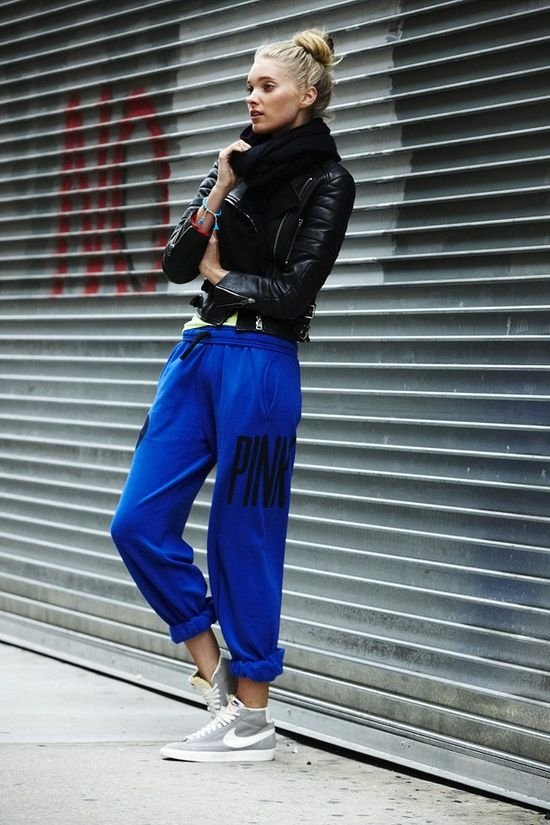 Whoever said you can't wear sweatpants outside of the house was totally wrong. I do it all the time! Oops. Of course, it helps to keep it fashionable with some PINK Victoria's Secret sweats! (victoriassecret.com) You can pair the sweats with a basic tee or a graphic tank. For shoes, it all depends on your style but I'd go with some converse!
Well, there you have it. These are just seven out of many awesome street style ways to look sporty chic. Of the list, which look was your favorite? How do YOU like to stay sporty chic?