7 Amazing Street Style Looks from LFW ...
By Kati
I'm loving the Street Style looks from LFW this year! It seems everyone caught the fashion fever as the London Fashion Week shows rolled out across the capital, and there were some amazing looks on display. I loved checking out what people were wearing, and it's a great way to get inspiration about what pieces are likely to be hot, and how to wear my favourite clothing in new ways…in short, you won't want to miss these Street Style looks from LFW!
---
1

Poppy Delevigne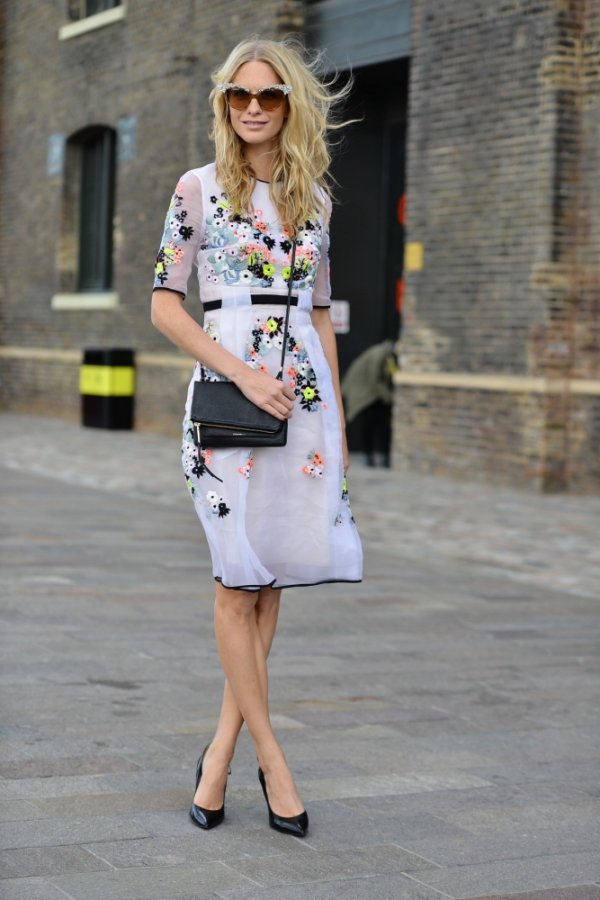 One of my favourite street style looks from LFW was Poppy, who looks totally glam yet not-at-all out of place in this gorgeous dress. The elbow-length sleeves and knee-length skirt keep it warm and conservative, but the see-through panels add a touch of summer fun, and I love the eye-catching neon flowers. Just add windblown hair and big, glitzy sunglasses, and you're ready to impress just like Miss. Delevigne.
---
2

Sports Luxe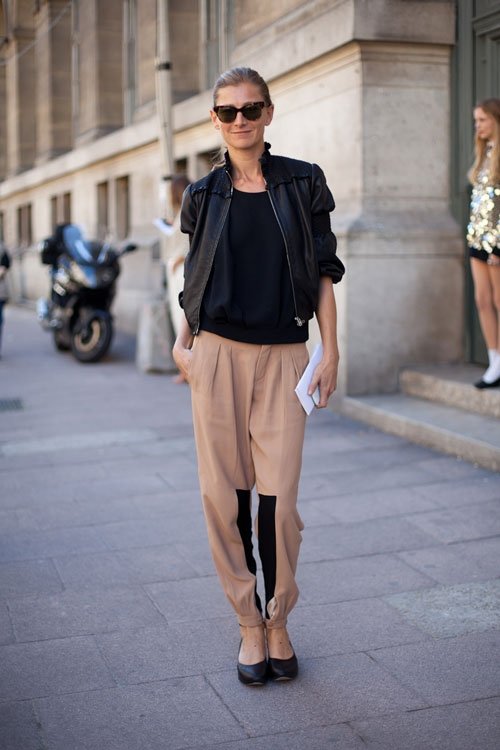 Victoria Beckham and Alexander Wang are among the names that made Sports Luxe huge, and it seems set to stay that way. It's a great look for wearing to fashion shows, because pumps or converse are ideal for darting between shows and trying to catch a glimpse of the models backstage. For a trendy look, team some slim-fitting jogging bottoms (Zara has some amazing ones) with a casual tee and comfy shoes. A bomber jacket will add extra warmth when London is feeling the chill.
---
3

Bright Red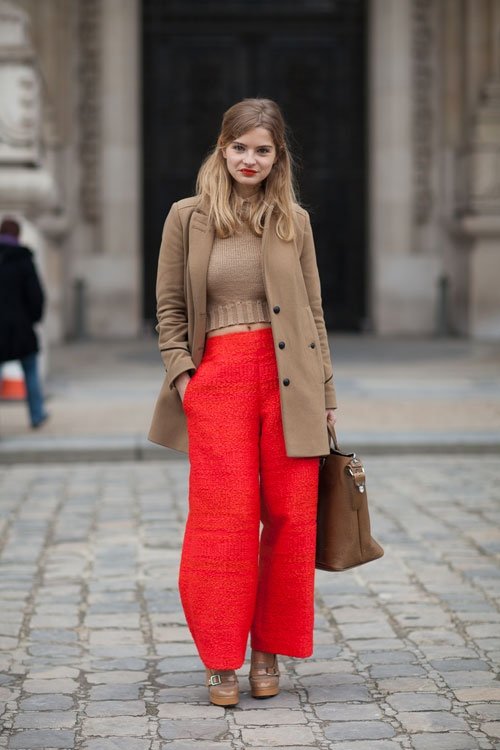 It's the colour of love, and as LFW included Valentine's Day it's no wonder that the fashion pack are feeling particularly passionate about red. The easiest way to get the look and show off your style credentials is to grab a pair of wide-legged red trousers, and team them with a more neutral top. Something sheer will rock both trends well, or dress the rest of your look down by teaming them with a simple black vest. It's so chic that you'll be being redirected to the nearest red carpet in no time.
---
4

Leather Love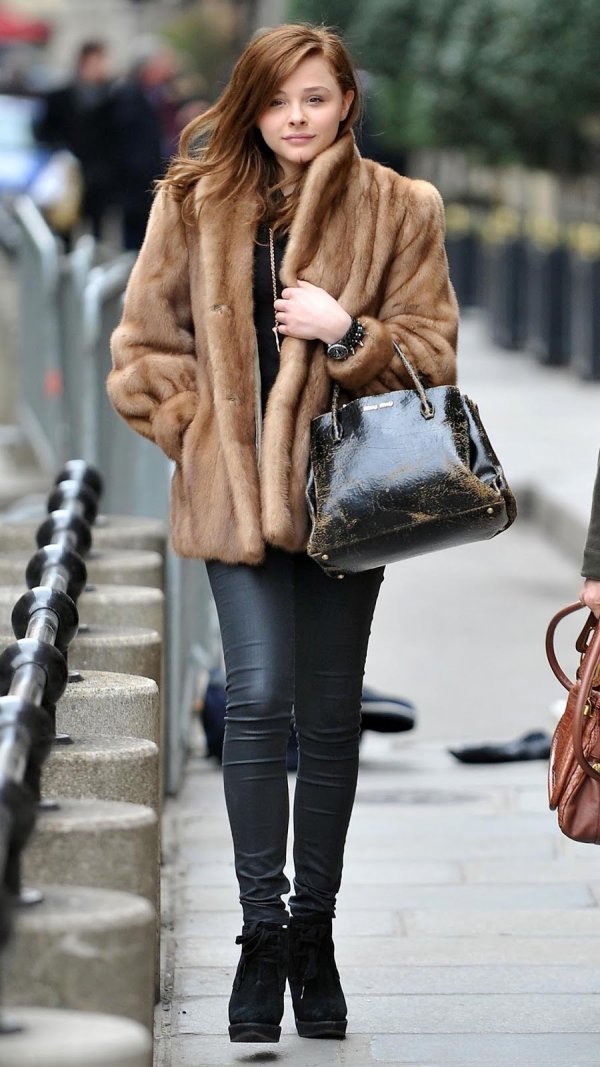 There are always stylish people waiting outside of the shows, but I just loved this lady's clash of skintight black leather trousers, a t-shirt and a really fluffy coat. She looked effortlessly on trend, and she was happy to let other people see how warm her coat was, too! Get the look by remembering that not everything has to be colour coded – mixing and matching colours and styles can look amazing.
---
5

Short Suits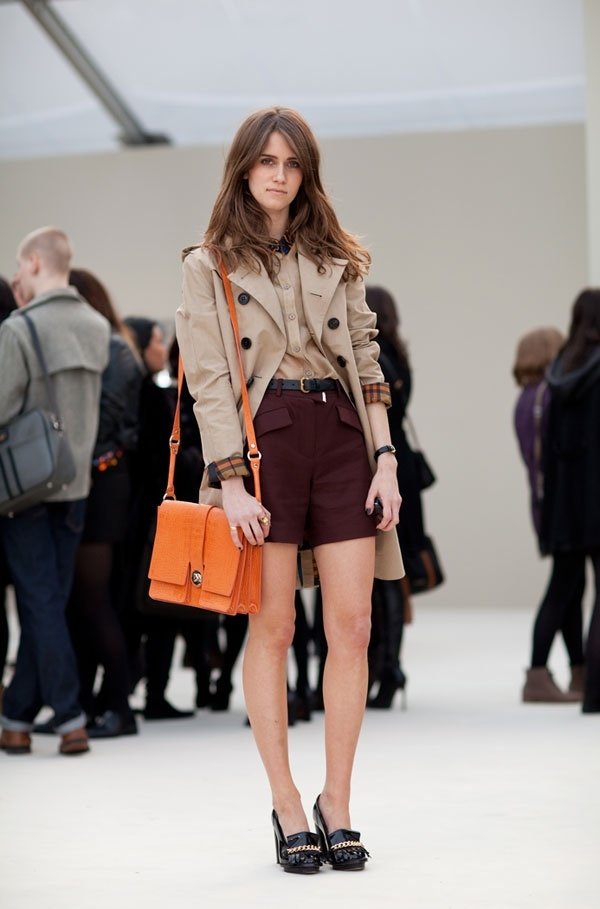 I'm all for staying cool in the summer, but wearing shorts to work? It's not generally approved of in London. That will change this year if the shows have anything to do with it, though. This season's shorts are tailored and classy, and look great teamed with blouses and shirts. I love how cute these dark brown shorts look worn with a light trench and shirt! The satchel is a much-needed pop of colour, too.
---
6

Jumpsuit Genius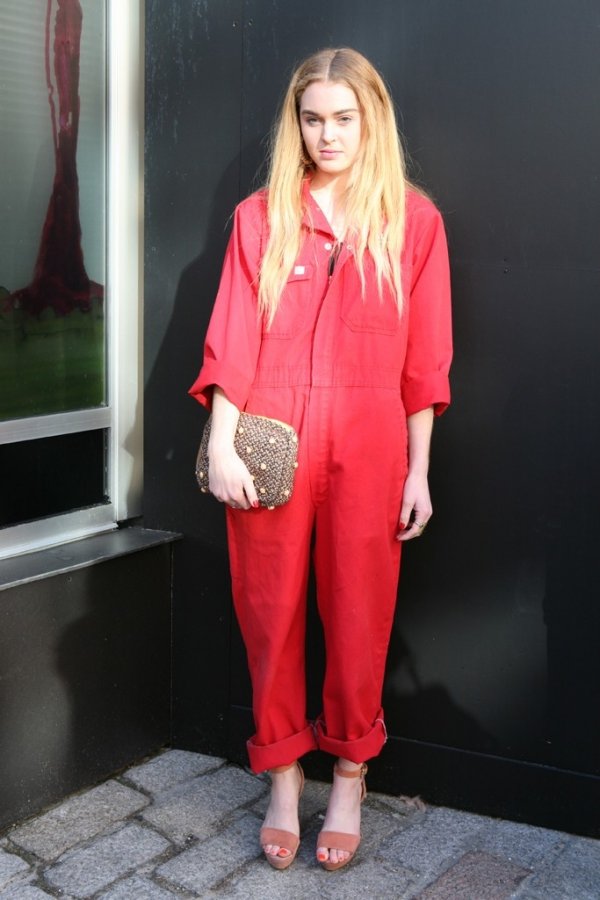 What do you think of jumpsuits? Uber trendy, or prison-wear? Do you think that they flatter, or cast an unattractive wide shape? Well, your mind could be changed this year. Jumpsuits are everywhere, from suit-inspired work jumpsuits to casual bright pink ones. Some shows gave them a rough look by rolling up the sleeves and ankles in thick, messy rolls, and teaming them with glamorous heels and clutch bags, whilst others went for more tight fitting jumpsuits with subtle detailing, worn with more casual heels. Whichever way you rock it, you'll be bang on trend.
---
7

Pencil Skirts and Peplums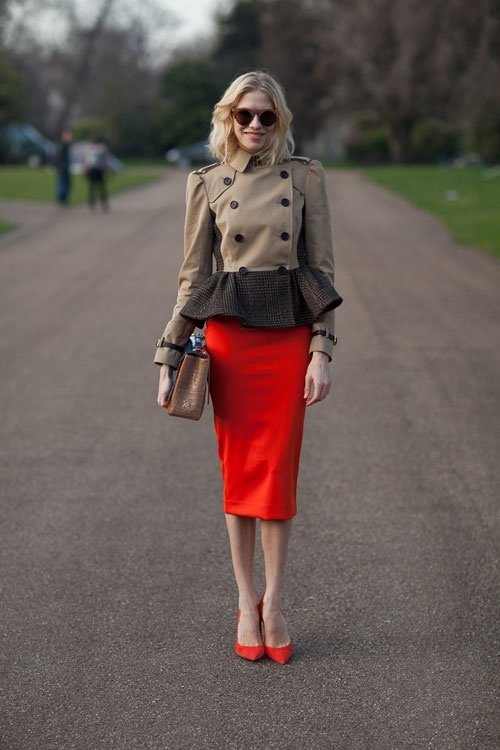 Two more major street style looks for LFW were long pencil skirts and cute peplums. Don't stick with your boring staples, though – everything you wear should be eye-catching and flattering, and the more unique, the better. I love Lena's bright red skirt and shoes here, and that coat is a great blend of military and peplum chic. Just add sunglasses for extra cool.
There have been so many street style looks from LFW this year! Thick fluffy coats were a definite trend, as were blazers, bold colors and big prints. Don't forget your sunglasses, either – it might be rainy and a bit cold in London, but they are an essential. Which street style looks from LFW are you loving right now?!
Veronica
looks loke Kirstin wiig...
More
Comments
Popular
Recent