COMMENT
Embrace one of the most popularly tipped patterns for fall and be inspired by some tartan street style looks. Tartan is going to be a popular trend for fall, so make sure you add this classic pattern to your wardrobe. The key to wearing the tartan trend this season is to give the heritage pattern a more contemporary spin. Dress it down with denim or give it the grunge treatment with beat-up leather accessories. Check out these tartan street style looks to inspire your fall wardrobe.
1. Tartan Dress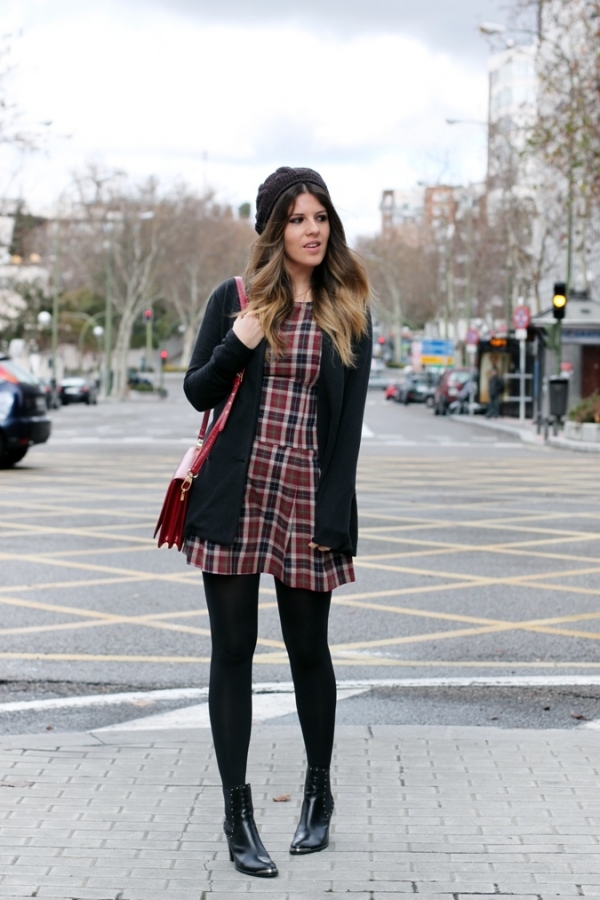 Tartan street style looks might have a bit of a school girl vibe about them, but there are ways to make them much more grown up. Ester from Mi Armario en Ruinas wears a fitted tartan mini dress. The dress could be worn alone during the summer months or layered up for fall. Here, she teams her tartan dress with an American Vintage jacket, Zara side bag, black tights, and black ankle boots.
2. Blue Tartan Trousers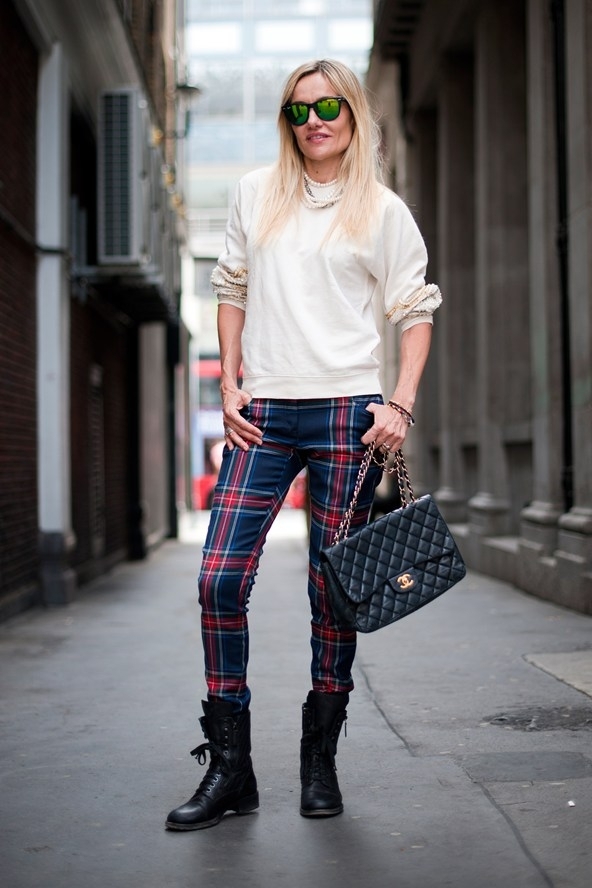 Make a statement this fall in a pair of tartan trousers. Clara was photographed by Glamour Magazine wearing her red and blue tartan trousers with a mix of classic and grungy accessories. She teams her Pinko tartan trousers with a cream Zara sweater, lace-up ankle boots, and a classic Chanel handbag. She also sports a pair of vintage Ray-Ban reflective sunglasses.
3. Vintage Tartan Skirt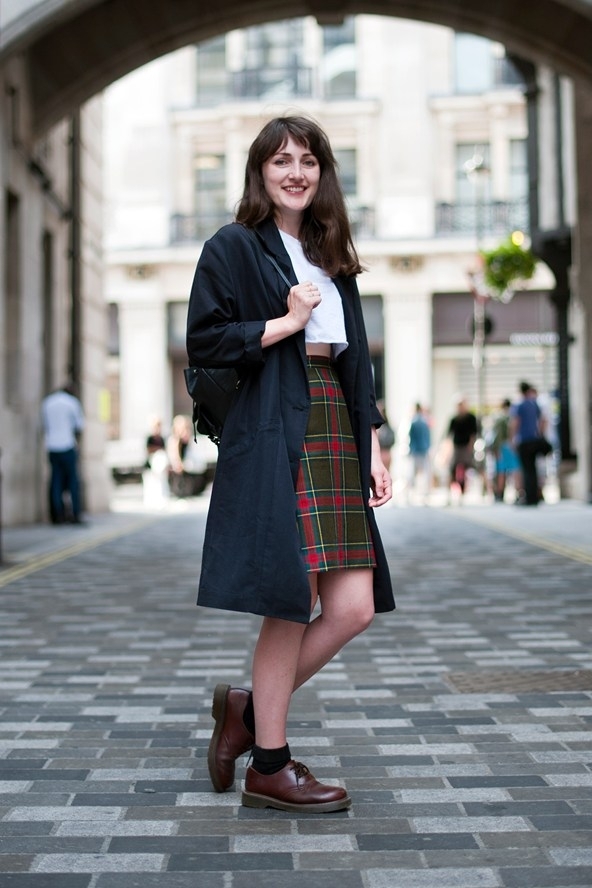 Sophie was spotted by Suzanne Middlemass for Glamour Magazine wearing a vintage tartan skirt. She teams it with a cropped white top, navy Urban Outfitters coat, and Dr Martens shoes. This outfit has a bit of 90s grunge vibe to it, which is a trend revival that we're going to be seeing a lot of this season.
4. Tartan Mini Skirt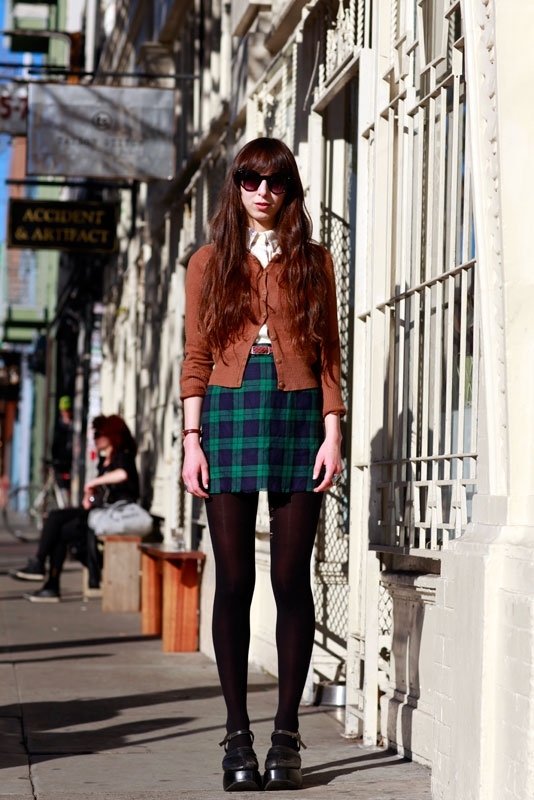 Kayla works a modern preppy look in her tartan skirt. She was photographed by the Fashionist wearing this tartan look. She teams her tartan skirt with a collared blouse, a brown cardigan, stockings, and black platform clogs. This outfit is ideal for transitioning into fall, and when the weather cools up even more you could switch the cardigan for a coat and the clogs for some long boots.
5. Tartan Maxi Skirt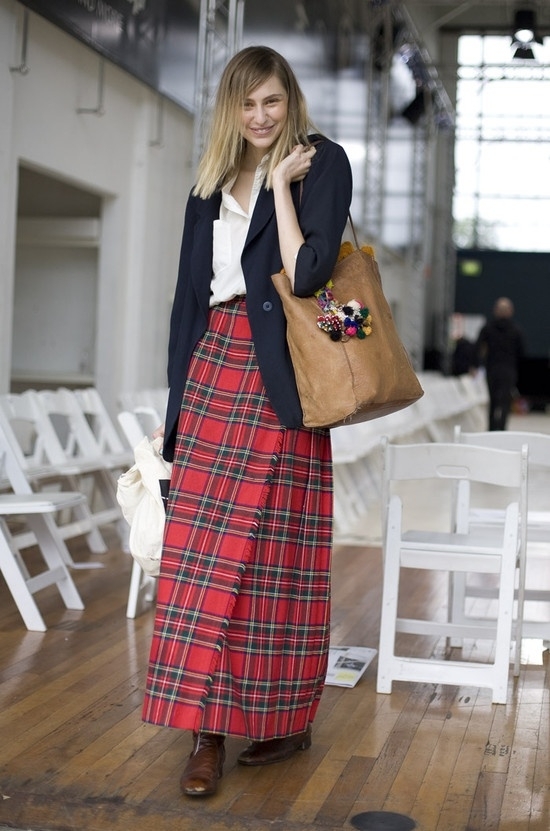 Really stand out from the crowd in a tartan maxi skirt. This outfit was snapped by Phil Oh from the Street Peeper blog. This lady teamed her bold red tartan maxi skirt with a basic white blouse and a navy blazer. She also carries a large tan tote and wears brown boots, which anchors the entire outfit.
6. Red Tartan Trousers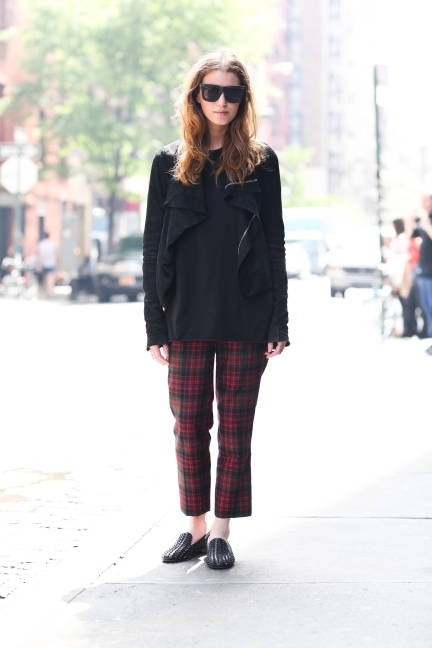 Tartan trousers are an effortless way to incorporate this trend into your wardrobe for fall. Allyson was snapped by Anton Lombardi for Elle.com wearing her red tartan trousers with black basics. An oversized black tee, draped biker jacket, and studded loafers give this outfit a certain punk twist.
7. Tartan Scarf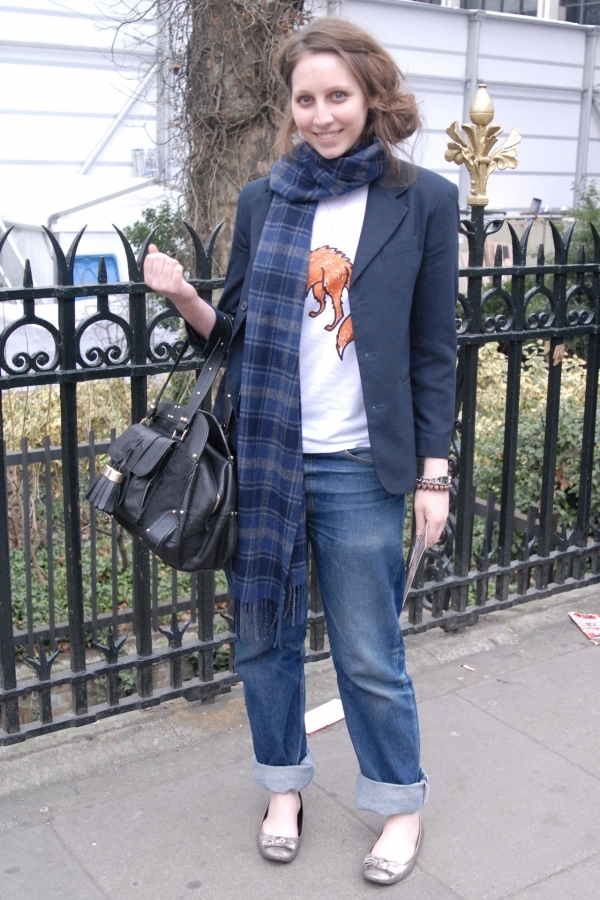 A simple way to add some tartan to your look is with some on-trend accessories. Kerryn was spotted on Vogue.com adding a tartan touch to her outfit in the form of a scarf. She adds the scarf to a casual outfit of boyfriend jeans, a printed t-shirt and navy blazer. A black handbag and ballet flats complete this fall-ready look.
These are just a few tartan street style looks that we've spotted. What are your thoughts on all things tartan? Which of these street style looks, if any, will you be drawing inspiration from for fall?
13 Alarming Signs He Could Be a Player ...