There are so many awesome street style outfits with boots to recreate! I'm sure all of you already know this, but shoes can make or break your entire outfit. This list will help you pick shoes that'll make all of your outfits that much better. For fall weather, boots are the perfect addition to any outfit. Check out some the street style outfits with boots you should recreate!
1

Oversized Cardigan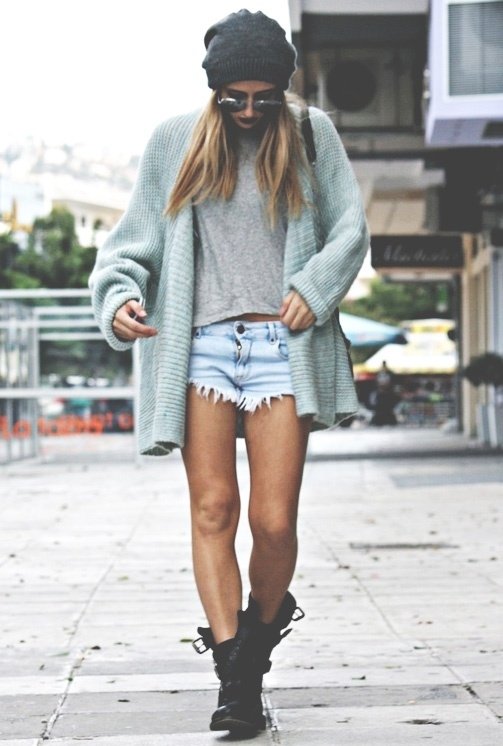 I love to keep things cozy and casual so, denim cutoffs and a basic tee are my go-to items! Throw an oversized cardigan over the outfit (how cozy are those?) and add some edge to the look by wearing combat boots. I usually throw on a beanie too cus, ya know, bad hair days and all. This is just one of many street style outfits with boots to recreate.
2

Rainboots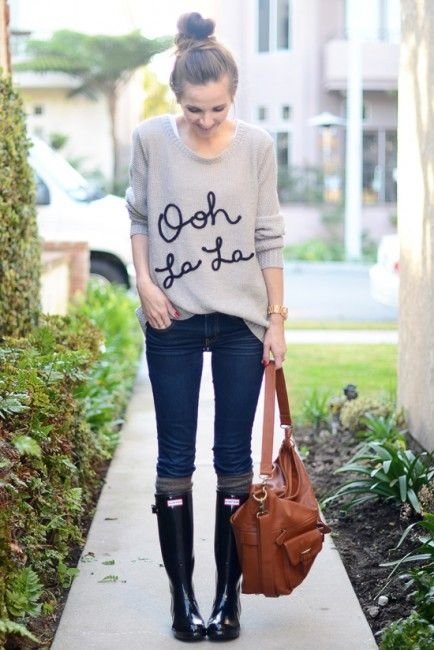 If you don't already have a pair of rain boots in your closet, it's time to get one! You never know when Mother Nature will decide to pour so you gotta have a pair handy! I recently bought some boots from henribendel.com and I'm in LOVE with them! I can't wait to wear them!
3

Denim on Denim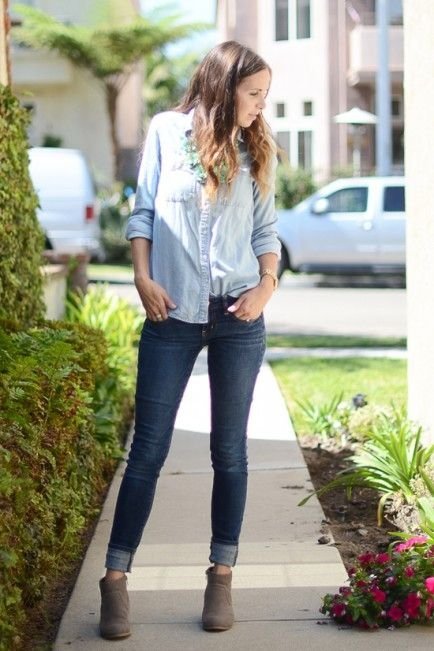 I love the denim on denim trend. Some people think the two shades of denim is a bit too 'overwhelming' but I disagree. I think it balances out quite nicely if you add a pop of color to the look. That can be achieved with some ankle booties! You can find some fun ones that'll distract from the denim overload. Try ones from lordandtaylor.com!
4

Flannel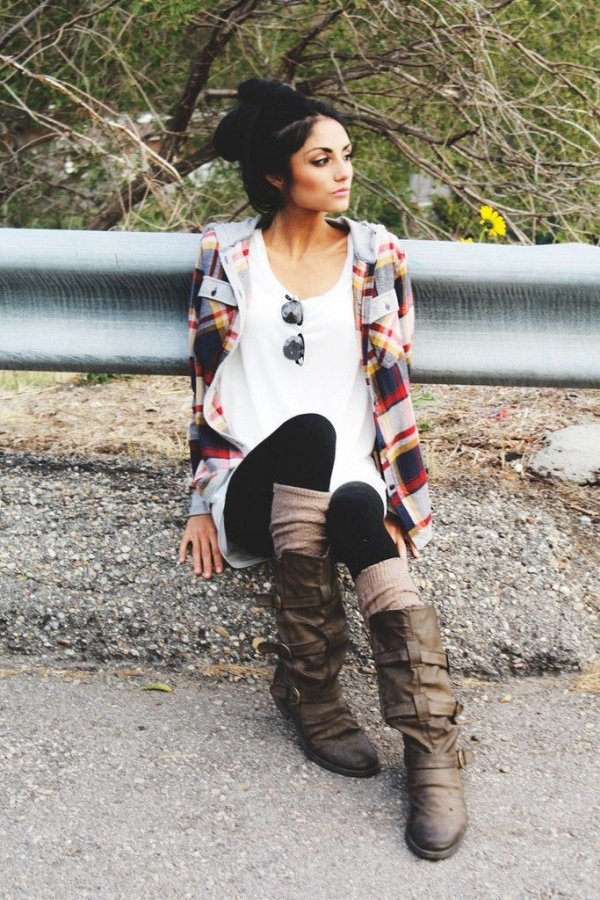 Fall is all about flannel, right? You can create so many different looks with them. I love tying them around my waist, over a basic tee. If you want to recreate that look, pair it with some skinny jeans or black leggings. To add some texture to your outfit, try leg warmers underneath your boots!
5

Fringe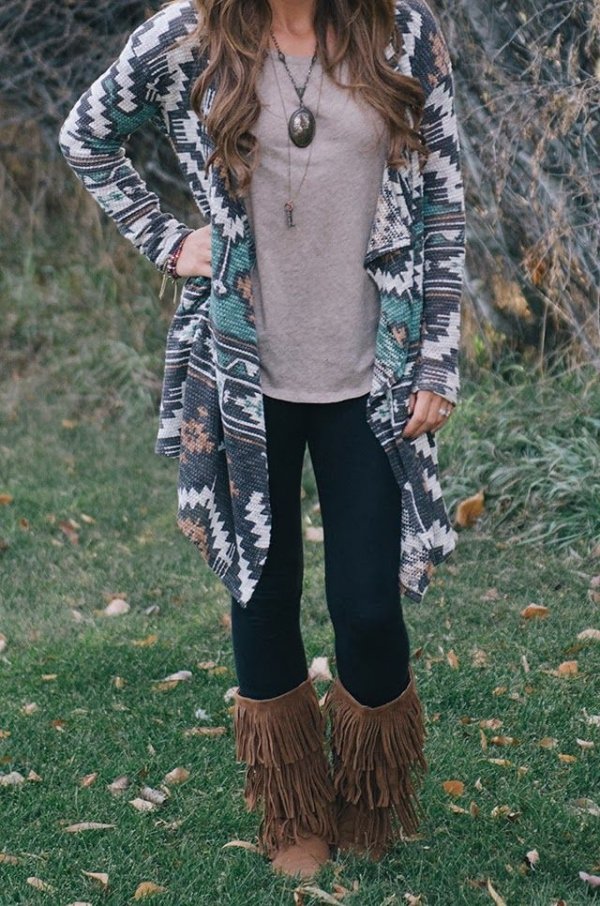 Add some flare to your outfit with some fringed boots! I'm actually obsessed with fringes - I think it adds a fun and youthful vibe to your look. You can buy some cool fringed boots from urbanoutfitters.com. I think these boots make for a really stylish focal point in your outfit so I'd keep the rest of the accessories to a minimum.
6

Patterned Leggings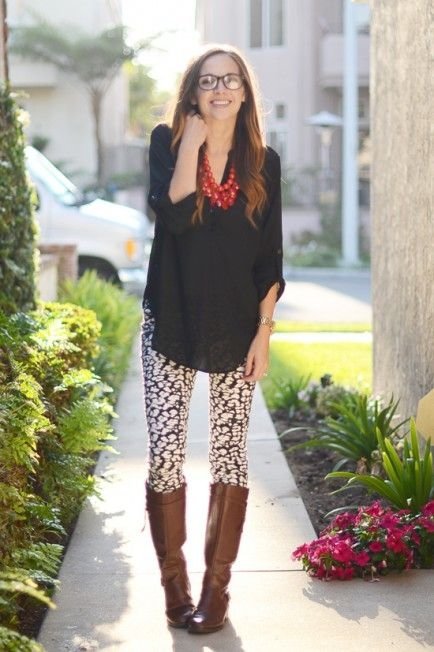 Patterned leggings are an easy way to make your outfit pop. This look is great to recreate in the fall because it's light and breezy - perfect for this weather transition! For this look, I'd go with some classic boots from lordandtaylor.com. Black, brown, and beige boots look great with anything so have fun with mixing and matching the patterns in your outfit.
7

Thigh High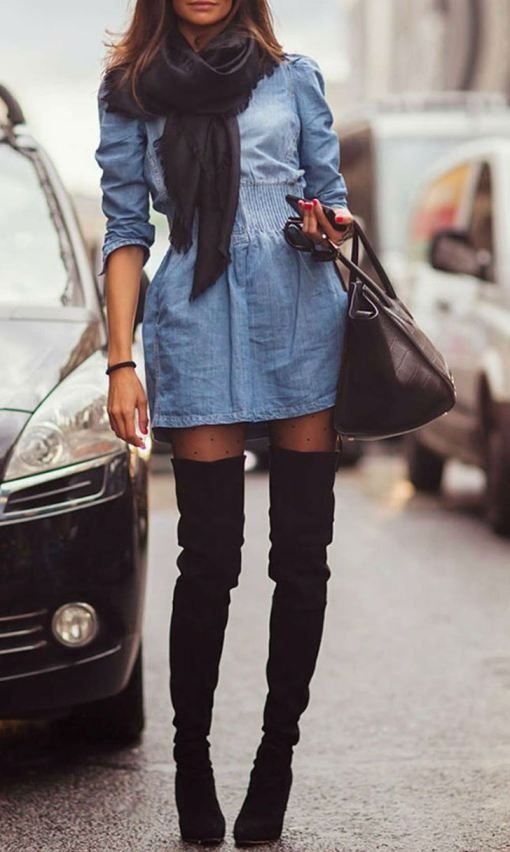 If you're looking to make a fashion statement, try thigh high boots! They definitely add a sexiness to your outfit but still manage to look sleek and sophisticated. You can pair them with a dress or even tuck in some jeans. Try the ZiGi girl 'Piarry' lace up boot from shop.nordstrom.com. If you want something a bit more simple, try charlotterusse.com!
Well, there you have it. These are just seven out of many awesome street style outfits with boots for the fall! I've never really been a boots kind of a girl but these looks have definitely inspired me to try something new. Of the list, which look is your favorite? Which will you be recreating?