There are so many great all white street style outfits to recreate this fall. The trend is definitely in this season! If you've always been the type to shy away from wearing all white, this list will help you persuade you to finally rock the look! Here are some pretty dreamy all white street style outfits that you can recreate:
Table of contents:
1

Tailored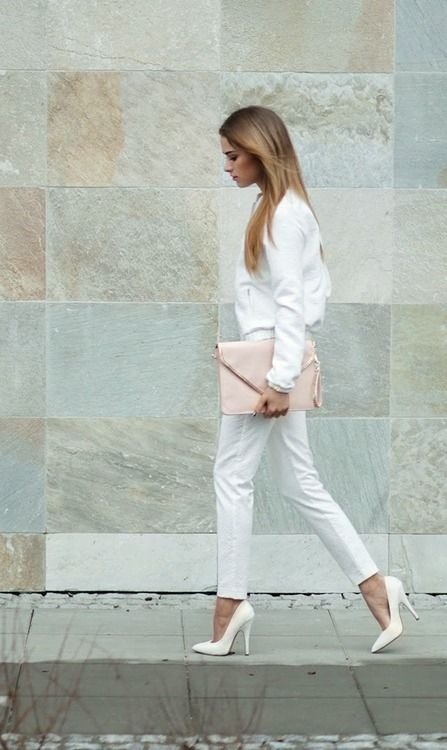 As much as I love oversized clothing, wearing tailored items can look extremely sophisticated. This is just one of many all white street style outfits to recreate.
2

Sweater & Flared Bottoms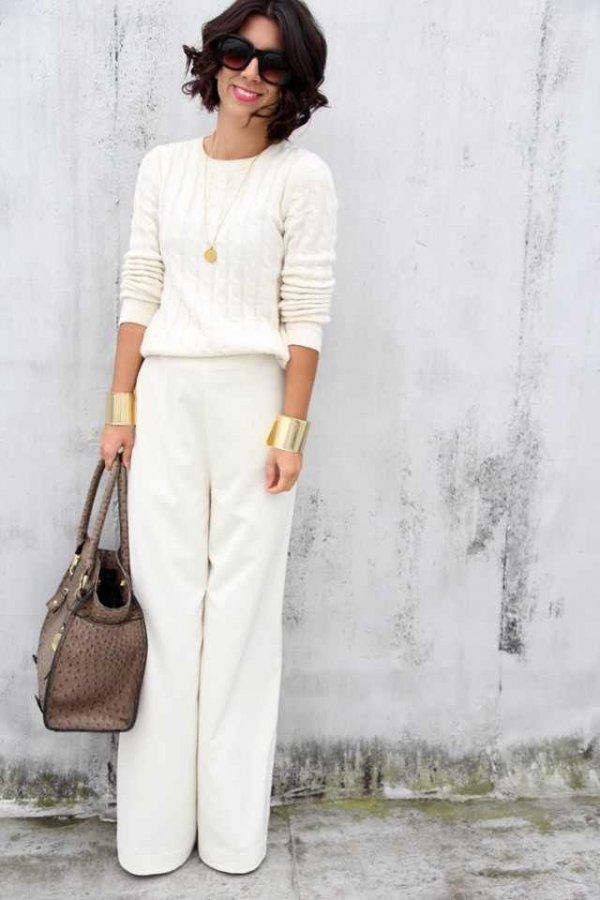 This look is very similar to the first one but there are definitely some differences that can change your entire outfit. For example, this look opts for flared bottoms instead of tailored ones!
3

Shorts
If it's still hot out where you live (lucky you!), then you can still pull this casual chic look off. Pair some white shorts with a white blouse! If you're wearing a pop of color on your shoes, don't be afraid to coordinate the color on your accessories as well!
4

Casual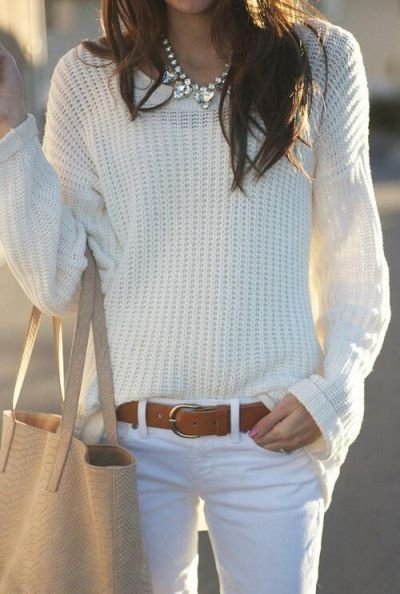 For an easy and quick look, pair your white jeans with a white sweater! If you find the all white look a bit too much, you can add some color with a belt and/or a purse!
5

Maxi Sweater Dress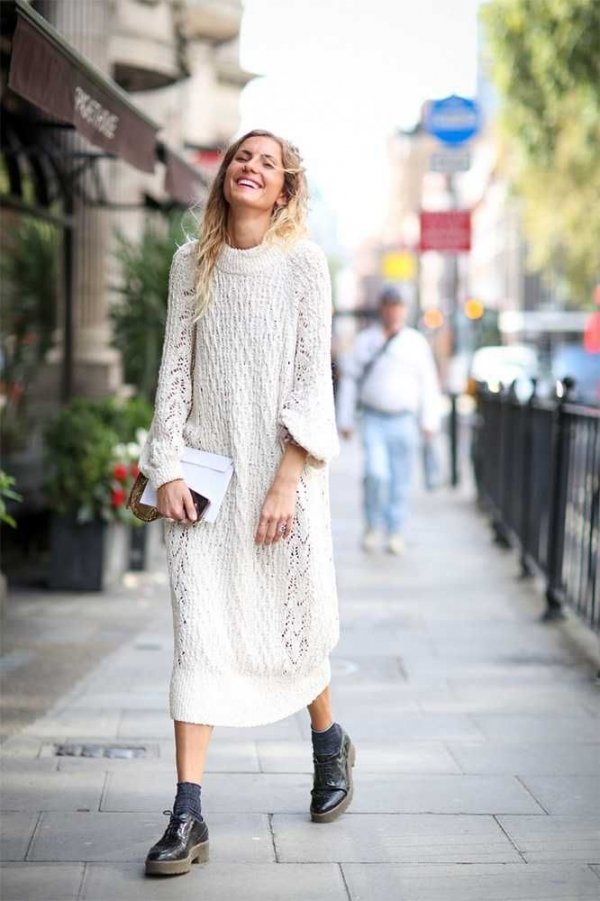 I'm not one to fuss over spending so much time to get ready. That's why items that you can easily throw on are my favorite! A sweater dress is definitely essential in a girl's closet. You can always dress it up or dress it down, depending on the look that you're going for.
6

Sweater + Skirt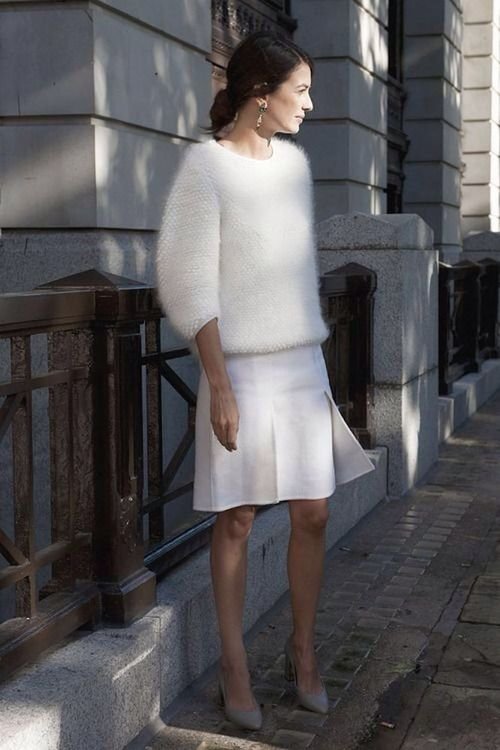 Fall's weather can be pretty indecisive sometimes. It's not hot enough to wear a skirt and tank top but it's also not cold enough to be all bundled up. This is where a fashion compromise comes in! Pair a cozy sweater with a skirt for the best of both worlds.
7

Pencil Skirt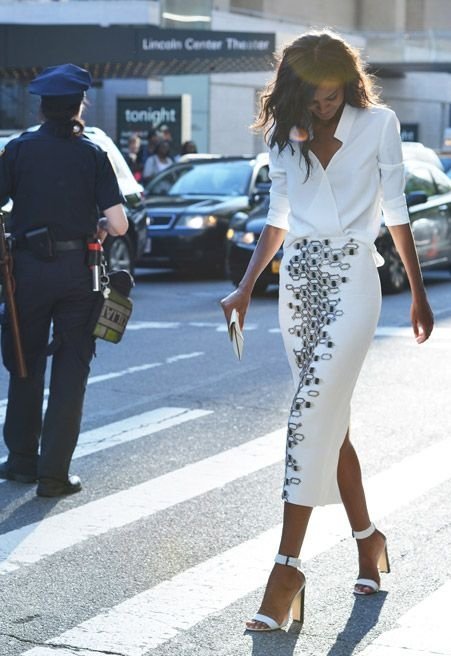 Need to revamp your office wardrobe? No problem! Try a pencil skirt that features a fun print on it. I love the Karen Kane printed skirt from macys.com! Finish off the look with a white collared shirt and some white heels.
8

Sleek and Sexy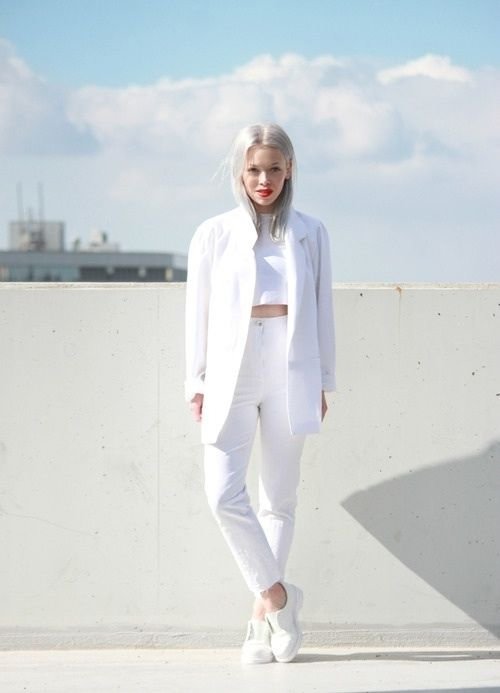 If you're fully committed to the all white trend, wear the color from head to toe. That means no colorful accessories like jewelry, purses, or shoes! Wearing white from head to toe will definitely make a fashion statement.
9

Sex & the City Inspired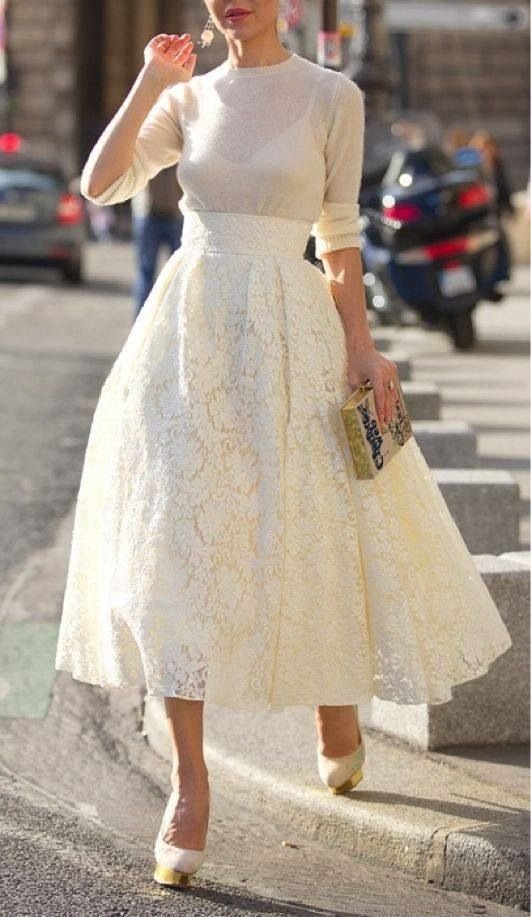 Take a page from Carrie Bradshaw's style book and channel the iconic fashionista with this all white look. Pair a long-sleeved white top with a poofy, lace midi skirt. White pumps are an obvious ust for the ensemble! You'll definitely feel like you're ready for your close up in Sex & The City while wearing this awesome outfit.
10

High-waisted + Crop Tops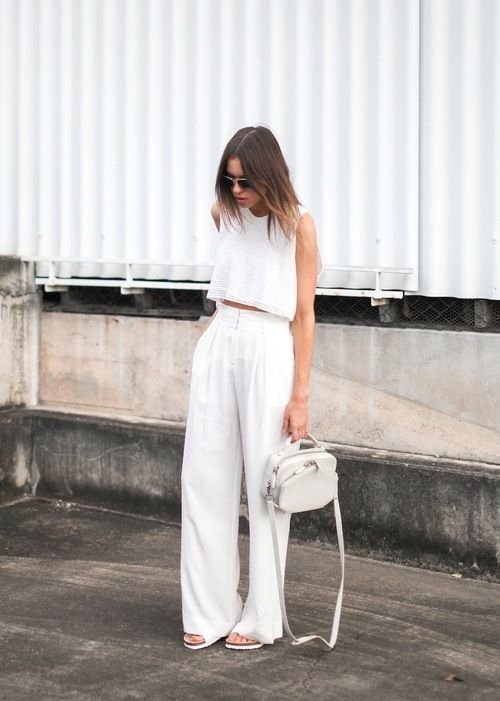 These two closet must-haves aren't just for the summer, you know. You can totally transition the pieces into your fall wardrobe! To recreate the look, pair some white (flared) high-waisted pants with a basic white crop top (try us.asos.com). To complete the look, don't forget a white cross body bag or clutch!
11

Sporty Chic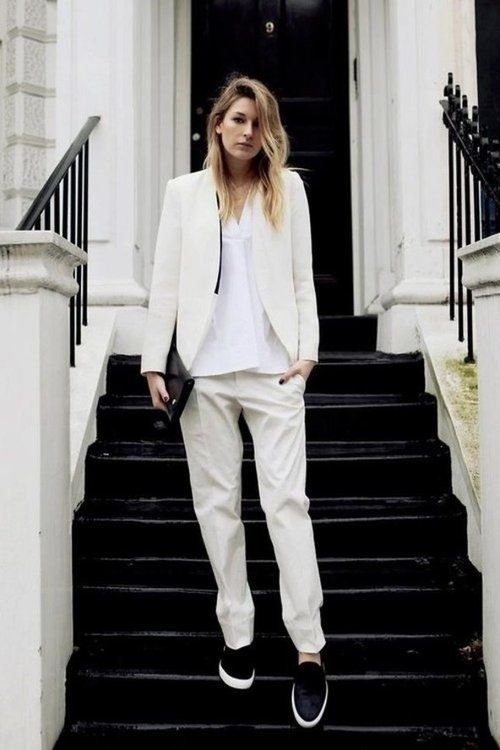 Sporty chic outfits are the perfect way to embrace your inner tomboy while still look feminine and sophisticated. To recreate the look, pair some white jogger pants (like these VINCE Knit Jogger Pants from barneyswarehouse.com) with a loose-fitted white top (or button-up). To finish off the look, you can throw a white tailored blazer over the outfit!
Well, there you have it! These dreamy all white street style ensembles are perfect to recreate this fall. Of the list, which look is your favorite? How do YOU like to wear the all white trend? Share fashion tips in the comments!
Please rate this article